Have you ever wondered where our creative people who make your favorite video games find inspiration?
We're lucky to have lots of amazing people who make video games here at EA, and we wanted to find out more about how they create the magical experience you know and love.

Imagine this: You've been trying to beat the next level of your favorite game all day. You keep getting closer to passing the level, but can't quite get enough points. Frustrated and annoyed you try one more time. You're laser focused. Slowly your score increases. You have one last move to make. You swipe to match the final three gems. All of sudden you hear a beautiful choir hailing your victory and you think to yourself, "Are they singing, 'meow'?"
Composer and Audio Director for Bejeweled Stars, Guy Whitmore, is the creative genius behind Bejeweled's Celestial Cat Choir.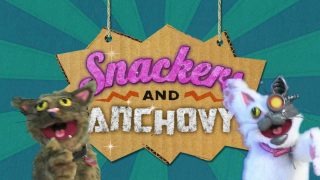 "Here at PopCap, we love being known for our fun and quirky games and characters," said Whitmore. "Cats in particular have a long history with Bejeweled. When Bejeweled was being developed, Jason Kapalka, co-founder of PopCap, said, 'my cat's going in!'"
The two main cats featured in the game, Snackers and Anchovy, are owned by Kapalka and Executive Producer, Heather Hazen. These two iconic characters even had their own web series following their crazy cat adventures as roommates.
"Although we've used real cats in our games in the past, the Cat Choir was not inspired by PopCap pets," Whitmore said. "The idea actually came about because of a happy accident."
Former Creative Director Amy Kalson and former Lead Designer Alexis De Girolami came to Whitmore's studio to talk about the musical direction for Bejeweled Stars and the game's winning 'Hurrah' moment when the idea came to Whitmore.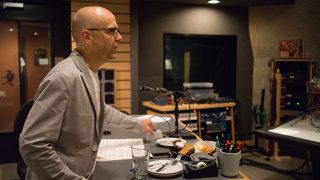 "After some general discussion, Amy glanced upward, as if she could see the stars beyond the tile ceiling and said 'I've always imagined the music in the game sung by a celestial choir of cats!' And that was it," Whitmore said.
Although she may have been speaking figuratively, Whitmore took her words to heart.
"I pictured cats in choir robes floating in the night sky, and heard them singing celebratory chorale music in a dignified manner. The idea of cats singing may be funny to us, but it's a serious affair for these particular cats," said Whitmore. "Cats have no sense of humor, and that's what makes them so interestingly funny to us."
With the image of serene, elegant, dignified angel cats in mind, Whitmore began his creative journey.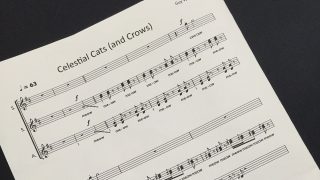 "I scribbled an inspirational image on the whiteboard, began writing immediately and had a musical sketch to share in a few days. The team loved it and in the game it went," said Whitmore. "But the temporary 'fake' choir was far from perfect in its pronunciation of the word 'meow' and several play-testers thought the choir was singing 'evil!'"
Despite these doubts, Whitmore quickly moved ahead with plans. With eight sopranos and eight altos from the Northwest Sinfonia and Chorale, he began live recordings just a few blocks from PopCap's Seattle office at Studio X. Thus, the Celestial Cat Choir was officially born.
"When the choir first picked up the score, they looked at me like I was crazy and started scratching their heads. Was I really going to make them sing 'meow' and crow like a bird?" said Whitmore. "But when they started to loosen up, they totally got into it and had a blast!"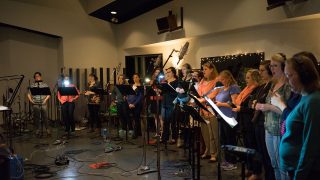 When PopCap brought in Twitter influencers to try out the game and comment on the Cat Choir, the results were better than anyone could have expected.
"They all felt that it added personality and made the game more endearing," Whitmore said. "They also loved that there were different variations of the choir depending on how many stars you achieve each level."
Next time you're playing Bejeweled Stars be sure to turn up the volume so you can be serenaded by the Celestial Cat Choir when you win. Check out this clip of the Northwest Sinfonia and Chorale in their cat recording session.
Download Bejeweled Stars on download on Facebook, iOS, or Android and let us know what you think on Twitter @EA!
Stay in the conversation of all things EA: Read our blog, follow us on Twitter and Like us on Facebook