Hi Robert, what first inspired you to work in video games industry?
I've been drawing for as long as I can remember and been an avid gamer for pretty much 30 years, when I bought my Commodore 64 at age 8. However, it wasn't a plan I had making games for a living - I only got into the industry at 27.
I used to do cover art for books and records, magazine work, comics and graphic design on a freelance basis, when an old friend who was in the games industry suggested I'd do a portfolio of concept art.
I'd not given it a thought before and now after more than ten years in the industry I can't imagine doing anything else – the work within the games team and studio is so varied, challenging and rewarding and our concept art department covers so much in a game's production from regular concept art to key art, UI, graphic design and in-engine production work.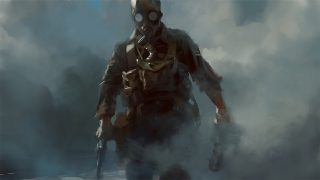 How long have you been working at DICE as an Sr Concept Artist on the Battlefield franchise?
I've been at DICE for close to ten years, mostly working on Battlefield with only shorter stints on Mirror's Edge and other things and have had the pleasure to form, grow and lead our amazing concept art team.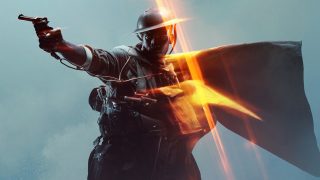 Battlefield key art has a striking and limited colour palette, does this make the creative process easier?
My challenge when taking on to develop the Battlefield key art style (with Bad Company 2) was to create a brand identity and line look that can be the signature for the series. While the palette shifts slightly between titles, the overall look and style forms a great boundary to explore further with each new installment – this way we keep it consistent and enables us to not having to reinvent the look for each title.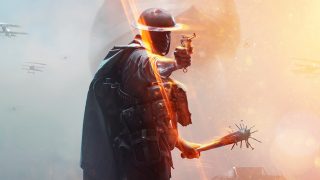 Did you use lo-fi pen and paper techniques to illustrate your initial Battlefield 1 ideas, or did you go straight to screen?
It's a combination of both – we all keep pen and paper at hand for sketching out quick ideas to take further, but it's often an iterative digital process where we bounce digital sketches between us - a quick an easy way to collaborate.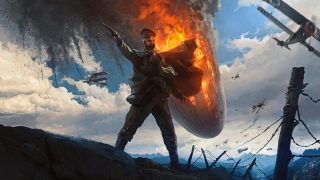 When you chose the designs that you wanted to use, what were the next steps you took to really start bringing your ideas to life?
You can only take sketches and drawings so far – you really need to see the gear, equipment and poses in real life to get an idea how to take it further, so I brought in the model and the photographer for a quick preliminary shoot where we tried out ideas and poses while sorting out lighting and camera setup before heading into the proper photoshoot. That way I can try out various treatment ideas and find what poses and setups work or not in order to plan the full production.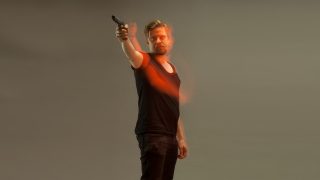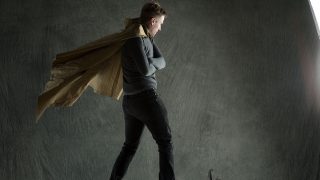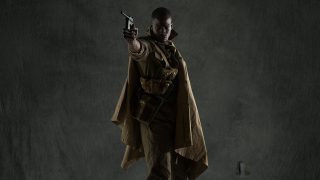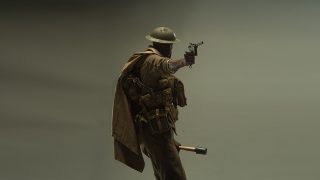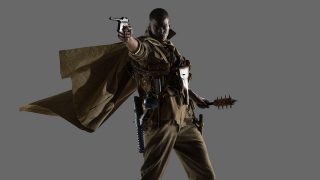 How did you determine which type of weaponry and uniform should be included in the powerful imagery you created?
One of our goals with Battlefield 1 was to challenge a lot of preconceptions about WW1 - we went into it with the intent to look at the era through a modern lens, from the overarching themes, settings and all the way down to the equipment on the soldiers.
There's an interesting juxtaposition at play in the key art, with soldier being the game's British Scout wielding German weaponry – it embodies that known/unknown balance while also showcasing the uniqueness of the era.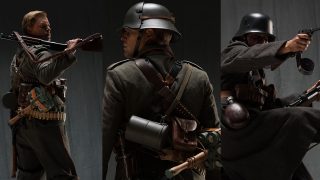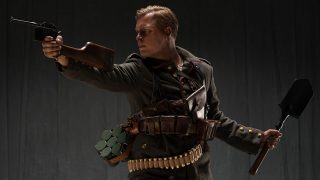 From concept to completion, how long did it take to create the final Battlefield 1 key art?
In calendar time, probably more than eighteen months – I start thinking about and sketching for it really early in production and it develops as an idea along with the game.
In actual hands-on production time it's something like three-four months of work from sketching to buying gear and wardrobe, model scouting, photoshoots and hands work with the material in Photoshop.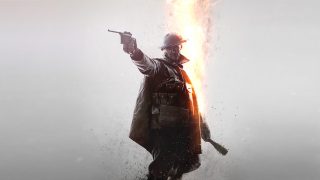 When it unveiled at Battlefield World Premier, what was it like seeing fans reactions to your art work?
I was hosting the reveal event in Germany, that was a few hours prior to the online streaming event, and got to see and hear first reactions in person – they were simply tremendous! The following days' worth of online comments and social media coverage was the best I've experienced with a Battlefield key art so far.
The Battlefield™ 1 Early Enlister Deluxe Edition and the Battlefield™ 1 Standard Edition use two different version of key art, do you have favourite?
I've made a lot of different key arts for the game, many yet to be unveiled, covering a lot of aspects of what the game is about. The look gets to mature and evolve during a game's cycle, but the first one is the toughest nut to crack and always special to me.
What advice would you offer any fans that want to start a career in the gaming industry as an Concept Artist?
Build a varied portfolio to showcase range and focus on versatility – include polished pieces along with sketches and roughs, environments and characters, mood pieces and action. When reviewing portfolio's it always more interesting seeing imagination, a will to explore and creativity over sheer rendering skill. What matters to me when hiring a new concept artist is the mind and personality first and foremost, who and how they are trumps the portfolio – you have to be a highly collaborative and team oriented person.
Want to join Robert at DICE? Check out all careers available at the studio for you right now!