EA is proud to be a sponsor of the Grace Hopper Celebration (GHC) produced by AnitaB.org and presented in partnership with ACM. GHC, which takes place next month in Orlando, is the world's largest gathering of women technologists. With inspiring keynotes and sessions, networking opportunities, and important career resources, GHC will include 25,000 attendees this year with thousands more joining remotely via the livestream. EA will have a team of 146 women and men attending, including four scholarship recipients aspiring to be the next generation of STEM leaders.
In part two of our special look at EA's GHC attendees, learn about Barbara Fava da Costa's and Victoria Sykora-Lovaas's experiences attending GHC as students to becoming summer interns at EA and, for Victoria, a full-time employee, in our spotlight blog.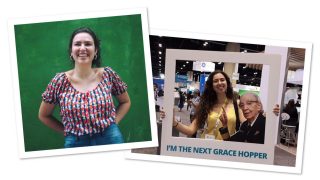 Barbara Fava da Costa
Fast Facts
Role: Software Engineer Intern
Major: Computer Sciences
School: Minerva Schools
I'm currently studying Computer Science, but this career path was not one I was aware of until I wrote my first few lines of code. I heard about the Grace Hopper Celebration from a friend who had a great experience the year before, so I decided to apply for a scholarship with AnitaB.org. Luckily, I got accepted and had a fantastic time at the conference! The speakers were inspiring and thoughtful, and I felt that everyone I interacted with at the conference had accomplished great things in the tech world. I felt more motivated and empowered than ever.
EA really stood out to me at GHC through its visible efforts to motivate and recruit as many talented women as possible. Although the conference had many companies at their career fair, EA was one of the only gaming companies with an aggressive approach to recruiting attendees. This was an indicator that diversity is a priority for the company, given the resources put towards achieving that. Working at EA gave me access to its internal resources and opportunities, and I could see that EA is constantly pushing for diversity – through its regularly hosted Equality Town Halls or even its Employee Resource Groups.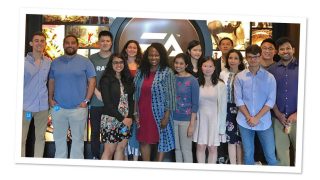 During GHC, I was too intimidated to approach EA's booth, as the gaming industry seemed like a reality far removed from my own. Not because I didn't play games, but because the industry always struck me as an aggressive male-dominated field that had no space for a casual gamer like me. It was during the EA post-conference social event that I gathered the courage to speak with the developers, and everyone was incredibly smart, kind, and friendly! I was impressed by the amount of software engineers who were women plus the number of women who held leadership roles within the company. One of them in particular, Karen Rush, Senior Director Development for Madden, opened the doors for me which later led to an internship offer.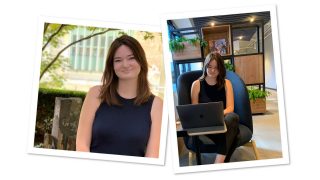 Victoria Sykora-Lovaas
Fast Facts
Role: Software Engineer (EADP - Marketplace)

Major: Computer Science

School: NYU Tandon School of Engineering

EA and the Grace Hopper Celebration hold an incredibly special place in my heart. I was initially introduced to EA around August 2017, when a recruiter found me through the GHC database and contacted me. I completed all of my technical interviews before going to GHC, and while there, I had the opportunity to meet EA team members who, to this day, I consider some of the most influential people of my career. I connected with engineers from across the company, incredible recruiters and the people who make EA at GHC happen, Farah Ali --the VP whose team I'd soon be joining, and to this day, is my mentor-- and Chief Technical Officer (CTO) Ken Moss. It was a whirlwind of a week, but the moment I received the email from my recruiter saying I was getting the offer was one of the most emotional, fulfilling, and exciting moments of my life.
I never considered myself a "hardcore gamer" nor identified with what I thought the term meant. However, my time with EA has taught me that the stereotype of what a gamer is isn't the reality. I barely even felt like I had a place in tech or engineering until I started to get to know the people at EA who gave me a community. My internship was some of the best 12 weeks of my life. I grew immensely both technically and professionally. I got to learn from and collaborate with the most brilliant people I have ever met, and I learned, most importantly, to never be afraid to ask questions. I even got to show off my work to the company at the annual intern tech fair, which was attended by our CTO Ken, and Chief People Officer, Mala Singh.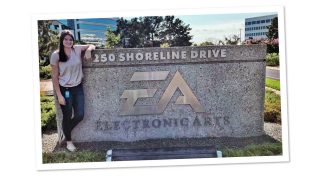 Towards the end of the summer, I had full-time offers from a handful of teams internally from across the US. The mentorship being offered to me in Seattle was a once-in-a-lifetime opportunity that I could not pass up, so here I am! EA also gave me a scholarship to attend GHC 2018 in Houston with them and I was given the opportunity to recruit for the company for the first time. I ended up spending nearly all of the conference at our booth, even when I wasn't required to, because it was so much fun to meet people, share my experience and learn about others', plus the energy in general was amazing. GHC 2018 with EA was an opportunity to explore my identity and my place in the industry, what I want my career to be, and what I want it to mean.
What makes EA an amazing and exciting place to work is a culmination of a lot of things, and it can change every day. For me, what sticks out most consistently is that I've been trusted with impactful work since day one of my internship. I've always been pushed to try new things without the fear of messing up, I'm constantly learning and improving, and I get to do all that alongside the most brilliant minds in the industry.
Interested in being an intern at one of our global locations? Find out more information about how you can be in our next class of interns here!
---
Stay in the conversation of all things Inside EA: Visit our site, follow us on Linkedin, Facebook, Twitter, and Instagram.