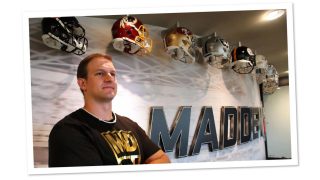 As we aim to inspire the world to play and create amazing experiences for our players everywhere, EA brings together great people that combine creativity, technology, and expertise to develop extraordinary new game experiences and deliver new ways to play. Madden NFL 20 Senior Designer, Clint Oldenburg, brought his expertise from both the NCAA and the NFL to the making of the number one football franchise, EA SPORTS Madden NFL.
1. Why did you want to work at EA?
My childhood was filled with playing EA SPORTS games with my brother – it was our personal national pastime. Obviously, Madden NFL was our favorite, but we also had epic battles on NHL, NBA Live and MVP baseball. EA SPORTS was the personification of cool for us, as well as another outlet to engage with sports. When I had the opportunity later in life to join the EA team, it really was a dream come true.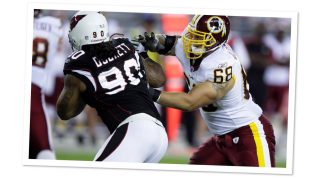 2. How did you begin your video gaming career?
My first day as an EA Intern on the NCAA Football game was my first day in the video game industry. I joined the team through a University Relations program called the NCAA Fellowship after a five-year career in the NFL as an offensive lineman. I'd argue I really started it as a kid with all the games I played, but making games for me started at EA.
3. What is your favorite thing about the working environment at EA Orlando?
The people at Tiburon are awesome. When I began as an intern and an extremely green designer, I needed help with everything, and all of my teammates were more than happy to help me. I credit all of them for my career development and training me on the job to become a real game designer.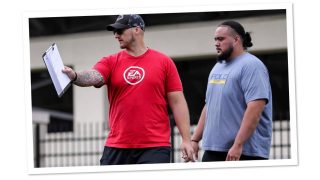 4. What is the most rewarding part of your job?
Easily it has to be when I run into anyone in public and they learn where I work and they tell me how much they love playing our games, or how much their kids love playing our games. Bringing joy to other people's lives through play is a pretty cool gig and seeing their eyes light up when they talk about it is more than enough to keep me wanting to come to work every day.
5. What are some of the challenges you face in your role?
Our games, especially our sports games are massive. There's so much depth and different ways to play, it's always a challenge to keep every dark corner of the game up to the ever-increasing expectations of our players. But it's a challenge that we're up for and we won't rest on our pursuit of excellence until that job is done.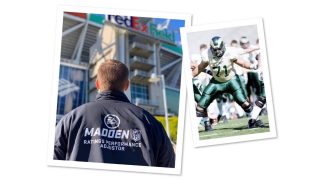 6. What has been your favorite title to work on?
Having only worked on NCAA Football and Madden NFL, it's really difficult to choose between the two. NCAA Football will always have a special place in my heart, but Madden NFL has always been my favorite video game.
7. What's your favorite perk at EA?
There's literally so many to pick from, it's really hard to decide what is the best perk. From the team launch celebrations, the discounted and/or free games, to having the ability to attend various NFL events; there's always something cool to experience. But if I have to pick just one perk, I think for me it's the access we have to NFL films, NFL players and NFL coaches. There's never a problem we cannot solve authentically with the broad access we have to all things pro football.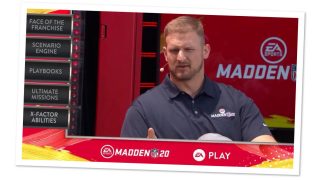 8. What advice would you give to someone who aspires to a career in the gaming industry and to someone who aspires to be in your field at EA?
If I could give one piece of advice to an aspiring game developer, it's this: have a strong and unique passion for games, especially the games you're building. To be a great developer, you've got to play games as much as you can, all different types of games, but you've got to enjoy playing your game more than any of the others. If you don't enjoy playing your own game, nobody else will.
For anyone aspiring to be in my field, the advice I would offer is this: details matter. Our players pay attention to all the little details of our games. No detail is too small to take for granted and they all matter to creating a fun, polished, artistic and immersive experience. Always be willing to go the extra steps to surprise and delight your players.
9. Favorite EA memory?
My favorite EA memory was the first time I met Coach John Madden [Madden NFL namesake and former Hall of Fame Oakland Raiders head coach.] He's such an icon in the football world and somebody I basically grew up watching on TV. The first time I met him, he quizzed me about various football things he thought were important to his vision and to make sure that I wasn't full of it. Fortunately, I passed his quiz with flying colors, and I've been blessed to have a great relationship with Coach Madden ever since.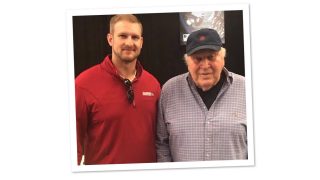 10. How do you unwind & unplug?
Mostly, I play games. Since I'm playing Madden NFL so much while in the office though, when I play games at home, I try to play other games to enjoy and breakdown other types of experiences. If I want to unplug completely, then you can find me either in the gym or with my wife and two sons enjoying popsicles by a pool somewhere!
Want to work at EA Orlando? Join the team here!
---
Stay in the conversation of all things Inside EA: Visit our site, follow us on Twitter, Facebook, Linkedin and Instagram.