The game of basketball, and the athletes who play it, has evolved incredibly over the last two decades. NBA players no longer fit perfectly into the confines of a label or a category. Rim Protectors have become offensive focal points, Backcourt Defenders are dishing dimes, and some Stretch Bigs have even becomes defensive stalwarts. The virtual world of basketball gaming, however, has been lagging behind this trend for years.
NBA gamers have been forced to use systems that are either restraining and inflexible, or so open that players could become overpowering game-breakers. This year, the NBA Live dev team decided it was time to offer a new twist on player progression, one that better represented the unique evolution of modern NBA players.
Earlier this summer, we introduced NBA Live 19's Icon System, an exclusive progression feature that adds depth and flexibility to created players. Check out our article for a detailed explanation on how the system works.
The Icon system is very different than any other sports gaming feature, so let's review a few key points:
Each Icon gives exclusive gameplay abilities, ratings boosts, and gear/animation unlocks
Icons are associated with Playstyles, so each Playstyle will have unique Icons that no other Playstyle will have access to
Each Icon is inspired by a current or retired player, channeling what makes these players special.
Icons are unlocked and equipped – gamers can change their Icon at any time between games (similar to Traits).
Breaking Down an Icon
Let's take a look at The Reaper, a Wing Shooter Icon inspired by Kevin Durant.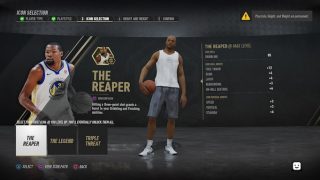 Kevin Durant is one of the deadliest shooters in the NBA, but he's also adept at putting the ball on the floor and getting to the rim. Equipping The Reaper Icon will augment your shooting prowess with the ability to drive and score.
As shown in the screenshot above, The Reaper's Icon Ability will give you a boost to both dribbling and finishing after you make a three-point shot.
The Reaper's Icon Skill is dribbling, so this Icon will be able to progress to an 85 Dribble Rating.
The Skill Boosts, listed on the right side of the screenshot above, will give you both Dunk and Layup boosts to enhance your finishing ability.
The Reaper Icon will also allow you to unlock gear and animations that are exclusive to this Kevin Durant-inspired progression path. You'll journey through KD's career from a young Seattle Sonic to an MVP in Oklahoma City, and finally an NBA Champion on the Warriors.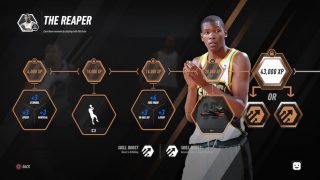 The bronze tier of The Reaper will reward you with KD's jump shot, and his KD7 "Good Apples" kicks. These rewards can only be earned on this Icon Path, nowhere else in LIVE 19. You'll also get to select an upgrade for your Icon Ability; this is a permanent decision, so choose wisely!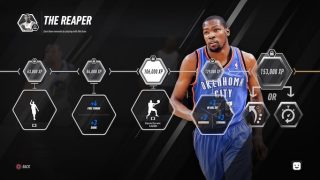 The silver tier features unlockable rewards such as a KD exclusive celebration that captures his chill personality, as well as a signature Layup package. The Icon Ability Upgrade is a choice of an extra stack or an increased timer.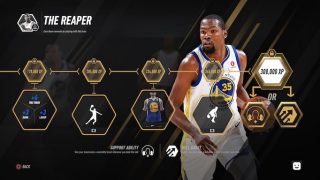 The gold tier rewards signature Dunk and Dribbling packages for KD, and his current NBA jersey. As with all Icons, the Gold Tier will offer the biggest Icon Ability enhancement choices.
Switching Icons
The true power of the Icon system is the flexibility to level up more than one Icon and swap them based on your match-up, team strategy, or even just your mood. There's no better example than swapping from KD's The Reaper to The Legend inspired by Larry Bird. Equipping The Legend will mold your Wing Shooter into a dangerous passer who can space the floor and hit the open man when the defense overcommits.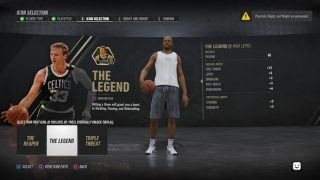 While The Reaper's Icon Ability provides finishing boosts, The Legend will be a more well-rounded player. Hitting a three-pointer will increase his steal, passing, and rebounding, making him a great support player and an even more dangerous playmaker. The Legend's Icon Ability will also get unique upgrades that increase his open-shot radius and impact the mentality of those trying to defend him. Larry Bird was the ultimate competitor, and his Icon encapsulates the ferocity he displayed on the court.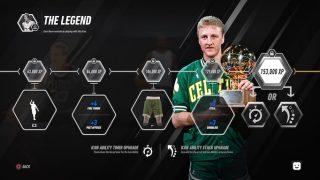 The Legend Icon path will be the only way to unlock the signature Bird short-shorts and his famous celebration from the 1988 Three-Point Contest.
Even More Choice
If The Reaper and The Legend aren't enough, the third Wing Shooter Icon is inspired by 2015 WNBA MVP Elena Delle Donne. Elena is a deadly shooter with a very versatile floor game, capable of playing baseline to baseline. Her Icon, Triple Threat, is perfect for two-way players who want to impact all facets of the game.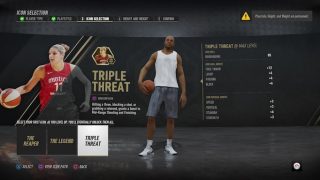 The Triple Threat Icon Skill is Rebounding, resulting in a knockdown-shooter who can also contribute on the boards. This Icon Skill, combined with boosts to passing and shot blocking, make Triple Threat a very versatile Icon selection. Impacting the game with a three, a block, or a rebound, grants a boost to both shooting and finishing.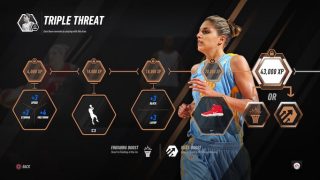 Perks along the Triple Threat Icon path include signature animations for Elena Delle Donna, shoes she's worn throughout her career, and unique Icon Ability enhancements.
Variety and Impact
The Reaper, The Legend, and Triple Threat, represent three very different ways to experience the Wing Shooter playstyle. Unlocking and maxing all of these Icons will give you the power and variety to dominate on the court. Experiment playing with other Icons in OTP to discover which Icons complement each other best. There are more than 100,000 Icon combinations on a five-player team, and you might even see more in the future.
We'll wrap this up with a look at some of the dev team's favorite Icon Path tiers: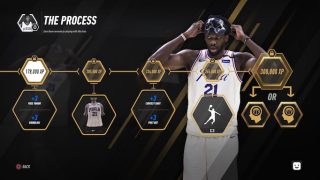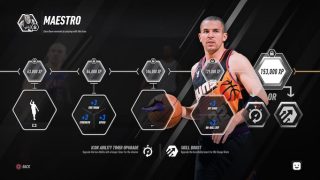 - NBA LIVE Dev Team
---
Stay in the conversation, like us on Facebook and Follow us on Twitter.
Are you ready to get out there and make your mark on the court? You can now pre-order NBA LIVE 19 here.
Sign up today to receive the latest NBA LIVE 19 news, updates, behind-the-scenes content, exclusive offers, and more (including other EA news, products, events, and promotions) by email.