Not many gyms in the United States have the history Kezar Pavilion carries. Located in The Bay, Kezar has been around since the early 1920s and has been home to one of the most celebrated Pro-Am leagues in the world. Kezar Pavilion also was the home for the beginning of a major Civil Rights' moment when Bill Russell and K.C. Jones stepped to the court. We'll go into detail about the gym itself, its history, and some of the players who've played there.
The Streets are where respect is earned. When you step onto the court you'd better be ready, no matter if you're playing where decades of NBA talent have been groomed or are just looking to show that you have the skills to run the court. Leading up to the launch of NBA LIVE 19, we're going to be taking deep dives into the different courts featured in the game and try to get at the culture as it changes in each location. See all our deep dives on the courts featured in The Streets.
Kezar Pavilion Background
It all started when Mary Kezar donated $100,000 to build a memorial for some of her family members. That donation began as the funding for a stadium and the city of San Francisco chipped in another $200,000 and got Kezar Stadium built and dedicated to those family members she looked to immortalize. For more than two decades, the 49ers called Kezar Stadium home. While the stadium didn't wind up lasting the test of time, the much-smaller Pavilion has lasted since its creation back in 1924.
The Pavilion itself is very unassuming. It almost looks like a high school's gym and the court is fairly standard – it's just simple. Inside, you might find anything from boxing to middle school volleyball to wrestling and even concerts, but the most prolific? Basketball, of course. For a number of years, basketball has been the Pavilion's connection to culture and, thanks to legends like Bill Russell and K.C. Jones, it'll forever be immortalized in both basketball history and Civil Rights history. But before diving into that, let's take a look at the world-famous Pro-Am League.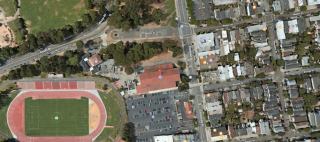 While there are a multitude of events going on throughout the year at Kezar Pavilion, each year the San Francisco Bay Area Pro-Am Basketball League comes and makes its way over. Players of all ages get the opportunity to run each summer as a part of SF's premier hoops' league. The league is packed to the top row of bleachers with fans who are all there just to appreciate the beauty of the game and the passion of the players who are playing in front of family, friends, and spectators.
The way teams are created has nothing to do tryouts or anything of the sort – rather, coaches are able to add players at any time during the season as they stress inclusion. Regardless of age, gender, anything, you'll be able to hoop if the coach of a team gives you a thumbs up. That being said, the talent is still very, very impressive.
Steph Curry
A number of notable names have graced the court during the SF Pro-Am but none bigger than Steph Curry. Back in 2014, Curry decided to go off for 43 points against the unfortunate players who had to guard him that day. From stepbacks to behind-the-back passes and a couple near-ankle breakers, Steph gave SF's biggest basketball fans some signs of things to come just a couple years later in the NBA – all while wearing the baggiest shorts you may ever see.
Since, Curry has done a couple of things right in order to become a three-time champion, two-time MVP, and five-time all-star. He's obviously turned into one of the league's best players and he's found ways to dazzle us on the biggest stage. What's also so very impressive is that he's doing all of this and rewarding The Bay's team who drafted him almost a full decade ago. There was a pivotal moment where they had to choose between Monta Ellis, an all-star talent with a penchant for scoring, or the oft-injured Curry – safe to say, they made the right choice by sticking with him and the city thanks him for it.
Bill Russell
From 1924 to 1958 the University of San Francisco Dons called Kezar Pavilion home, and from 1953-1956, Oakland-area native Bill Russell was a member of the. Russell never received a scholarship to play basketball (and it had absolutely nothing to do with his ability on the court; it was solely based on race) outside of USF – a smaller school that didn't hold weight against the bigger schools, the ones considered blue bloods of the NCAA world.
The Dons' head coach, Phil Woolpert, didn't worry about race or color – instead, he put the best players on the court. In 1954, USF made history by starting three black players: Russell, fellow future Hall-of-Fame inductee K.C. Jones, and Hal Perry. Russell was so dominant in college that the NCAA wound up having to change the rules and make the paint wider – a rule to prevent him from camping close to the basket – and they created a goaltending rule because anything that came within his long arms would instantly get blocked. Considering that a number of talented black players weren't getting the opportunity to show their abilities off, Russell did more than he'll ever give himself credit for both on and off the court.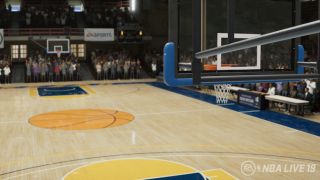 The players faced racism in every aspect of life: there were nights that their team would have objects and food thrown at them, other times where hotels and opposing colleges wouldn't let the black players stay in their facilities. During his junior year at USF, Russell's Dons won the NCAA Championship, he won Final Four MVP, first team All-American, averaged over 20 points and 20 rebounds, and still different award ceremonies wouldn't even name him the season's Player of the Year. It was at that point that he stopped worrying about accolades and focused on his game on the court – in all, he won two NCAA championships, 55 consecutive games, and averaged over 20/20 for his college career.
Russell and Jones would go on to enter the NBA Draft together in 1956, years before the March on Washington took place – decades before black players were openly accepted in the NCAA or the NBA. Russell would become the second pick in the draft and Jones in the second round. Red Auerbach, one of the winningest coaches in history, brought the USF teammates to Boston together. Jones won eight NBA Championships as a player, two as an assistant coach, and two as a head coach. Russell would go on to win a virtually unbeatable 11 rings as a player, two as a player-coach (yes, that's a thing), and will forever be considered one of the greatest players to ever touch a basketball. On the court, the NBA Finals MVP award has been named the Bill Russell NBA Finals MVP Award and Barack Obama awarded him the Presidential Medal of Freedom for his efforts to help advance the Civil Rights Movement. Entire books can be written on the legend that is Bill Russell – I would recommend reading as many of them as you can.
There's been some incredible history that took place in this gym – Bill Russell started so much of that, but history keeps on being made year-after-year through the passion of basketball. You can look at the trio of Run TMC (Tim Hardaway Sr., Mitch Richmond, and Chris Mullin) playing with Warriors, WNBA stars like Nneka Ogwumike, or even locals like Jason Kidd. Be the next player to create lasting memories in Kezar Pavilion and start your legacy in NBA LIVE 19 by playing in The Streets.

- Rahul Lal (Follow Rahul on Twitter @rlal95)
---
Stay in the conversation, like us on Facebook and Follow us on Twitter.
Are you ready to get out there and make your mark on the court? You can now pre-order NBA LIVE 19 here.
Sign up today to receive the latest NBA LIVE 19 news, updates, behind-the-scenes content, exclusive offers, and more (including other EA news, products, events, and promotions) by email.