Take a trip to South America with us as we dive into one of the most unique, and recognizable, courts in the entire world. At Rio Favela, people play basketball as an outlet – as a chance to play the game they love.
The Streets are where respect is earned. When you step onto the court you'd better be ready, no matter if you're playing where decades of NBA talent have been groomed or are just looking to show that you have the skills to run the court. Leading up to the launch of NBA LIVE 19, we're going to be taking deep dives into the different courts featured in the game and try to get at the culture as it changes in each location. See all our deep dives on the courts featured in The Streets.
Rio Favela Background
Finding a place to play basketball isn't the problem, it's actually trying to get some playing time with the hordes of people looking to get run at Rio Favela's basketball courts. It's easy to appreciate the aesthetic of the court, a conservative, regular basketball court right in the middle of bright and colorful homes. While it looks pleasing, pictures won't do it justice because for every thousand words a picture can tell you, the stories of this court require days of talking just to understand its importance.
Let's travel to Rocinha – one of the more overlooked cities in the massive country of Brazil. It was once considered something of a shanty town and, though their population would make it more of a bairro, or neighborhood, it's still technically classified as the most populated favela (slum) in Brazil. Buildings rise up stories and stories above ground level and overlook the rest of the town. While some conjure a depiction leading to words like slum being thrown out, Rocinha is known to have very well-developed banks, public transportation, and businesses.
Overlooking one of the wealthiest neighborhoods on the beach, Sao Conrado, Rocinha sits high atop the mountains unfortunately surrounded with violence and natural effects of poverty and over-population. It's developing more year-after-year through country-wide urbanization, but sports have always provided an outlet for many of the city's residents.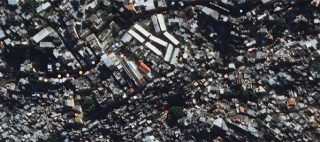 Rocinha's basketball scene doesn't just consist of playground and pick-up basketball, though. The Jr. NBA program, a grassroots youth league, carries heavy influence among the city's youth and was actually the first location set up in South America. While the courts may be surrounded by what many call towers or projects, the culture is strong and shines through in a wonderful way on the basketball court.
Brazil's Basketball Background
I'll bet most people would never guess how long Brazil has been playing basketball for – it caught me off-guard, too. Somewhere around 1891, James Naismith, a Canadian physical education teacher, wrote out the rules for his game of Basket Ball. In 1894, Augusto Shaw, an American, brought a basketball in his luggage when he decided to teach at Mackenzie College in Sao Paulo, Brazil. Most men were gravitating towards soccer at the time (seems like they got pretty good at it, too), so women were some of the earliest adopters of the game.
In the 30's, the Brazilian Basketball Confederation was founded and was competing in international tournaments against countries like the United States. Famous NBA players such as Leandro Barbosa, Anderson Varejao, Fab Melo, Mercelo Huertas, Nene, Tiago Splitter, Cristiano Felicio, Bruno Caboclo, and Raul Neto all come from the massive country.
Even the seemingly mythological legend, Oscar Schmidt, was born in Brazil. Schmidt isn't as well-known as he should be because he never decided to take his talents to the NBA, but he's a member of the FIBA Hall of Fame and the Naismith Memorial Basketball Hall of Fame. At the time of his peak, NBA players couldn't suit up for national teams, and he felt it was more important to play for his country than travelling to the U.S. to play in the league.
In 38 career Olympic basketball games, Schmidt averaged 28.8 points per game, including 42.3 points per game during the 1988 Olympics. His 1987 team knocked off the US National team that had David Robinson, Danny Manning, Dan Majerle, Rex Chapman, Pervis Ellison, and Keith Smart – Schmidt scored 46 points in the upset. If you want to know more about the legend, who seriously could have his own book written, considering he's the sport's leading scorer if you expand outside of the NBA, and that he played for 26 years, take a look at this incredible Grantland piece written a few years back. As a Lakers fan, I must point out that Schmidt taught Kobe a lot of what he knows as Bryant's dad was teammates with Oscar in Italy – Bryant remarked that he was "a living legend."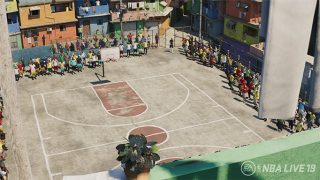 Impact of the Rio Favelas Courts
"Basketball is about more than just putting the ball in the hoop," said Leandro Lima, an amateur basketball player who grew up playing on these courts. "I hope it's going to bring some recognition, and benefits beyond the sport."
Growing up in this area wasn't easy – Lima is a living testament to it. He lost his father at a young age, as do many due to the heavy quantity of drugs and gang violence. He was able to use basketball as his tool to make it out and continue to progress to the point that he's made a name for himself and is in a position to help others from his hometown.
He first began by playing with different Brazilian clubs as a teenager into his early-20s. But the true fun, to him, lied in playing one-on-one or streetball for bragging rights. Basketball led him to travel and play semi-pro games in New York, France, and Spain. He's since become a two-time Brazilian Champion in a one-on-one streetball competition called King of the Rock. For Lima, the Favelas in Rocinha is where everything started – this was the foundation for the rest of his life and, instead of needing to do what it takes to survive in Rocinha, he's in a position where he can travel the world and give back.
"I will show kids what basketball did for my life," he said. "I'm sure that many of them will go further than I managed, it helped me a lot in my life and the least I can do is give back."
With the NBA setting up shop in Rocinha, the game is on the rise in Brazil's largest favela. This is only the beginning – while an influx of NBA players has been steadily coming, the talent is being seen around the country from Sao Paulo to Sao Carlos and everywhere else around.
Are you ready to match up on the court with an entire city of about 180,000 watching from above? All eyes are on you when you play at the Favelas, and you need to bring your best game – none of that soft stuff! In Rio, play for something bigger than basketball when you hit the courts and face some of the most skilled, passionate players you've ever seen.
- Rahul Lal (Follow Rahul on Twitter @rlal95)
---
Stay in the conversation, like us on Facebook and Follow us on Twitter.
Are you ready to get out there and make your mark on the court? You can now pre-order NBA LIVE 19 here.
Sign up today to receive the latest NBA LIVE 19 news, updates, behind-the-scenes content, exclusive offers, and more (including other EA news, products, events, and promotions) by email.