It's beautifully painted; it's wonderfully colored; it's incredibly dense with talent – Tenement Court is a major hub for basketball in Taguig, Manila. While superstars like Paul George and LeBron James have come there, the court stands for so much more than those who have visited – it's a home for so many and is also one of the most iconic places to play, visually.
The Streets are where respect is earned. When you step onto the court you'd better be ready, no matter if you're playing where decades of NBA talent have been groomed or are just looking to show that you have the skills to run the court. Leading up to the launch of NBA LIVE 19, we're going to be taking deep dives into the different courts featured in the game and try to get at the culture as it changes in each location. See all our deep dives on the courts featured in The Streets.
Tenement Court Background
An 11-story housing project that has lasted more than 50 years –Tenement Court is all about heart and soul. Located in Manila, the full name of the building is Fort Bonifacio Tenement Building, and it was built as a housing project in the 60's. It was only a few years before a basketball court was created in the large shared area of the building.
There's always been a strong connection between the Philippines and the sport of basketball. The country was first introduced to the game in the early 1900's. The first men's team participated in the 1913 Far Eastern Championship Game and brought home the gold medal. By 1936, the Philippines became a member of FIBA and also participated in their first Olympic Games finishing fifth overall – the best of any Asian team. Since, there have been many people in the NBA of Filipino descent, including championship coach Erik Spoelstra and point guard Jordan Clarkson (who has been on a quest to play for the Filipino National Team).
Getting back to the iconic spot where a number of well-known and lesser-known talents have balled out, Tenement Court quickly became a community area for a number of the local kids and adults after it was created. As in many areas, people grew up running five-on-five on The Tenement. Nowadays, the actual housing project is in a constant state of flux, as all residents were asked to move due to the high probability of earthquakes. Many still haven't as it's their home – their heart and soul. It's been the home for some hoopers, too.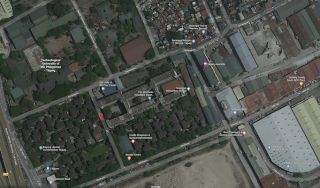 Mike Swift
His name is Mike Swift, but he's affectionately known as Mr. Pinoy Hoops. Swift wasn't born in the area, or the country, but the Brooklyn-native has a special place in his heart for The Tenement. His idea doesn't revolve around basketball, but rather helping build back the community using basketball as a vehicle for that progress.
In 2014, amidst a period where residents of decades were being forced to leave the housing complex, Swift tried to create something called The Picnic Games to both help repair the building while also bringing forth entertainment and something for residents to smile about. This really became the night that transitioned Tenement Court into a basketball landmark.
"We have this bond like I feel like Tom Cruise in the Last Samurai or something. I am not really from here, but they embraced me and I am like their adopted son here," he said in an interview. "I am glad they did that. I have so much love for them, for embracing me and us, together."
Swift has now put on a number of Picnic Games and, with each one, has gotten bigger and bigger names to help contribute to the cause of restoring the building and making it safe for residents. Even today, there are over 700 families still living at this unit, with only a handful are open to moving. It's been their home for generations and they want it fixed rather than taken down. Aside from the Picnic Games, Swift was instrumental in increasing the exposure of both the issue and the status of the court to the world – it was soon noticed by many.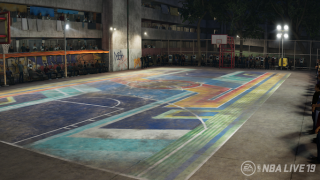 Nike Comes to Town
The Nike RISE Tour is a grassroots program where NBA stars travel around to other parts of the world to help show off the game and inspire youth in those countries. Just a year after the housing project was officially shut down, the courts were being used by Paul George and Nike. He started what clearly turned into one heck of a trend because the very next year LeBron James decided to visit.
One thing that obviously caught the eye of NBA LIVE 19 game developers was the ability that Tenement Court had to effectively re-create their court often. They've made so many amazing designs worth a search, but one of the most amazing shows affection for both the player and the sport. It was on display for LeBron when he made his appearance. Check out the overhead shot and his incredibly humbled response, as well.
"It's a really cool thing that they would do something like that in their home and allow me to be an inspiration to them," said LeBron in response to the court being re-designed in his image. "Hopefully, I can stay there forever and make my mark here but to be there today and to see those kids, all those families. To have that sense of hope and bringing that hope. They all need each other to be great and they're definitely going there."
Just like the game of basketball, this court is a work of art. When you hop into NBA LIVE 19, you get the chance to take your talents to The Tenement like LeBron did. There's a serious level of history at this court and you get to build your own player's history here now, too.
- Rahul Lal (Follow Rahul on Twitter @rlal95)
---
Stay in the conversation, like us on Facebook and Follow us on Twitter.
Are you ready to get out there and make your mark on the court? You can now pre-order NBA LIVE 19 here.
Sign up today to receive the latest NBA LIVE 19 news, updates, behind-the-scenes content, exclusive offers, and more (including other EA news, products, events, and promotions) by email.