Mo Bamba, was taken with the sixth overall pick in the NBA Draft by the Orlando Magic. At Texas, Bamba averaged a double-double while putting up nearly four blocks per game, looking to be the part of a prototypical defensive center for today's game.
Bamba was doing an interview with Sirius XM when news broke of his rating in NBA LIVE 19 – he was immediately intrigued with seeing himself in the game.
If you didn't already know, eye emojis are code for sign me up on social media. His length, athleticism, and feel for the game are what make him both a top pick and one of the top-rated rookies in NBA LIVE 19 with an 81 OVR rating.
Bamba said that he believed his rating was graded fairly – after all, he's a nearly seven-foot center who posted a 3.04-second three-quarter court sprint. To put that into context, he outpaced Russell Westbrook (3.08), Dwyane Wade (3.08), James Harden (3.13), John Wall (3.14), Kemba Walker (3.16), and Victor Oladipo (3.25). Sure, a couple of those might've been a fluke but his times were right up there with some of the quickest players in the draft – he actually tied Timberwolves' draft pick Josh Okogie's time as the fastest of rookies who participated in the event.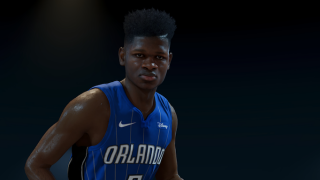 Another incredible feat is that he recorded the longest wingspan in combine history at 7'10" – yes, that includes the likes of guys like Rudy Gobert (7'8.5") and Zhou Qi (7'7.75"), and Hassan Whiteside (7'7"). Wingspans have only officially been recorded since 2000, so a guy like Manute Bol can't necessarily be included, but for some more perspective, Yao Ming recorded a 7'5" wingspan – a full five inches less than Bamba. Though it's also unofficial, Hakeem Olajuwon reportedly touted a 7'6" wingspan – he's been a massive influence for the rookie as he's tried to develop his game.
"Hakeem used to look over his shoulders and check where defenders are," he started when asked about his biggest influences. "He knew whenever he was being shaded to the right, he'd fake right, then open his shoulders a certain way so he could get to his dominant hand. When I look at timing in a post, not necessarily post moves but timing, I look at a lot of that."
Hakeem was one of the best on both sides of the ball, but the little things such as timing and footwork made him a truly generational talent in this league. This echoes the sentiment that Joel Embiid had when we asked the same question earlier this summer. On the defensive end, Bamba's most undeniable skill is his shot-blocking ability – something that he lends a lot of credit to Dwight Howard and Embiid for.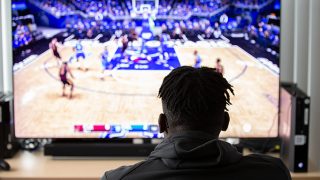 "There's been a lot of dominant things defensively. I look at Dwight as far as his shot block and timing. Dwight is a freak athlete, but one thing that's underrated is his shot blocking ability and his timing. His timing is pretty impeccable. I look at Joel as far as the shot-block and timing. He's really good at meeting people at the ramp," he started. He went on to talk about Rudy Gobert and Clint Capela for their defensive awareness playing off-the-ball. "Those guys, when they're playing, they're really good off the switches and they're really good off the drops. That's just something I'd love to emulate in my game."
It really looks like the young man has been doing his homework and studying some film. Another big who's heralded coming out of this year's draft is top-overall selection, DeAndre Ayton. The Phoenix Suns' rookie fittingly took the honors of being the top-rated rookie in the initial rookie ratings. The two are friends, and that can definitely be seen in the video below, but aside from their friendship, Bamba has a lot of respect for Ayton's game and looks forward to playing NBA LIVE 19 with the first pick.
"I mean, he was the number one pick in the draft. I wouldn't expect anyone to have a higher rating than him," he started. "He's a really good talent. It's funny, when I get home, I want to play with him to see what kind of player he is in the video game. Bigs often times are forgotten about when you play video games. All we do is catch lobs and get rebounds, block shots, that's all we really count for, so it'd be interesting to see what he's like in the game."
Another thing NBA LIVE fans are geeking out about right now is the Court Battles mode. With this feature, you'll be able to create your own court, and then create your own rules and lineups based on the players you recruit as you progress in the game. One of the special variables to throw in there is that you have the ability to create unique rules – we spoke about those with a number of celebrities recently and, while intrigued at the thought of getting extra points for each block, Bamba really liked actor Omari Hardwick's rules.
"Well, I play in the Kingdom, that's where I kind of grew up," he said giving a shoutout to the Harlem court he has run fives at for years. "I'd say our rules would be acceptable, not a lot of people call fouls but whenever they do it's super controversial. So, I'd probably piggy-back off of his rules and say no foul calls."
He also threw out the idea of making a four-point line on his court, but he noted that he'd need to ban fellow rookie Trae Young from playing. He also spoke about another lower-profile rookie, Kevin Huerter (number 19 pick to Atlanta), and added that he would be the first player whose court he'd want to take over in Court Battles, as they're both gamers and play against each other often. As a gamer, it's safe to say that Bamba is ready to hop on the sticks in NBA LIVE 19. With the demo out now and the full game releasing September 7, you may even stumble across Mo's court in Court Battles one day!
– Rahul Lal (Follow Rahul on Twitter @rlal95)
---
Stay in the conversation, like us on Facebook and Follow us on Twitter.
Are you ready to get out there and make your mark on the court? You can now pre-order NBA LIVE 19 here.
Sign up today to receive the latest NBA LIVE 19 news, updates, behind-the-scenes content, exclusive offers, and more (including other EA news, products, events, and promotions) by email.