I stepped out of an uber on La Branch street in downtown Houston and the first thing I saw was a number 13 jersey right in front of the Toyota Center. Even on an off-day for the Rockets, the city shows off its H-Town pride. Confused, I walked inside the arena attempting to figure out where I'm supposed to be and instantly see one of the most recognizable men in pop-culture walking down the ramp to the practice court.
His fit was so fresh I forgot all about basketball and just asked about his Adidas track suit. He had the presence of David Ruffin walking on stage to join the Temptations at the Copacabana. But as cold as the clothes were, James Harden's game is even deadlier.
Harden is working his way toward a second-straight MVP award – a feat only accomplished by a handful of legendary players who either already belong to the Hall of Fame or are well on their way. Like them, Harden has not only solidified his place among the league's elite, but he's turned into someone who has made his marks on the record books.
We can talk about his scoring run, we can talk about how he is the engine that has kept this Houston Rockets steaming – we can even talk about how he gives us some of the most effortless highlights on a nightly basis full of clutch plays and stretches of dominance. This season, Harden has been nothing short of incredible as he has, night-after-night, found ways to give us excellence on the court.
Not only is Harden the league-leader in minutes per game, but he's also leading the NBA in points per game, made three-pointers, made field goals, made free throws, Player Efficiency Rating (PER), usage, box plus-minus, value over replacement player, and win shares. Safe to say, he's had an incredible season – a pattern that has developed year-after-year.
"From college until now, my game is completely different," started Harden. "I've matured. I see the games a lot slower . . . you have to come back better than you were the year before. Some guys just go to the gym and just work on one move or work on one aspect of their game – for me . . . I work on every aspect of my game."
The main move Harden keyed in on during the last offseason was his stepback. The move has turned from a nice dribble within his arsenal to a move that he's known for, and one which he uses to clown opponents nightly.
Picture yourself back-pedaling down the court seeing James with the ball in his left hand. He hits you with a couple size-up dribbles and the next thing you know he crossed the ball to his off hand. You follow his belly-button like every coach tells you to as he scans his options and, within a split second, he's created about four feet of separation from you.
Before you know it, you're either on the ground wondering just when you get crossed, or you're staring at the ball go straight through for a quick score. This move hasn't always been there for James, rather, it's developed.
"Even last year, I was doing the stepback, but not quite as much. And now, teams are guarding me different. So, if teams are guarding you different, you've got to find ways to still impact the game at the same level or even better. The stepback is a move that creates separation, and it helps me gain an advantage to make my teammates better.
I still do the same things I'm doing at even a higher rate. Next year, it'll be another move, or it'll be something different. You have to evolve, you have to continue to get better with the game, or else you're just going to be stuck behind and people will forget about you."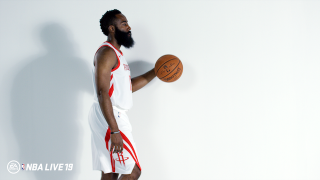 Speaking of making sure that you evolve as the game does, from college, his game has evolved from being a good player to a truly great player. When you look at the league's best scorers, it's pretty evident that Harden has been the top offensive player on the season. The Houston Rockets faced a plethora of injuries by midseason; Chris Paul, Eric Gordon, Clint Capela, and a host of other talented contributors have been out for long periods at a time.
It begs a question: was the 40-point average and multiple 50-point games just a result of necessity, or Harden flipping a switch and unlocking something new in his game?
"It's a little bit of that," he said when talking about doing whatever it took to win games. "I'm more locked in than I've ever been, just into the entire game of basketball. It's just my focus level. The detail that goes into the game of basketball, which a lot of people overlook, or a lot of people don't know anything about. Then, my work ethic. It's always been there but just working on what needs to be done to get me where I need to go."
Harden's 30-point streak extends back to the first week of December – he's been hotter than Rihanna after Pon de Replay dropped. After each and every game, you can check your NBA group chat or log onto Twitter and find hordes of people complaining about foul calls, the number of shots he took, or a host of other things, but he doesn't let it get to him.
"Nobody can take me out. I'm zoned in right now. So, even with all the negativity, people can say negative things or make their little smart remarks or comments, that won't stop me."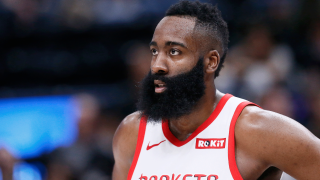 If that isn't the truth, I'm not sure what is. For years now, James has lined up against the NBA's All-Defensive First Team night-after-night. It seems like the only thing that could potentially be a hinderance to Harden's success would be his own health with all the usage he's had lately – not only is he cognizant of this, but he's actively making sure he stays in shape to sustain this run into the playoffs.
There are several important factors for him as he moves forward into the season.
"Just being in the weight room, making sure my legs and arms and muscles are strong enough," started Harden. "Getting the proper treatment and being in with the trainers and being able to do massages. Being a real professional, which, I wasn't doing before, but it's another level. Making sure I'm stretching a few times, making sure my eating is really good. Just dialed in on every aspect of my game. Making sure I'm in the gym, even on days where I might be tired."
James Harden is a freak athlete in a league full of those – leading the league in minutes for a guy who once considered himself to not be treating his body the right way is a massive accomplishment. It's not a huge life change that led him to this point, instead, it's simply the little things adding up. When you're traveling multiple times each week doing intense activity and putting your body through a multitude of different climates, regiments, and strain, it's something that you can never stop improving on.
"Even on days where I feel like I played a lot of minutes, just making sure that where my jumper or my handle is still tight enough where that next day, I'm ready to go for another game. All those details right there, those little details. Whether you're in the gym for 15 minutes, it adds up. All that time in the gym adds up so that's where I am."
When you look at the competition in the NBA and especially in the Western Conference, you need to bring it every night. James Harden, a competitor, knows what it takes to compete in this league. Gone are the days where talent beats hard work and even the reigning MVP knows it.
– Rahul Lal (Follow Rahul on Twitter @rlal95)

---
Stay in the conversation, like us on Facebook, and Follow us on Twitter.
Are you ready to get out there and make your mark on the court? You can now buy NBA LIVE 19 here.
Sign up today to receive the latest NBA LIVE 19 news, updates, behind-the-scenes content, exclusive offers, and more (including other EA news, products, events, and promotions) by email.