We're getting close to the holidays, and it's only fitting that we start to give some attention to a couple of new teams and players that we don't typically talk about. While getting a mention in this article in the grand scheme of things may not mean as much as winning a title, it's like choosing who to give gifts out to, right?
So, first, can we show some love to Luka Doncic and the way he's turned the Mavs into a pretty competitive team? What about Nikola Vucevic and the work he's doing in Orlando? How can I skip over one of the most underrated players year-after-year in Grizzlies' star Mike Conley? We could go on for days shouting out players who have been unsung heroes for their teams, but these three have really stood out as all-star sleepers so far.
Either way, regardless of if these teams are able to finish out the year in playoff position, these players have been keeping their teams afloat and impressive. That said, we have a few more important players to talk about below.
Sacramento Kings at Minnesota Timberwolves
Date and Time: December 17 at 8:00 p.m. EST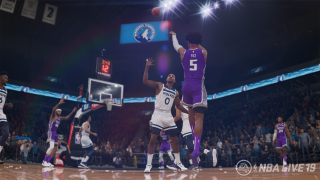 Let's start with the roller coaster of a quarter-season that this has been for the Timberbulls – err, Timberwolves. It's rare to see a coach as previously successful as Tom Thibodeau struggle so much with rotations with a talented team. Yes, Jimmy Butler is gone, but they still have a very talented team that seems to lack motivation in clutch moments.
We know what Karl Towns is capable of and we still get flashes from Andrew Wiggins often, but Robert Covington has been the glue since he came over. A surefire frontrunner for Defensive Player of the Year, averaging over 2.5 steals and a block per game, Cov is thriving. The problem is everybody else – I understand that Derrick Rose is having a good season, Taj Gibson is still serviceable, even Jeff Teague has some highlight games on the stat sheet, but players like Tyus Jones, Josh Okogie, and Dario Saric need to have bigger assignments.
Meanwhile, albeit under the radar, the Kings have been wildly impressive. They're sitting a couple games over .500 as I'm writing this, and they've put up the sixth most points per game. Dave Joerger is only four seasons removed from leading the Grizzlies to back-to-back 50-win seasons, but is showing something we've never seen with the development of these players.
An offensive rating calculates how many points a team will score per 100 possessions while a player is on the floor – 10 different players on the Kings hold a rating over 110 – that's spectacular efficiency. One of the players who actually sits at 109 is Buddy Hield, who is shooting lights-out with a 58.4% true shooting percentage and 42.3% from three. De'Aaron Fox is hitting on 41.5% of his threes – for a guy originally thought to have John Wall's three-point struggles, this is very encouraging.
Willie Cauley-Stein, Bogdan Bogdanovic, Nemanja Bjelica, Iman Shumpert (yes, the same one), Justin Jackson, and obviously rookie Marvin Bagley are all averaging career-highs in scoring, which is simply remarkable. Not only do I think the Kings will come out with the win here, but I'm making a bold prediction that they finish with a better record than the Wolves this season.
Winner: Sacramento Kings
New Orleans Pelicans at Milwaukee Bucks
Date and Time: December 19 at 8:00 p.m. EST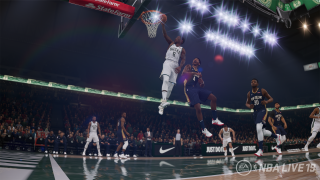 Wow, how predictable, Rahul. Another article talking about how fun the Bucks and Pelicans are? Great.
Yes, another article. Deal with it.
This matchup pits the two most intriguing young players in the league against each other and will give us moments where we see potential future finals' matchups playing out. Neither of these teams are ready for championship runs as they are constructed, but the two players, Anthony Davis and Giannis Antetokounmpo, are just entering their primes and MVP candidates.
Giannis is putting up 25 points, 13 boards, and six assists with nearly three stocks (steals + blocks) per game. Add in a career-high 57.5% from the field and a remarkable plus-5.1 defensive plus-minus (meaning: they are five points better defensively with him on the floor), and you can see he's winning them games.
On the other side, AD is putting up 27 points, 12 rebounds, five assists, and a ridiculous 4.5 stocks. Let's go ahead and put these two into perspective – Giannis just turned 24 and Anthony is only 25. They have a combined seven all-star appearances, four all-defensive honors, and are each well on their way to legendary careers.
Now while the matchup is the fun part, the game might not be as fun. The Pelicans haven't looked as good as they could be this season and a lot of that rests on not having another capable ball-handler to take pressure off of the always-under-appreciated Jrue Holiday. Holiday is best as a two-guard who can distribute and Elfrid Payton played the role on both offense and defense, hence a one-loss record with Payton in the lineup.
Instead, they're having to throw in E'Twaun Moore, a fine player, but not the right player in the starting lineup, or hope that Tim Frazier or Frank Jackson are having a good day. If they choose to go big, they're stuck playing some combination of Niko Mirotic, Julius Randle, Darius Miller, Wesley Johnson, or Solomon Hill alongside Holiday, Moore, and Davis. You can pick your own poison of whether to execute on offense or defense with these guys, but it's tough to find a lineup that is efficient on both ends.
Winner: Milwaukee Bucks
Oklahoma City Thunder at Utah Jazz
Date and Time: December 22 at 9:00 p.m. EST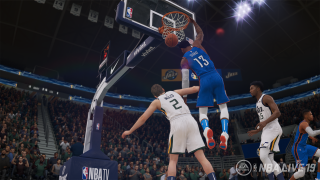 It's time I own up to this – in the offseason, I really saw OKC being a disappointment this year. They started the season losing four straight games and I felt great about my prediction – then, they shut me up. According to Basketball Reference, they've had the sixth hardest strength of schedule, are first in defensive efficiency, and are only allowing the fifth-least points per game.
There were calls from fans to fire Billy Donovan after game five this season, and now they're praising him. Paul George has been nothing short of incredible (outside of a few poor shooting games in the beginning) and Russ is working on a third consecutive season averaging a triple-double. The reason why the Thunder are good isn't solely on these two, though.
Steven Adams, normally a defensive wizard but offensive work-in-progress, has taken a step up this year. Jerami Grant has shown off great shot selection and is learning which shots to take and when to take them. Dennis Schroder has come in handy filling in for the injured Westbrook when needed and actually might turn into a Sixth Man of the Year candidate. Don't forget, we're yet to see the defensive stud Andre Roberson return from his gruesome injury last year. This team might get even better.
The Jazz have been a different story on the other hand. Last year, Donovan Mitchell was the NBA's darling. This year has been more of a reality check for the talented but challenged sophomore. While we don't doubt Quin Snyder's coaching ability, the team is coming in the final third of the league in offensive stats. Defensively, they're doing okay but still a far cry from last year's top-three numbers. To be fair, I do think they'll get there, but playing the Thunder isn't the way to hit your next level.
Winner: Oklahoma City Thunder
– Rahul Lal (Follow Rahul on Twitter @rlal95)

---
Stay in the conversation, like us on Facebook, and Follow us on Twitter.
Are you ready to get out there and make your mark on the court? You can now buy NBA LIVE 19 here.
Sign up today to receive the latest NBA LIVE 19 news, updates, behind-the-scenes content, exclusive offers, and more (including other EA news, products, events, and promotions) by email.