If you've been keeping up with these articles, I'm sure you can predict the typical jargon that comes with this intro – something about a team on the rise, something about how terrible the defense has been this season, and lastly, something about a reason to keep watching even if the Warriors look unbeatable. Instead, let's change it up. We're going to run through some of the most interesting storylines that we've seen this season before we get into the meat and potatoes of this article – weekly predictions.
We can start off with the King coming to LA and almost starting World War Three between Kobe fans and LeBron fans – then, let's remember the alleged shushing of Luke Walton by Magic Johnson. Take a trip to Minnesota and you'll find a 50-point game by Derrick Rose ten seasons after his MVP year. J.R. Smith wants to be traded, JaVale McGee looks like a legitimate contender for the Most Improved Player of the Year as well as someone who might contend for the Defensive Player of the Year award, and let's not forget that the NBA LIVE 19 cover athlete owns real estate in Andre Drummond's head after the last performance between the two.
Ready to dive into the matchups? The reason I played along with the storylines rather than stats this week is because this piece will really play into some of the best stories we've been seeing unfold. The first matchup we'll start with is between two rivals who have quite the history, this season and beyond.
Portland Trail Blazers at Los Angeles Lakers
Date and Time: November 14 at 10:30 p.m. EST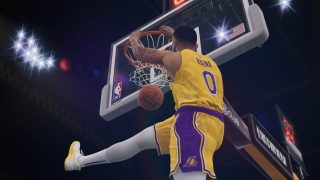 I've purposely held off on writing much about the Lakers because, as a fan, it's tough for me to stay truly impartial when writing about them. That said, we're going to dive right on in and talk about them because these two teams have met twice already and will make it three times within the first month of the season on Wednesday. Thus far, the teams have split the series with the Blazers ruining LeBron's Lakers' debut in Portland, but the Lakers narrowly held on for the rematch on the road just over a week ago. So, what was the difference between games one and two?
In the first game, the Lakers' bench unit sported a -59 plus-minus rating (the amount their bench was outscored by). In the second matchup, the Lakers' bench unit had a +93 plus-minus. Plus-minus box score numbers are not the best indicator, as there are a lot of variables that can influence those stats, but they still present a tale of two very different stories with this game. The difference between the two show that the Lakers' bench really stepped it up in one of these matchups but what I think is even more important is to look at who was playing off the bench – the two names that pop up were switching Rajon Rondo from the starting lineup to the bench for the second game as well as switching Kentavious Caldwell-Pope and Kyle Kuzma in an effort to run a bigger, more offensively-versatile lineup.
There are definitely some strange rotations that are being used by Luke Walton, but the Lakers have looked better than a number of people give them credit for. When the Lakers were able to grab Tyson Chandler after his buyout from Phoenix, they really lucked out in getting another backup big who can give them a few solid minutes a game behind JaVale McGee who has been nothing but fantastic this season. On the other side of the court, Portland struggled shooting the ball in the second game – especially from distance with stars Dame Lillard and C.J. McCollum combining to hit only 24% of their shots from deep.
In both games, the team who has seen more production from their bench has come up with the victory – it may sound simple, but I think the Lakers are due to get a few big wins off in a row and this could definitely be the start of a run with a solidified starting five.
Winner: Los Angeles Lakers
Toronto Raptors at Boston Celtics
Date and Time: November 16 at 7:00 p.m. EST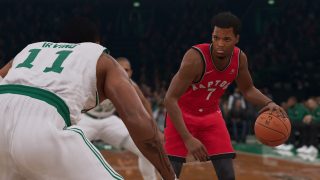 The first thing I'll say about these Raptors is that they have a top-three player in the NBA. I'll be the first to admit that I completely forgot about how good Kawhi Leonard is at basketball – and with some guys, if they take a year off, they can still come back just as dangerous. It's been a back-and-forth battle in the East for the reigns of first place between the Raptors and the Bucks (based on record), but seeing the Raptors pull off convincing wins without Leonard this season has really made me believe in this team. Kyle Lowry has been sneaky good playing off Kawhi Leonard – the most-skilled player he's ever played with – even drawing interesting side-by-side comps to Steve Nash in the process.
I'm not saying that they're anywhere near the same level, but Lowry has been a revelation this year and should only get better alongside a player like Leonard. Kawhi has been in and out of the lineup so it's also been nice to see the maturation of Pascal Siakam and O.G. Anunoby. The overall team defense in Toronto is so much fun to watch.
Boston has been rounding out lately and are the most talented team in the Eastern Conference in terms of overall ability, but having too many cooks in the kitchen can definitely hurt more than it helps at certain times. We've seen every player on this Celtics team already hit a slump and a large reason for that is not getting the usage to build up their rhythm. In fact, this is among the lowest usage rates for Kyrie Irving, Gordon Hayward, Jaylen Brown, and Al Horford in almost their entire respective careers. While Boston is really talented, I just have a feeling that Toronto's defense will find ways to limit open shots and force Boston to play iso ball – something that is wasted when you're surrounded by skilled shooters and playmakers.
Winner: Toronto Raptors
Denver Nuggets at New Orleans Pelicans
Date and Time: November 17 at 7:00 p.m. EST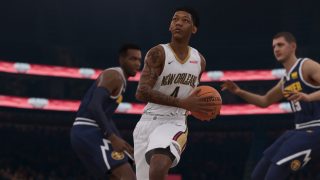 The West is so competitive, and these teams could find themselves meeting up in the playoffs this spring. The similarities are pretty interesting, too. Each have a dynamic top-tier big who plays all around the court, dependable yet underrated guard play, and more than anything, are playing with something to prove. We all know how good Denver has been – they're truly a top-five defensive team this year and Nikola Jokic has learned how to hedge screens to avoid being beat off the dribble by ballhandlers. Anthony Davis is obviously a great defender but so are teammates Jrue Holiday (2018 All-NBA First Team Defensive) and Elfrid Payton, who has really been the secret to their winning – every stat goes up when he's active.
The Pelicans have the potential to be really good this year and I think they go out and show it against the Nuggets. This is a game that the entire NBA world will be watching and the Pels will be hungry – I see them being able to get to the basket against Denver with some regularity. It's an upset, but it wouldn't be a shock should it happen.
Winner: New Orleans Pelicans
- Rahul Lal (Follow Rahul on Twitter @rlal95)

---
Stay in the conversation, like us on Facebook, and Follow us on Twitter.
Are you ready to get out there and make your mark on the court? You can now buy NBA LIVE 19 here.
Sign up today to receive the latest NBA LIVE 19 news, updates, behind-the-scenes content, exclusive offers, and more (including other EA news, products, events, and promotions) by email.