The NBA is back, and I couldn't be happier. That feeling is like winning the lottery – and opening weekend? Don't even get me started, I sat on my couch with my computer streaming one game, another on the TV, and had a third game streaming on my phone. Along with great storylines and questionable outfits, the association is back in full-swing and I'm giving you some of the top matchups for the week of October 22 along with my predictions on those games.
Indiana Pacers at Minnesota Timberwolves
Date and Time: October 22 at 8:00 p.m. EST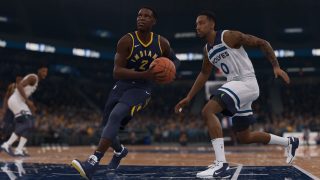 This matchup brings together two teams of similar caliber who seem to have completely different narratives heading into the year. After a breakout season from superstar Victor Oladipo, expectations are quite high in Indiana. Just a few months after the Pacers lost their franchise player, they lucked into a new one. They wound up winning 48 games last season, only two games behind the LeBron James-led Cavaliers. They folded in seven games to the Cavs as part of Bron's heroic postseason, but they showed heart.
This season, you can add in another year of experience playing together for guys like Vic, Bojan Bodganovic, Cory Joseph, Domantas Sabonis, and Thad Young. Add in Tyreke Evans who revitalized his career in Memphis last year and you can't forget about the newly extended Myles Turner. The Pacers are for real.
On the other side of the court, you have the Timberwolves. Yes, they're incredibly talented, but they're also like the cool table at a high school cafeteria that's filled with drama and an eventual blow-up, then break-up, in the making. Jimmy Butler is their best player and he knows it. Andrew Wiggins is talented and has loads of potential but takes possessions off on defense and, while he's trying to put in more effort on defense, it's only translated to jumping more on pump fakes for Karl Towns. The Timberwolves are the superior team, but the Pacers just gel. I'm putting my trust in them to get it done on Monday night. 
Winner: Indiana Pacers
Boston Celtics at Oklahoma City Thunder
Date and Time: October 25 at 8:00 p.m. EST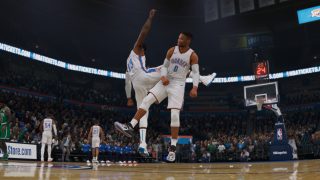 This is a heavyweight fight. The Celtics are the favorites to make it out of the Eastern Conference and the Thunder are one of the strongest teams in the West. Let's start with the Celtics, they legitimately have nine players who can demand 20 minutes, or above. While a starting five of Kyrie Irving, Jaylen Brown, Gordon Hayward, Jayson Tatum, and Al Horford is right up there for most entertaining in the league, it's also a lot of firepower to balance out. Last year, when certain players hit 35 minutes, they would deliver one of those game-changing performances. A serious concern of mine is how Celtics head coach Brad Stevens is going to balance minutes but still ensure that everyone hits their rhythm rather than being pulled before they can find a groove.
The Celtics' defense is their main asset even with the strong offensive weapons they have. Horford is easily their best defender (though Brown is creeping behind him and Hayward is no slouch) but guard play is going to dominate this game. With Russell Westbrook and Paul George back and Dennis Schroeder showing a bit of a shooting touch, points will come for the Thunder. Throw in home-court advantage, and the fight that this Thunder team has with Steven Adams doing the dirty work, Jerami Grant running to get the job done, and hopefully some more time from guys like Hamidou Diallo, this Thunder team will be motivated.
Winner: Oklahoma City Thunder
Washington Wizards at Los Angeles Clippers
Date and Time: October 28 at 9:30 p.m. EST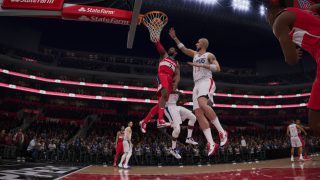 Here are two teams that don't demand that much buzz but are still solid enough veteran squads. The Wizards are obviously led by John Wall but now put together a starting five of Wall, Brad Beal, Otto Porter, Markieff Morris, and offseason-acquisition Dwight Howard. We talk a lot about Dwight, but last season was season number 14 for him and he still averaged 16-plus points and 12-plus boards. He could add something Marcin Gortat just didn't provide last year for the Wiz. Beyond that, emotions are going to be running high as Austin Rivers faces his dad after being traded, Kelly Oubre Jr. is a bright young player, Jeff Green could have some revenge in mind for the Clippers, and Ian Mahinmi is a good backup to Dwight.
The Clippers have such a tough defensive squad. Pat Beverly and Avery Bradly highlight the backcourt while Danilo Gallinari and Tobias Harris spread the floor? That's not bad at all. Luc Mbah a Moute made a return to the Clippers and will surely make an impact on that defense but Lou Williams is still a sixth man of the year candidate, Montrezl Harrell and the eighth wonder of the world, Boban Majanovic, make for a solid second string of bigs. Also, Shai Gilgeous-Alexander is a heck of a player with potential to mature into an all-star caliber point guard.
I've said a whole lot of good things about both of these teams but, when push comes to shove, the Wizards are the better team. The Clippers rely heavily on Harris offensively and Otto Porter is a great defender, one who can at least slow down Tobias. Add some low-post defense from Dwight and John Wall stifling the Clippers' guards, the Wizards are my pick. Brad Beal should get hot, per usual, but I expect a big game from Rivers off the bench against his old team.
Winner: Washington Wizards

- Rahul Lal (Follow Rahul on Twitter @rlal95)

---
Stay in the conversation, like us on Facebook, and Follow us on Twitter.
Are you ready to get out there and make your mark on the court? You can now buy NBA LIVE 19 here.
Sign up today to receive the latest NBA LIVE 19 news, updates, behind-the-scenes content, exclusive offers, and more (including other EA news, products, events, and promotions) by email.