Somehow, we're already on the third week of the NBA season and the excitement hasn't stopped. It's actually been crazy to see some of the scores – it's an accomplishment this season to hold your opponent to under 100 points. Even the slowest teams in the league such as Memphis, San Antonio, and Brooklyn are still seeing a pace of over 100 possessions per game.
Since we don't have San Antonio as a matchup of the week option, I'm going to quickly plug in that their offensive efficiency is in the top tier of the league, netting them nearly 118 points per 100 possessions per game. To add some context, OKC's offensive efficiency is only 95.5. On the defensive end, the Spurs haven't fared as well, with Denver, Boston, and Indiana leading that side, a world ahead of other teams thus far. We aren't going to get to Indiana or Boston in this week's column either, but while both teams have looked a little off, they've been playing tough-nosed defense and that's not debatable.
That said, let's get to this week's top matchups, featuring teams squaring off against conference rivals.
Toronto Raptors at Milwaukee Bucks
Date and Time: October 29 at 8:00 p.m. EST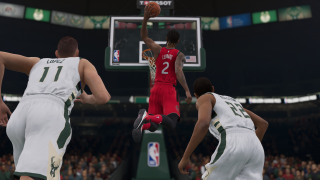 If Kawhi Leonard decides to stay in the East past this season, this could be the most intriguing individual matchup we get the pleasure of watching for years to come. Kawhi and Giannis Antetokounmpo are each physical specimens, but something even better as a basketball fan is tracking their skill progression. Too dig into this, I pulled the first three seasons of their respective careers and averaged them [RA1] – this took them from rookies who didn't see many minutes all the way to becoming stars.
Kawhi Leonard 2011-2014: 28 minutes, 10.9 points, 5.8 rebounds, 1.6 assists, 1.6 steals
Giannis Antetokounmpo 2013-2016: 30.5 minutes, 12.2 points, 6.3 rebounds, 2.9 assists, 1 steal
There are two things that pop out to me here – the first is that Kawhi has only been in the league two years longer than Giannis but has accomplished a number of different accolades like Finals' MVP and Defensive Player of the Year already. Giannis is coming, potentially for an MVP this season, but Kawhi is right there, too. The second thing I've noticed is that both players had eerily similar stat lines through this time and, while they've had different teams and hold different roles, it's remarkable to see the way they've each turned into generational talents after each being picked number 15 in their respective drafts.
Now that I've built up the individual matchup and similarities between our biggest stars, let's go to the teams. The Bucks have had Khris Middleton locked and loaded all year – once upon a time, you couldn't trust him from deep, but now he's hitting three-pointers at a very impressive rate (52% at the time of this article). Last year, Middleton shot 50% of his shots from the midrange, this year that number is down to 24%. Higher volume of threes mixed with a higher percentage from the field is a great way to go. Giannis is their leader but with Middleton, a refreshed Bledsoe (who actually wants to be in Milwaukee), and plenty of role players like Brogdon, Brook Lopez, and the underrated Ersan Ilyasova, the team is ready to break out.
Let's move north of the border and break down Toronto – these Raptors started the season off beating the Cavs, putting up 113 on the Celtics, 117 on the Wizards (without Kawhi), and then 127 on the Hornets when Kawhi returned. Offense was the question with this team, the perimeter defense already knew would be good. The rotations are solid – Kyle Lowry, Danny Green, Fred VanVleet, and Norman Powell handle the guard slots, all four of them are capable enough defenders. Kawhi, O.G. Anunoby (a premier defender in-the-making), and C.J. Miles have their own rotation, and Pascal Siakam, a young player who is developing beautifully, Serge Ibaka, and Jonas Valaciunus give some extra toughness down low. I love the Bucks, but I love defensive energy and efficiency mixed with depth even more – give me the Raptors on Monday night and also to win the Eastern Conference. 
Winner: Toronto Raptors
New Orleans Pelicans at Golden State Warriors
Date and Time: October 31 at 10:30 p.m. EST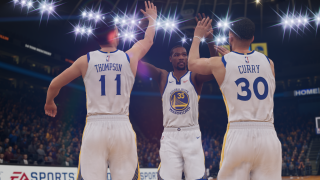 The Pelicans have looked fantastic this season – not only is Anthony Davis firmly in the race for the MVP trophy, but he has the Pelicans playing at the top pace in the league. If you thought AD was on fire last season with 28 points, 11 boards, and 2.6 blocks per game, wait until he puts up the same amount of points with 13 boards, and add in four assists per game. So far, he's actually accounted for 26.3% of the Pelicans' assists on the season and 20.8% of their rebounds – it's been a small sample size, but he's been doing it all. The frontcourt rotation with Nikola Mirotic and Julius Randle has come to play and once Jrue Holiday, their second-best player, Elfrid Payton, and E'Twaun Moore figure out the most efficient way to play together, watch out. This team already looks fantastic but can still get better.
Spoiler here, I picked the Warriors. In last year's playoffs, after an upset win in the first round, the Pels took on Golden State. They were simply outmatched – they played hard and they even played well for the most part – but Golden State was just too much of a juggernaut. The Warriors haven't been fantastic on the season – that doesn't mean they aren't. In fact, they're playing just okay thus far and still tout top-ten ratings on both offense and defense. Steph and KD are still playing like their usual selves but Klay has not seen his usual efficiency and effectiveness from the field this year. During the series against the Pels last postseason, Klay only shot 38.4% from the field and 27.9% from three – I think Klay, looking for a game to really get him back to form, uses this as a personal revenge game as Davis' attention will be on Durant and Holiday's attention will lie on Steph. Simply put, it could wind up being the same story – the Pelicans will play well, but the Warriors simply have a stronger punch in the final round.
Winner: Golden State Warriors
Utah Jazz at Denver Nuggets
Date and Time: November 3 at 8:30 p.m. EST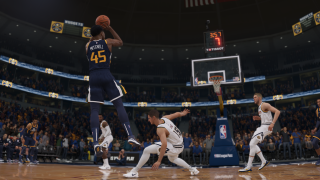 This might be the matchup that basketball nerds are most excited about – these teams are at the top of defensive efficiency and each have the ability to pull off huge upsets. The Jazz are out to prove something this year – many people were surprised at their consistency in the playoffs last year; I think a lot believed that when the bright lights were on, it may not have been sustainable. Quin Snyder, the Jazz's coach, has the five on the floor playing defense like their lives depended on it. Donovan Mitchell has been a bit slower due to added attention, but his team, notably Joe Ingles, Rudy Gobert, Jae Crowder, and Ricky Rubio have really stepped up with their minutes to provide a fully-rounded team effort.
When you look at the Nuggets, the first observation is that even with Nikola Jokic, a near seven-footer who is a nightly triple-double threat with a poor defensive presence in the past (though a change in how coaches are having him defend the pick-and-roll is changing that some), the team is still near the top in all defensive ranks. Unfortunately, the Nuggets lost out on Will Barton just a few quick games into the season. They still have a great roster, but they're definitely going to need to rely more on the backs of Jokic, Jamal Murray, Gary Harris, and others. While it isn't expected that Isaiah Thomas will return back in time for this matchup, even if he did, there's no telling how he'll look immediately, and he'd hurt the defensive efficiency more than he'd help it. The Nuggets are a great team, even with Paul Millsap's disappearing act, but the Jazz might be a top-four team in the Western Conference and that's very hard to argue against.
Winner: Utah Jazz
– Rahul Lal (Follow Rahul on Twitter @rlal95)

---
Stay in the conversation, like us on Facebook, and Follow us on Twitter.
Are you ready to get out there and make your mark on the court? You can now buy NBA LIVE 19 here.
Sign up today to receive the latest NBA LIVE 19 news, updates, behind-the-scenes content, exclusive offers, and more (including other EA news, products, events, and promotions) by email.