NBA LIVE 19 launch is just around the corner and not only is the core community excited about it, but a number of celebrities are, too, and showed their excitement by coming out to the NBA LIVE 19 Demo Launch Party in LA on August 24. I was fortunate enough to get the chance to sit down with mega-rappers YG, Jadakiss, and Lil' Dicky, as well as actor Omari Hardwick.
Representation in Gaming Matters
Back in July, NBA LIVE made history by announcing Female Create-a-Player, a feature that opens the game up for women to join the men in creating their players based on face scans. In the game, female created players will get the chance to travel around the world and build their squad as well as participate in Live Run and Court Battles with, and against, the guys. We sat down with NBA LIVE Ambassador and WNBA superstar Candace Parker to talk about how momentous of an occasion this was at the time.
Omari Hardwick, a member of the NBA LIVE family and the star of the hit show Power, has taken a long road to get to his current level of stardom. While he admitted that as strenuous as his journey might've been, it's a whole different arena woman are trying to enter as it pertains to gaming. He felt so passionate about female representation that he wanted to go in-depth about it.
"It's a very big thing for me when women can sit and look at themselves playing and having fun in a game and telling the man to hold on because of the game," he started, alluding to the stereotypes that exist in gaming. "But, it's even better that they can play as themselves; the gaming world gets better that way. It's such a big thing when EA and other companies get behind this push."
Omari went on to talk about a very personal story of representation that he'll always remember. Going back to his childhood, his sister always seemed to find trouble seeing herself in toys and dolls – it wasn't until a doll was created with the same darker skin tone than the norm and it even shared her name, Shani, that she actually lit up on Christmas, he said. As we got into a discussion on representation, Omari struck a chord with me, a man of Indian descent, by talking about a void in representation for minorities in general.
"You and me both, we start very early as brown people," he started. "Where we look at so many images void of a look that we possess, when we look in the mirror and over the years, it's been a very important thing, to see the growth in that representation."
He drew back out to the addition of female created players in NBA LIVE 19 and touched on how necessary this is. Not only in video games, but that more emphasis needs to be placed on the sacrifices women make every day as well as the struggles they push through.
"Those things are big and, for women in particular, they're the smarter gender by far," he began. "[They're] more powerful, we couldn't carry another life inside of us; we could never. It's very important for women to be represented, they deserve every bit of what men are given. We need more male feminists."
Their Court, Their Rules
As the night went on, the NBA LIVE 19 team began their big reveal – Court Battles. In this mode, you'll get the chance to build your squad by earning current and legendary players. As you go on campaigns, there are four necessary steps:
1. Choose Your Game Rules
2. Set Your Defensive Lineup
3. Choose an Attacker Handicap
4. Set Your Team's Game Plan
Right now, YG is on top of the rap game and he's been sitting near the top of the throne for a long time now. His debut album, My Krazy Life, hit number one on the charts. Since then, he hasn't been able to release a single or an album without it being played all day long across each radio station as well as in both the Madden 19 and NBA LIVE 19 Soundtracks. Not only does he hit all of his shots musically, but he can ball out on the court, too. And my guess is in Court Battles, he'd be working to earn Russell Westbrook or James Harden, two fellow LA legends. He spoke a bit about how he models his game after the two NBA MVP's.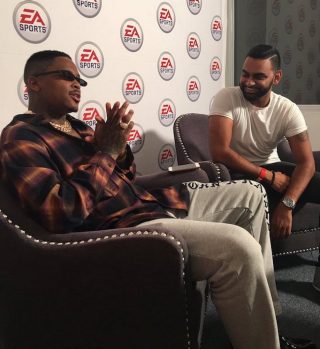 "I got some Westbrook in me and some James Harden," he said without even a hint of laughter or sarcasm. "I'm serious, how I play, my heart, my drive, it's like Westbrook, and I'm lefty like Harden. When I do my thing, it's not regular, it looks different. People don't really be knowing what to expect or how to stop it."
Lil' Dicky, another popular hip-hop artist who has recently made waves with his top-ten single "Freaky Friday," featuring Chris Brown, was eager to talk hoops, too. Lil' Dicky has actually showed up in some celebrity pro-am games and also balls out at open gyms every once-in-a-while. He's almost unstoppable from three-point range, and he knows it. When I asked him about his NBA comparison and what his rules would be if I were to come play on his court, it was an easy answer.
"I play like two or three times a week. The answer is Steph Curry, but it's such a mainstream choice to say that, which is annoying. But, I was saying that since he was a freshman at Davidson," he said before moving on to his rules. "I would place value on the halfcourt shot – maybe call it a six-pointer. I would lead the league in six-pointers."
I wonder who'd win in a game of one-on-one between YG and Lil' Dicky. YG made sure to let us know that he had a custom-made Ferrari Court that he invites friends, family, and really anybody talking smack to try embarrassing them on – similar to how you can create your own court in our game. In fact, he even said that he's such a hoops fan that he might join other rappers and ballers at The Drew League next year – a pro-am league featured in NBA LIVE 19 that takes place in his hometown of Compton, California.
Taking It Old School
When you talk about old school hip-hop, you can't miss out on The Lox or Jadakiss. He's enjoyed a career that began back in 1991 before Tupac had branched off from Digital Underground, three years before Biggie released his first album, and four years before Jay-Z created The Roc. Basketball has always run through his veins, whether he was playing it or not.
"I love basketball, I love it," he said. "I played AAU, high school, and then it just became a hoop dream after that, but I've always stayed around it. I've always attended NBA games, have a lot of friends in the NBA because you know how that goes with rappers and ballers and ballers and rappers."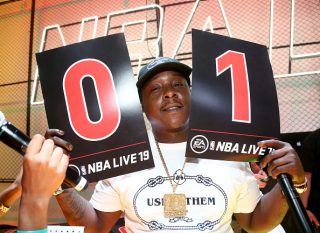 Jada has seen many different eras of basketball through the years, and he couldn't stop talking about that old school brand of basketball. He talked about how he still enjoys the game a lot today and sees amazing players all over the court, but the physicality that existed before was more his cup of tea. When I asked him about stepping onto his court, he instantly related it back to the older eras of basketball.
"I don't want any zone – no zone defense, only man-to-man," he started. "Before they allowed the zone in the league, I think it was tougher. It was harder. It's always been about business, but it wasn't more entertainment as opposed to how it is now. Don't get me wrong, it's still challenging, it's still fun, it's still physical, but it's more of a business and somewhat entertainment at the end of the day."
Love All Around for Allen Iverson
He's obviously one of the most prolific players of all-time but Allen Iverson, an NBA LIVE Squad member, seemed to be in everyone's mouth the minute that we spoke about influence. Iverson really carved out a place in the hearts of many, and both Omari Hardwick and Jada, AI's influence really helped them create their own identities as individuals.
"He's a special cat. Special, special, cat. He's one of my dear friends. He's underrated in a lot of ways. Every single night, he put it out there. He changed the game in so many ways," Jada began. "When AI came along, he created a generation that rocked with Michael Jordan but wanted their own thing in terms of finding themselves and expressing themselves with the tattoos, being 160 pounds soaking wet, maybe five-foot-eleven. Being able to jump the way he could and run through walls with wobbly knees for as long as he did it, he was a game changer."
He brought up one of the most amazing aspects of Iverson, the fact that he's a warrior down to his core. The man was typically the smallest player on the court, but that didn't stop him from dominating the game. The fire, the hunger, the passion that he played with made him immortal to NBA fans. Jada always saw Iverson as one of his closest friends and one in a group of a few ball players who changed his life.
"For me, the most impactful players were Magic, Allen Iverson, Carmelo, Jalen Rose, Chris Webber, and Jason Terry," he said. "Those guys are like my family. They educated me while they were learning the game, about the mantra of the NBA, going from college to the league, the valleys and the peaks, the good times and bad times. Those are my tutors and mentors of the game."
While all four of these guys have their own ventures and successes in different industries, they're all connected by a deep love of the game. Speaking of a love of the game, you may just see them in the game, too. Basketball has served as a vice for some, a hobby for others, but a passion for all. Be sure to go out and download the demo for your first taste of NBA LIVE 19 now.
- Rahul Lal (Follow Rahul on Twitter @rlal95)
---
Stay in the conversation, like us on Facebook and Follow us on Twitter.
Are you ready to get out there and make your mark on the court? You can now pre-order NBA LIVE 19 here.
Sign up today to receive the latest NBA LIVE 19 news, updates, behind-the-scenes content, exclusive offers, and more (including other EA news, products, events, and promotions) by email.