The Sims 4 Dine Out Game Pack* gives your Sims more than just options for a night on the town. If they're feeling saucy, potential restaurateurs and foodies can own and customize their very own restaurant. How sweet is that? To help start the stoves, we've put together a list of tips that can improve a restaurant's overall star rating, leading to higher profit and success.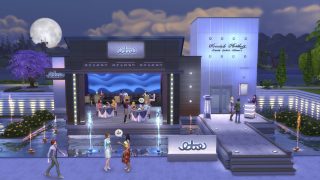 The First Course: Starting a Restaurant
The Basics
After building one – or grabbing one of six awesome pre-made restaurants from My Library – a Sim is needed to purchase a Restaurant. Using the Ownership button in the bottom right corner of your screen, choose the Buy a Restaurant option, and choose the Lot. It's important to know that your household finances are distinct from your business finances. Click the Transfer Funds button in the Ownership panel to secure Simoleons for your business. This money is needed to purchase furniture, pay for advertising, and cover staffing costs. You'll need to put money down if you want to earn big long-term!

Name the Place, Pick the Theme
A restaurant's name is usually the first thing patrons notice, and that original impression needs to deliver the right tone and taste. Will your restaurant be cool and swanky? Clean and classic? Weird and wild? It starts with the name, and then is unfolded like a napkin in the aesthetic you choose. Get creative with a romantic garden hideaway, or a kid-friendly neighborhood spot. What about a waterfront seafood shack, or even a multi-level maze?

Stir in the Essentials, Then Mix with Décor
You'll need a restroom, clean up area, Host Station, Waiter Station, and Chef Station, plus several Dining Spots – unless it's a picnic restaurant and you expect customers to eat on the floor! Keep customers warm with heat lamps if eating al fresco, make a wall collage of Experimental food pics, or add sleek aquariums to display the catch of the day – or do all of them. Ah, the delicious options. Plus, make a personalized sign to show pride for your newfound endeavor. The choices are always yours!
The Second Course: Staff and Menu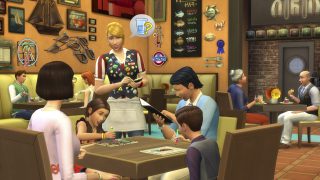 Hire the Staff
Click the Manage Employees button in the Ownership panel to hire employees. You'll need a Chef, Host, and Waiter. You can hire higher-skilled staffers, but they'll cost more, which might be a financial burden on your new Restaurant. Plus, you can train employees later to turn them into award-winning staff. James Beard alert!

Dress It Up or Down
Using a simple menu, you pick how customers will dress at your restaurant. For something casual, choose "everyday." For added spice, choose "party." But what about uniforms for your staff? Quickly choose from a series of preset clothing. Got vests with flair on your mind? Go for it. Want your host wearing something eye-catching to greet customers? Sounds good! Or enter Create a Sim to personalize attire and make it unique. Your style, your rules.

Hey, What's for Dinner?
Deciding on food is flavorsome fun, and there's so much to choose from! Using the interface, quickly select and preview menus covering Dinner, Brunch, Experimental, Italian, or Seafood. Remember: you can customize here, too! Load preset menus to tweak them slightly, or pick and choose each and every beautiful, vibrant dish. It's the story of your restaurant, after all, and every drink, main dish, and dessert can reflect your preferences.
The Third Course: Running A Restaurant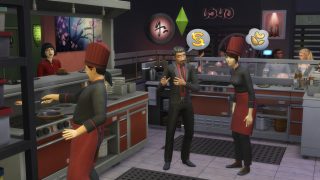 Know Your Chef
Because some recipes are more difficult to master than others, which you'll see in the menu customization panel, consider your chef when designing the menu for your Restaurant. Hiring a great chef may be a good investment, but also be mindful of where your money's going.

Keep an Eye on Things
No matter how impressive your staff, you'll want to check out the action to know how things are going. If you can't tell from watching the staff, check the reactions over the heads of your customers. They will gain or lose stars based on how well your staff is performing. You might have to sternly let the staff know when they make mistakes, or invest in teaching them fresh skills to prevent a repeat. If some employees just aren't working out, make a hard decision and kick them to the curb!

Train the Staff
On the other hand, instead of kicking them to the curb, you might just take your staff to a higher level of awesome. Use Simoleons to train them by going to the Manage Employee option in the ownership menu. Better employees please customers, make fewer mistakes, and bring in more money over time. Invest today and watch for a future pay off. But spending at the right moment is a crucial decision to have a successful restaurant.

Time for a Pep Talk
Sometimes, the staff just needs to know you believe in the work they're doing. Show them with the "Give Inspiration Speech!" button. This will get them excited about the restaurant, and about delivering higher-quality service. More stars from customers equals a higher-performing Restaurant, which means more Simoleons for you. That's as sweet as a perfectly-made meringue.

Advertising Works
One of the hardest things for a restaurant is getting the word out – Sims won't know about your fresh hot spot at first. But they will if you advertise! Invest in publicity by clicking the Advertising button in the Ownership panel. The more you spend, the greater the chance to bring in more customers. But, be careful! That staff you've been inspiring with speeches needs to be well-trained before too many customers come through the doors!


The Sims 4 Dine Out is out now, so tuck your napkin into your collar, because it's time to dig in!

Stay in the conversation! Follow us on Twitter and Instagram, like us on Facebook, and subscribe to our YouTube channel.

*REQUIRES THE SIMS 4 GAME ON APPLICABLE PLATFORM (SOLD SEPARATELY) AND ALL GAME UPDATES TO PLAY.