The 2018 FIFA World Cup is one of the biggest sporting events in the world, watched by millions of people from all corners of the globe. Some fans cheer on their countries with fervor and passion, others just watch to enjoy the beautiful game at the highest level. Every football fan has their own reasons for watching the World Cup.
But this is the World Cup, the pinnacle of sport, and the best of the best competing on a global stage. There can only be one winner, and just as everyone has a team they're rooting for—everyone also has an opinion on who will win the whole thing. At EA SPORTS we are no different, but we made our prediction with a little technological assistance courtesy of FIFA 18.
Using FIFA 18, and brand new ratings from the 2018 FIFA World Cup update, we ran a simulation of the tournament from the group stage all the way through to the final in Moscow. Check out our predictions below, let us know what you think on Twitter, Instagram, or Facebook, and make your own picks using our online World Cup Predictor.
The Group Stage
32 teams qualified for the 2018 World Cup, split into eight groups of four. While we didn't see too many high-profile surprises in the group stage, a few interesting narratives did form.
Hosts Russia narrowly edged out Mohamed Salah and Egypt in Group A to come in second behind first place Uruguay. Group D had a surprising amount of drama and heartbreak as Lionel Messi's Argentina came in second after losing to Croatia, keeping Euro 2016 darlings Iceland from progressing to the knockout rounds.
Perhaps the craziest result of the stage was the final standings of Group F, which saw Sweden slip past Mexico via the thinnest of margins. Both countries finished the stage with four points each and a -1 goal differential, which is the first tiebreaker according to the rules of the tournament. The final decision was made by the second tiebreaker: goals scored. Sweden scored five total goals in their three group games, one more than Mexico, to secure second place.
Round of 16
The first knockout stage saw a handful of surprising results, but most of the tournament favorites continued on their way to the quarterfinals. Brazil hammered Sweden 4-0, continuing their assault on the ghosts of 2014 at every opportunity. The two best players in the world suffered narrow defeats with their respective countries as Cristiano Ronaldo's Portugal fell 2-1 to Uruguay and Lionel Messi's Argentina were blanked 1-0 by France. England met a familiar fate, losing 5-4 in a penalty shootout with Colombia to make an early exit. 
Quarterfinals
Brazil's quest for redemption ended in the quarterfinals after matching up with Belgium. The Red Devils prevailed 2-0, continuing to live up to their pre-tournament hype. France and Germany maintained European dominance in the quarterfinals, defeating Uruguay and Colombia respectively. Even though Croatia fought mightily to get this far in the tournament, their fairy tale came to an abrupt end after a 1-0 loss to Spain.
Semifinals
While an all-Europe semifinal could be perceived as boring to some, the history between the teams and the quality of talent on display made for some highly anticipated matches. Belgium's talented, exciting core fought valiantly but were ultimately defeated 2-1 by France.
Germany's poise in the big moments continued in their semifinal against Spain. The 2010 champions were unable to overcome the reigning champions, only scoring one goal to Germany's three as Die Mannschaft stormed their way to the final. 
Final
Unsurprisingly, the final was predicted to be a tight one; the ruthless German machine was halted by France over 120 minutes. Each side only managed to notch a single goal, sending it all the way to a penalty shootout. The talented penalty takers and experienced goalkeepers on both sides kept the contest as tight as it had been since the first whistle, but it was Les Bleus who came out on top with a 4-3 shootout result. 
Golden Boot Award
France's Antoine Griezmann and Spain's Isco were in a very tight race for much of the tournament, and neither came out on top as they tied to share the Golden Boot with five goals apiece.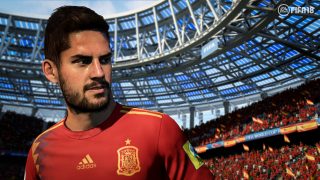 Golden Ball Award
It's no surprise since he won the Golden Boot and picked up a winner's medal, but Antoine Griezmann was also named the best player of the tournament after consistently putting on a scintillating show with France.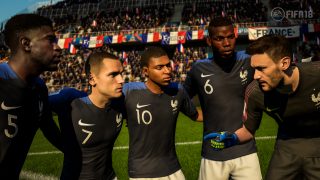 Golden Glove Award
Spain may have been eliminated in the semifinal, but goalkeeper David De Gea earned himself the Golden Glove Award for his phenomenal performance between the sticks in Russia.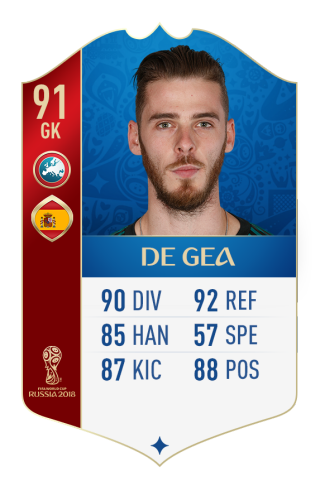 Best Young Player
Brazil didn't get past the round of 16, but young striker Gabriel Jesus put in some brilliant performances in the group stage to get the nod for Best Young Player at the tournament.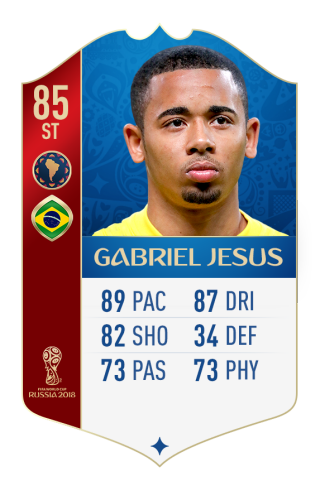 Now that you've seen the official EA SPORTS FIFA 18 simulation results, it's time to make your pick! Head over to the World Cup Predictor today to make your selections, and be entered for a chance to win exclusive FIFA prizes.
The 2018 FIFA World Cup Russia™ update is available as a free content download to all FIFA 18 players on PlayStation 4, Xbox One, Nintendo Switch, and PC.
---
FIFA 18 is Available Now for PlayStation 4, Xbox One, and PC.  Conditions and restrictions apply.  See https://www.easports.com/fifa/fifa-18-game-and-offer-disclaimers for details. 
Stay in the conversation on all things FIFA by liking us on Facebook and following us on Twitter and Instagram.
Sign-up to receive emails about EA SPORTS FIFA and EA products, news, events and promotions.