The most elite FIFA 18 competitors on the planet emerged on The O2 Arena in London this week for the 2018 FIFA eWorld Cup Grand Final. The tournament kicked-off on Day 1 with group stage gameplay consisting of 32 competitors (16 on each console). By Saturday, August 4, a champion will be crowned and will have the honor of hoisting the FIFA eWorld Cup Grand Final trophy signifying their undisputed title of the greatest FIFA 18 competitor in the world.

Of course, Day 1 abounded with intense matches, masterful goals, and compelling storylines. Dive into to some of the highlights from the first day of FIFA eWorld Cup Grand Final action below and be sure to check back for more throughout the event.
American Alex "Alekzandur" Betancourt out-performs expectations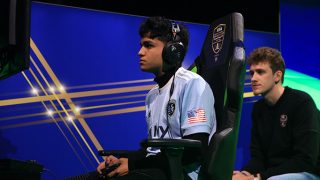 Fans of Team USA weren't able to root for their country in the 2018 FIFA World Cup Russia, but the only competitor in the FIFA eWorld Cup London representing the United States, Sporting Kansas City pro Alekzandur, got off to a solid start on Day 1 of the tournament. Tied for third in points in Group C with nine through Round 5, the group's No. 8 seed rose to the occasion to earn himself a 3-2 record, scoring 26 goals and only conceding 24 for a +2 goal difference on the day. His final matchup on Thursday against German competitor Michael "MegaBit" Bitner was arguably the most intense two-game series of Day 1.
Although Alekzandur was ultimately defeated by MegaBit, he stood his ground in the 9-7 aggregate defeat to the same opponent who knocked him out of the Global Series Playoff in Amsterdam (and who was ultimate the Xbox One champion). Back in May during the Amsterdam event, he confidently told EA SPORTS that he was "performing out of my mind" and will look to ride that confidence into Day 2 in London with hopes of advancing into the knockout round.
Michael "MegaBit" Bittner locks in knockout-round berth
Speaking of the Global Series Playoff Amsterdam Xbox One champion, MegaBit continued his unrivaled dominance on Day 1 at The O2 in London. With an impressive 5-0 start on Thursday, the German competitor has already qualified for the knockout stage. He rolled through his first five match series, earning himself a perfect record so far with 15 points to his name and posted a resounding 36-23 goals for-against ratio. The German Machine, as he's been referred to in the past, spoke highly of his competition, knowing full well that a tough road still lies ahead. "I'm feeling really confident," he said in an interview during the livestream. "But I already know it doesn't matter if I'm finishing fourth or first, because the other group on the Xbox side is so stacked, I will meet a top player who can win the whole thing for sure in the first knockout round." All eyes will be on MegaBit heading into Day 2 as his calm, cool, and collected demeanor combined with his confidence could lead to a deep run in the 2018 FIFA eWorld Cup Grand Final.
Nicolas "Nicolas99FC" Villaba again asserts his dominance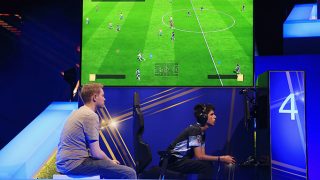 Following the same route as MegaBit, Group C's No. 1 seed and tournament favorite of many, Nicolas "nicolas99fc" Villaba also went undefeated on Day 1 in London. Winning all five of his matchup series, the Argentinian competitor made goal-scoring look easy with a +13-goal differential on the day with his 25-12 goals for-against ratio. EA SPORTS' head FIFA 18 writer, Spenser Davis, tagged nicolas99fc's contest against Phillip "Eisvogel" Schermer as a key match to watch, as both competitors have been dominant all season. But nicolas99fc emerged from the two-game series against Eisvogel with a commanding 5-1 victory, putting on paper even more evidence that he is a serious threat to win it all. It would be a fitting end to an amazing season, but there is much work left to be done.
Spencer "Gorilla" Ealing looks to defend his title

The 2017 FIFA Interactive World Cup champion, Spencer "Gorilla" Ealing emerged with 11 points after his Day 1 matches, earning three wins, two draws, and zero losses. He scored 27 goals through his five two-game series and let up a Group B low 18 goals. The FaZE Clan competitor and Birmingham, England native is representing his home country at the O2 in London and is looking to become the first player to win back-to-back world championships. His strong start sets him up perfectly to move on to the knockout stage, and he should be on every FIFA fans' radar on Day 2 as he is poised to defend his title.
Day 2 Key Matches To Watch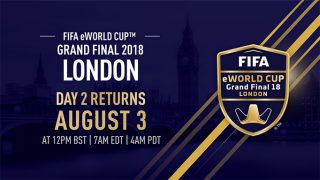 MegaBit (15 points) vs Kurt0411 (12 points)
While MegaBit has already clinched a berth in the knockout round, he respectively called out his match against Kurt "Kurt0411" French on Day 2 as a tough contest that he's looking forward to. Kurt0411 won four of his five Day 1 series and stands in second place behind MegaBit in total points with 12. This may very well be a preview of a more meaningful game in the later stages of the tournament.
nicolas99fc (15 points) vs Stefano Pinna (13 points)
Perhaps the competitor with the best shot at giving nicolas99fc his first loss of the group stage, Belgum's Stefano "StefanoPinna" Pinna is lurking. He lived up to his No. 2 seeding in Group C and earned 13 points on Day 1 with four wins and one draw. He scored 29 goals, tied for the Day 1 lead in the PS4 groups, and posted a remarkable +9 goal differential. His match against nicolas99fc could be a crucial seeding decider for the knockout stage.
The group stage remains wide open heading into Day 2 of the tournament and given the combinations of possible outcomes, the majority of competitors remain in the hunt to progress to the knockout stage. On Friday, the tournament's competitors will round out group stage gameplay, face-off in the knockout stage and quarter-finalists will be determined. Be sure to tune in again on Friday August 3 for Day 2 of the FIFA 18 eWorld Cup Grand final with coverage beginning on EA SPORTS FIFA 18 Twitch channel at 12pm BST/7am EDT/4am PDT.
-Matt Franciscovich (@MattFranchise on Twitter)
---
Get your tickets to see the FIFA eWorld Cup Grand Final in London and watch the best FIFA players in the world live.
Don't miss any of the Grand Final action on our Twitch channel on August 2-4.
Follow us! Subscribe to the EA SPORTS FIFA Twitter, and Instagram channels for extended coverage live from London.