For the first time in NBA LIVE's history, we're bringing Female Create-a-Player to The One. In NBA LIVE 19, when you hop on the sticks in September, you'll be able to take your female baller and compete in the STREETS World Tour, LIVE EVENTS, LIVE RUN, and more experiences.
Female Create-a-Player Customization Options
It all starts with getting your face in the game with the NBA LIVE Companion App. GameFaceHD now supports the scanning of female players. We'll also have multiple preset head models to choose from as an alternative option. Once you have your facial appearance set, you can pick from hundreds of hairstyles to really express your style.
Next, you'll set your focus on the type player you want to be by picking your Playstyle – but more on that later. From here, you'll set your height and weight based on the Playstyle you picked. There are no differences in these limits for female players vs. male players, so everybody will have equal options when setting their player's physical attributes.
With GameFaceHD, dozens of preset heads, hundreds of hairstyles, and access to all of the Playstyles, female players with truly be able to express their custom look in NBA LIVE 19.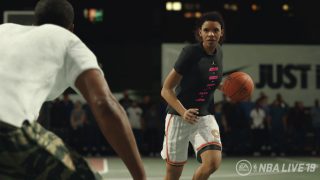 NBA LIVE 19 Player Types
Now, let's dive into the new ICON Progression System. Again, female players will have the same access to the entire progression system just like male players do, so, whether you prefer to play like a Guard, Wing, or Big PlayerType, it's entirely up to you.
Within each Player Type are the unique Playstyles you can choose to specialize as and customize. Each Playstyle will have unique ICON ability paths inspired by some of basketball's best players, including WNBA superstars like Candace Parker. These ICON abilities give you the power to level up your game in a way that suits you. Key decision points, as you level up your ICON ability from bronze to gold, will give players more variation than ever before. You'll also unlock unique rewards like signature shoes and throwback jerseys based on the ICON Player.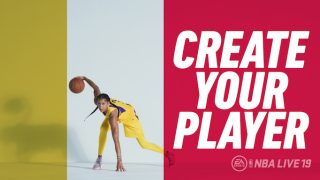 Let's break this down in more detail.
Guards are broken up as Backcourt Shooters, Slashers, Backcourt Defenders, and Floor Generals. Each ICON ability, for their Playstyles, will embody the specific tendencies and varying skill sets that can be found within the over-arching type. In any case, guards fit within the five-foot-eight to six-foot-five height range.
That being said, two of our NBA LIVE squad members, Allen Iverson and Candace Parker, fit under the slasher category and are two of the three ICON Players you can choose to start building your player progression foundation from. While AI, aka "The Answer," is more of a one-on-one player, Candace, aka "The Spark," is a bit more drive-and-pass guard. With The Spark ICON ability equipped, when you finish at the rim, you are granted a boost to blow by defenders, and one to your mid-range shooting.
Next are Wing Player Types. Wing Shooters, Wing Scorers, Wing Defenders, and Playmakers make up this group of Playstyles. As the case with the guards, there are different ICON Players to select within each Playstyle, and they come with another player's foundation as a skill set. If you choose the Wing Shooter Playstyle, look out for the "Triple Threat" ICON ability inspired by WNBA star Elena Delle Donne. This ability gives you a boost to Mid-Range Shooting and Finishing anytime you hit a three, block a shot, or grab a rebound. The wing players can range from six-foot-four to six-foot-ten.
The final category, Bigs, are split between three Playstyles: Stretch Big, Rim Protector, and Post Anchor. Bigs can range from six-foot-eight to seven-foot-two and feature ICON Players like the NBA LIVE 19 cover athlete Joel Embiid. "The Process" ICON ability boosts your Mid-Range and Three-Point Shooting anytime you score inside.
As you progress through any of these Playstyles, you'll even have the chance to add an ICON Skill to compliment your Playstyle based on which ICON ability you have equipped. Swap your ICON and ICON skill to change up your strategy for any challenge. The new ICON Progression system will create more choice, customization options, and rewards to give you the ultimate freedom to create a female or male baller that represents you in NBA LIVE 19.
Completely Revamped Gear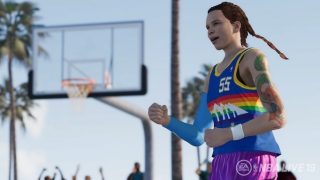 Gamers will remember that last year, in NBA LIVE 18, you were able to unlock player rewards after games, Live Events, and by accomplishing several other milestones within The One. This time around, there will be both male and female versions of reward items like premium LIVESTRIKE gear, as well as some rewards exclusive to female created players.
The appearance can be customized to the tune of tops, bottoms, socks, kicks, accessories, tattoos, and even celebrations.
Game Modes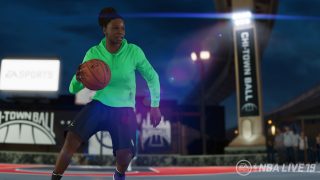 Female created players will be able to progress their characters in modes like The Rise, NBA LIVE 19's introduction to your career mode which sees your player travel around the world to build her legacy on The Streets. She'll need to travel from city-to-city and country-to-country in an effort to prove herself against elite basketball players from both the WNBA and NBA. The better your player performs on the court, the more she'll level up her skills. This also includes online modes like LIVE Events and LIVE RUN where she can hoop with the entire NBA LIVE Community.
By beating other teams and completing challenges, your female created player will get the opportunity to unlock tons of rewards. That reward could mean customization items, but it could also mean players to add to your squad in the signature new game mode, Build Your Squad.
In NBA LIVE 19, we're giving you the most customizable game experience ever and adding female created players for the first time in franchise history. The time for female ballers in LIVE is now.
- Rahul Lal (Follow Rahul on Twitter @rlal95)
---
Stay in the conversation, like us on Facebook and Follow us on Twitter.
Are you ready to get out there and make your mark on the court? You can now pre-order NBA LIVE 19 here.
Sign up today to receive the latest NBA LIVE 19 news, updates, behind-the-scenes content, exclusive offers, and more (including other EA news, products, events, and promotions) by email.