Anyone who played NBA LIVE 18 will remember LIVESTRIKE but, just as a refresher, let's go ahead and describe it. LIVESTRIKE is the most exclusive form of content releases in NBA LIVE. Unlike traditional game updates or random features, LIVESTRIKE gives players the chance to play in Live Events challenges, where winners of these challenges can get their hands on some of the trendiest in-game apparel and kicks and get to play on sick courts.
In our upcoming LIVESTRIKE on October 19, you'll get the chance to play for BAPE and Mitchell & Ness items to rock in NBA LIVE 19. BAPE has consistently been a stable in the culture – they actually made one of their biggest claims to fame by having iconic people like Pharrell and Biggie rock their threads all the way back in the 90's. But let's dig into the backgrounds of both these iconic brands.
The History of BAPE
BAPE began in Japan under fashion icon Nigo. He drew inspiration from Planet of the Apes, designing the signature of the brand to be an ape – hence, the full name A Bathing Ape. Since, they've only grown and even done collaborations with some of the biggest pop-culture icons in the world. Their iconic style highlighted by flashy colors like purple, green, and even different variations of camo can be spotted from across the room. Last year, we introduced a number BAPE items including shirts, jerseys, shorts, and kicks.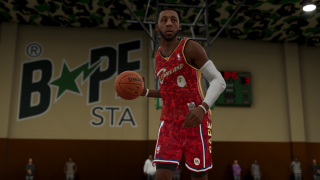 The History of Mitchell & Ness
Mitchell & Ness is one of the premier companies in the sports world. They started back in 1904 when Frank Mitchell and Charles Ness created Mitchell & Ness Sporting Goods. When they started making NFL gear around 30 years later, the brand really took off by catering to a few new sports, too. Today, you'll see some of the flyest gear across leagues with entire collections devoted to different teams, as well as their signature hats all over the place. In NBA LIVE, they're giving you the chance to swag yourself out and really show that you know how to dress.
How Do You Win?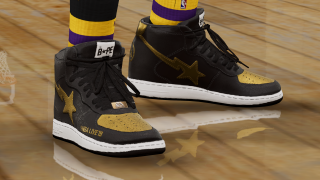 The LIVESTRIKE will be separated into a number of events which will reveal several different winnable items to drape your ONE player with. There will be Daily Events and Chase Events, both coming with different challenges. The Daily Events will be games to 11 and the Chase Events will be games to 50. You'll have the weekend to buckle down and flex your skills to bring home some exclusive gear – get ready!
Add Quavo to Your Squad
Don't worry – there's more! A third of Migos is coming to NBA LIVE 19 this weekend, and you'll now get the chance to play against the Shoot-First Quavo. Have you seen him ball out before? He can really play; he's a celebrity game MVP and can score with ease. If you bring him on your team, he'll light it up from deep while repping his hometown Hawks draped in BAPE clothing. When you win, you'll also get the chance to win a Hawks' legend's jersey for your player to rock.
Don't worry, we have LIVESTRIKE events coming to you all season long. This is just the first of many new brands and labels that will be featured in the game, some for the very first time, too. So, keep your eyes on this space – you don't want to miss out!
- Rahul Lal (Follow Rahul on Twitter @rlal95)

---
Stay in the conversation, like us on Facebook and Follow us on Twitter.
Are you ready to get out there and make your mark on the court? You can now pre-order NBA LIVE 19 here.
Sign up today to receive the latest NBA LIVE 19 news, updates, behind-the-scenes content, exclusive offers, and more (including other EA news, products, events, and promotions) by email.