1. James Harden, Houston Rockets
94 Overall
Coming off of an MVP season, James Harden easily deserves to be named the top shooting guard in NBA LIVE 19. Last year was a dominant season for The Beard, as we saw him complete his journey from a former Sixth Man of the Year to being named the best player of the 2017-2018 season. He averaged over 30 points a game, had almost nine assists, five rebounds, and led the Rockets to 65-wins and a near-upset of the Warriors. Is it a coincidence that Harden was the MVP and NBA LIVE 18 cover? I think not. But, he did work pretty dang hard to get there – he has a true talent for getting fouled, but his scoring prowess is really incredible as he can beat you in so many ways. While CP3 is surely one of the best passers in the league, teammate Harden's court vision is also spectacular (and is easily better than any other player on this list).
2. Klay Thompson, Golden State Warriors
91 Overall
At times, it's a bit difficult to assess Klay's ability because he often gets overshadowed by the other names on the Warriors. That being said, he's proven himself to be an elite defensive player and is the jelly to Steph's peanut butter as it relates to the Splash Brothers. When you look at why he's the second ranked SG, it's important to understand that he is deadly from outside but also knows how to get open and move without the ball, something a lot of guys lack. Aside from that, Klay is a rock-solid defender – he knows the fundamentals of the game on defense and shows them by guarding top perimeter players night-in and night-out.
3. DeMar DeRozan, San Antonio Spurs
90 Overall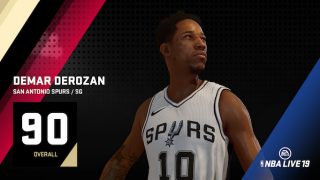 Wow, I didn't think typing San Antonio Spurs above would feel so weird. DeMar was traded recently from his longtime home Toronto to join forces with quite possibly the greatest coach in NBA history for his next chapter. DeMar is  one of the most gifted scorers in the league but has a bit of an old-school game. While DeMar's athleticism is off-the-charts, his midrange game is some of the best we've ever seen – that shines extra in today's three-point oriented NBA world. Given the Kobe-like offensive low-post footwork, I wouldn't be surprised if we're blown away by seeing DeRozan coached to offensive efficiency, and a career year, by Gregg Popovich.
4. Jimmy Butler, Minnesota Timberwolves
90 Overall
Before Jimmy's injury, the Timberwolves had actually streaked their way all the way to becoming a three seed in the tough-nosed Western Conference. While they have a couple of other great players, none present a veteran presence coupled with a killer's mentality quite like Jimmy B does. If you want to talk about a guy who has done whatever it takes to win, talk about the late first-round pick who is now a bonafide superstar. The Minnesota TimberBulls have quite the two-way player as Jimmy's game, once defined by athleticism, is now perfected with polish, maximizes shooting ability, defense, and an intensity for all 48 minutes that Coach Thibs seems to play him every night.
5. Victor Oladipo, Indiana Pacers
89 Overall
When we talk about career years, nobody deserves more love than Vic. While some people want to blame his previous numbers on playing in Orlando or in Oklahoma City, why not take a look at the fact that Oladipo just completed his fifth season and was 25 years-old? The guy is just getting ready to step into his prime and, something he didn't quite have solidified before, he added a three-point shot to his arsenal. Last season, Oladipo put up 23 points a game shooting nearly 48% from the field (52.8% from two-point range). The offense is there for 'Dipo but his most irreplaceable talent falls on the defensive end of the spectrum; he's a dog on-the-ball and showed it with by his 2.4 steals per game last season. If you want a guy who can quickly rise into the 90's, Oladipo seems like the prime pick.
- Rahul Lal (Follow Rahul on Twitter @rlal95)
---
Stay in the conversation, like us on Facebook and Follow us on Twitter.
Are you ready to get out there and make your mark on the court? You can now pre-order NBA LIVE 19 here.
Sign up today to receive the latest NBA LIVE 19 news, updates, behind-the-scenes content, exclusive offers, and more (including other EA news, products, events, and promotions) by email.