Need for Speed Heat is set in Palm City, a street racer's paradise and a vibrant metropolitan area made up of many unique districts ready for exploring. By day, Palm City hosts the Speedhunters Showdown, a series of sanctioned races where you can earn Bank by pushing the limits in high-stakes race, drift, and off-road events.
Daytime in Palm City allows you to explore a bright sunny, urban environment where you fill your garage with customizable dream cars, assemble a crew of like-minded speed demons, and test your racing chops in legit competition against the world's toughest drivers. When your car is ready, head into the night.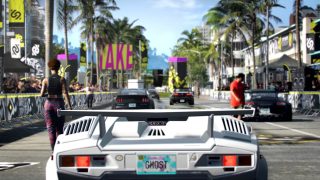 Own the Night
After the sun goes down the intensity ramps up – and with it the risk – when Palm City transforms into a neon playground for illicit street racing.
There aren't any rules at night. But there's plenty of danger. Night in Palm City is all about taking chances, battling it out in no-holds-barred races, and risking everything to boost your rep. Night is a time of nonstop conflict when ever-escalating threats are looking to take you down.
Why drive at night? It's simple, really. You drive at night to make a name for yourself when the stakes are highest. To prove you belong. To defend your place, your rank, and your status against everything and everyone. Including the law.
Take on the Corrupt Cops
The cops you encounter during the day in Palm City are the lawful guardians of the road – they play by the rules.
At night, a much darker side is revealed. There's no law when the sun sets in Palm City, and "law enforcement" is nothing but a twisted excuse for corrupt cops to ride your tail and take you down.
These rogue cops are predators on the hunt for you, your ride, and your freedom, and they'll stop at nothing to take it all and burn you and your tricked-out car to the ground.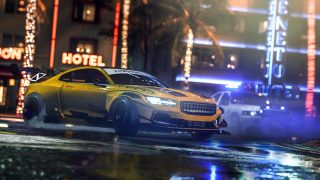 Customize Your Ride
Winning is the name of the game in Palm City. Winning unlocks more options in your garage. Winning boosts your crew. Winning increases your notoriety. That said, first place doesn't mean anything if you don't do it in style.
That's why your garage is critical in Need for Speed Heat. Your garage is your sanctuary. It's a safehouse for you and your crew to celebrate colossal wins – or to lick your wounds and regroup after soul-crushing beatdowns. It's also the ultimate workshop for building and customizing your dream car.
From wild colors to go-faster stripes to tons of high-performance options, you'll have everything you need in your garage to trick out and tweak your car to match your driving style.
While everyone has a Need for Speed in Palm City, they also have a need for expression and creativity. Now you can push the limits of your imagination to build a car that stands for something special – a car that stands for you. Dig more into customization.
Build a Tight Crew
Hustling by day is the first step toward making a name for yourself in Palm City.
As you rack up wins, you'll also start to attract the attention of individuals itching to join your crew. This is your team. Your squad. Your tribe. Banding together to form a tight crew is essential for crushing that extra mile, and the one after that.
The more you win, the more you boost your rep and assemble a crew that'll stick with you day and night through every adrenaline-fueled challenge that comes your way.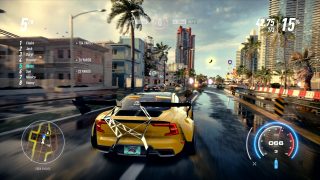 The Heat Is On
The roads, the risks, and the rides are endless in Need for Speed Heat, a turbo-charged street racer where the stakes don't get any higher than when you're locked in a toe-to-toe, bumper-to-bumper, anything-goes battle with the corrupt Palm City PD.
Will you take the biggest risks to earn the biggest rewards? Will you own the night to make a name for yourself when the stakes are highest? And when the cops come for you, will you have what it takes to burn them down and win the ultimate prize?
A Word from the Developers
We're super excited about Need for Speed Heat. And we can't wait for you to take your shot at building your rep in the game. Until then, here are a few words from the development team to help start your engines.
"Here at Ghost we're extremely proud of what we've achieved with Need for Speed Heat. When we set out to make this game it was a foundational goal that we not only reconnect with the spirit of NFS and the core features that have made the franchise so successful over the years, but that we also take these features forward and improve upon them. A lot of hard work and passion have gone into making this a reality, and we cannot wait for you to start exploring Palm City and experiencing all it has to offer. Until then, stay tuned for some exciting updates about what to expect when you start hustling by day and risking it all at night in Need for Speed Heat."
Want to learn more about how you'll own the dark and chase the light in Need for Speed Heat? Drive into our Car Customization, Achievements and Trophies, and full Car List articles to make sure you are tuned tight from day one.
Need for Speed Heat launches November 8, 2019 for Xbox One, PlayStation® 4, and PC. Early Access begins on November 5 for Origin Access and EA Access members.*
Pre-order the Standard Edition now and get a K.S Edition starter car, or pre-order the Deluxe Edition and get a K.S Edition starter car, three unlockable K.S. Edition cars, and more! **
Sign up today to get the latest Need for Speed news, updates, behind-the-scenes content, exclusive offers, and more (including other EA news, products, events, and promotions) by email.
Follow us on Twitter and Instagram, like us on Facebook, and subscribe to our YouTube channel.
*CONDITIONS, LIMITATIONS AND EXCLUSIONS APPLY. SEE ea.com/en-gb/ea-access/terms AND origin.com/store/origin-access/terms FOR DETAILS.
**CONDITIONS AND RESTRICTIONS APPLY. SEE www.ea.com/en-gb/games/need-for-speed/need-for-speed-heat/pre-order-disclaimers FOR DETAILS.