It goes without saying that everyone on the Need for Speed team has a huge passion for cars so when we had the opportunity to work alongside BMW on the global reveal of the all-new BMW, we jumped at the chance.
The BMW M5 will be available to drive first in Need for Speed Payback, so what can you expect? With 600hp at stock you've got plenty of power under the hood, granting you enough power and performance to hold your own in any event. 
Thinking of adding the BMW M5 to your garage in Need for Speed Payback? First things first, you'll need to decide on what class you'll want it to be. The BMW M5 is versatile in that it can be one of four car classes; Race, Drag, Drift and Runner.
The BMW M5 is committed to building on the tradition of the concept that was first glimpsed in 1984 with the original BMW M5, and we're extremely proud that Need for Speed can be a part of its history.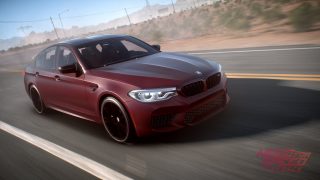 The reveal and first look of BMW M5 continues our long-standing partnership with BMW, having revealed the BMW M2 back in 2015. Both the BMW M2 and BMW M5 are due to feature in Need for Speed Payback and we can't wait to see them on the streets of Fortune Valley later this year.