Welcome back, Neighbors! While the Founder's Edition is now unavailable for those who haven't yet picked it up, we've still got plantarific and zombiearific content coming for those who have! Welcome, Founding Neighbors, to Battle Arena – a brand-new 4 versus 4 mode of amazing action – plus a new Lawn of Doom Prize Map, and a zombie view for a free-roam region. It's all for you to enjoy. Whew, there's so much awesome content this week we almost need to sit down. But not before we dig into a few more details!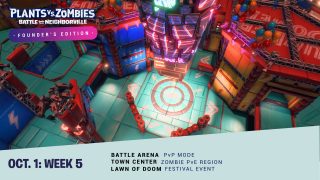 Bring on the Battle Arena
Just when you thought we couldn't use "battle" again in a way that was going to change the whole definition of the word, we are proud to introduce Battle Arena. What is it? Glad you asked! It's a new 4v4 round-based elimination, no-holds-barred, obstacles of destruction mode – and the team that wins the most rounds wins. It all happens in Neighborville's local recreation center, better known by the most fun name we could imagine: The FUNderdome! Which, by day, is used by humans for Rulesketball games, that being Neighborville's favorite sport. But at night, when the humans and their zombie-desired brains are in bed, the plants and zombies take the FUNderdome over. Welcome to the Battle Arena!
The Lawn of Doom Prize Map
You know Lawn of Doom, right? The blooming and dooming holiday somewhat appropriated by another holiday that starts with H? Well, to help the celebrations start, we've got a special map for you to visit where you (and this means it's free for everyone to participate in!) can earn sweet rewards – and by sweet I mean a Super Scarab costume for Super Brainz for those who progress through the full map and Doom Rose costume for those hitting halfway. To get started, visit Wing-Ding near the Multiplayer Portal (he's in a tent!) to view the Lawn of Doom prize map. Then, get to the rewards!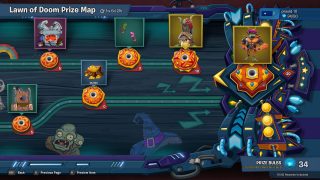 Ready to Experience a Free-roam Region from the Other Side?
Of course you are! And we are here to answer that question with . . . but wait? What's this? The entire zombie way of life (using that term a little loosely) is under attack? Through an un-zombie outbreak in the Town Center? What?! And that, Neighbors, is the Town Center zombie free-roam region, where you must help Dr. Real Doctor find the cure to the outbreak. You've seen this region from the plant side, now experience it from the zombie side!
If you didn't jump in before the Founding Neighbor Edition cut-off time, fear not brave plant and zombie battlers, you can pre-order today. Then, get ready, cause on October 18, Plants vs. Zombies: Battle for Neighborville launches to the whole world on Xbox One, PlayStation®4, and PC. Or, get started three days early with Origin Access or EA Access!
If you're a Founding Neighbor (from picking up the Founder's Edition), you get the Standard Edition automatically. If you're a Founding Neighbor who wants to have the Deluxe Edition? We've got you covered – Deluxe Edition upgrades are available and contain the following exclusive content:
Chickpea Costume for Peashooter
Judge Z Costume for 80s Action Hero
5 Emojis
Exclusive PvZ Battle for Neighborville Digital Comic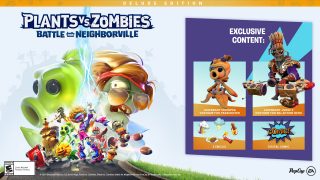 Please join the conversation on Discord to let us know what you think of the game! We're excited to hear your feedback.
Stay up to date with Plants vs. Zombies: Battle for Neighborville by signing up to receive the latest news, including other EA news, products, events, and promotions. You can also follow us on Facebook, Twitter, Instagram and YouTube for more details about Battle for Neighborville as we get closer to launch.