Welcome to the News from Neighborville – your weekly source for what's happening in Plants vs. Zombies: Battle for Neighborville™. As a Founding Neighbor we're so excited for you to jump into the game for the first time, meet our six new characters, and play! Not a Founding Neighbor yet? Read all about the Founder's Edition here and join in before September 30 to play an early edition of the game, earn exclusive rewards, and more.
Starting today and continuing every Tuesday until launch, we'll be dropping new content each week, like online multiplayer modes, free-roam regions, and missions to explore – plus one exclusive reward for the first four weeks. Dive in and battle it out, then tune into our Live from Neighborville stream each Thursday where our development team will discuss what's new, take your questions, and more. Here's what's happening this week.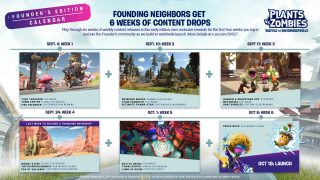 Get Weekly Rewards While They're Hot
Let's start digging into the good stuff with weekly rewards! This week fight fire with fire when you receive the exclusive Fire Defender Set for Snapdragon. You'll need to log in before next Monday, September 9 to claim it though, so don't miss out! To get your reward, jump in the game and head over to Rux's Emporium.
Battle It Out in Turf Takeover
In our first multiplayer mode to drop, one team must fight to reach their objectives over an expanding map while the other team holds them back. And, what are these expanding maps? We're glad you asked!
Goopy Gully: Zomboss wants to plant a flag in Rocky Flats and has started by drilling a huge hole in the middle of it. If he takes over, he'll rewrite the town's history (with more z's).
Loggy Acres: The Z-Tech Factory is under a sticky siege thanks to the plants' Mallowmortar. The zombies' super-smart-s'more plan to destroy the cannon backfired and they ended up covered in graham crackers and chocolate. So, what's Plan B? Destroy the Mallowmortar with bombs! That will be much safer.
Turning Point: Ever wonder why lighthouses look like rockets, capable of launching brain-finding satellites into space? Us neither. But the zombies did, and they have found a new power source to make it happen. The plants have got to stop them!
Peachy District: News flash! Zombies are spreading Signal Boosters through town to hack the TV station's signal. If they succeed, Zomboss can launch his Zomboss Brainzcasting Network: "TV so good, you don't need brains!" Can plants pull the plug on their propaganda plans?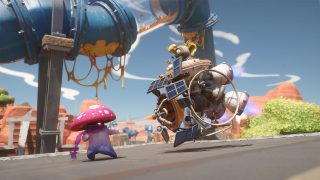 Grab Your Dancing Shoes and Head to Neighborville Town Center
This week you'll also explore Neighborville Town Center, our first free-roam region, for a mighty plant-based mission. The zombies have captured plants in traps and are forcing them to dance – forever. And, boy are their stems tired! If all of the plants are captured, the town's brains will be defenseless. Can you rescue them before their Lindy-hopping leaves fall off? Get ready for fun quests to complete, enemies to battle, and items to discover – including Golden Gnomes! Report to Major Sweetie in Neighborville Town Center for your orders.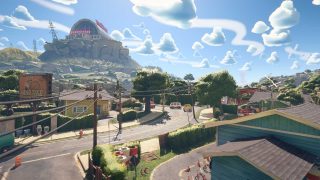 That's the news, Neighbors! Thanks for joining us on this journey – we're so glad to have you on board. Don't forget to come back next Tuesday for our post on next week's content and tune in on Twitch at 11:00 a.m. PST tomorrow, September 5 for our first official Live from Neighborville stream.
Haven't purchased the Founder's Edition yet? Get this early edition now before your opportunity ends on September 30.
---
Stay up to date with Plants vs. Zombies: Battle for Neighborville by signing up to receive the latest news, including other EA news, products, events, and promotions. You can also follow us on Facebook, Twitter, Instagram, and YouTube for more details about Battle for Neighborville as we get closer to launch.