Hero Starfighters, a new PvP mode focused on piloting hero ships, is available for free to all Star Wars™ Battlefront™ II players today as part of the Hero Starfighters update*. To make it even better, we've compiled a list of five things you need to know to get a head start. Learn how to become a better pilot, upgrade your hero starfighters faster, and much more!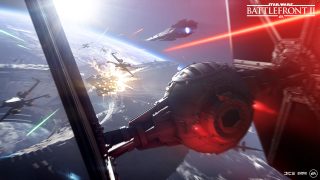 The Rules of Hero Starfighters

In Hero Starfighters, each player spawns as one of the available hero ships on the light or dark side. At the start of each new round, there are two teams consisting of four player-controlled hero ships. If your hero ship is turned to scraps by an opponent, you won't be able to respawn as another hero ship for the duration of that round.

However, you will be able to re-enter the round as any standard fighter, interceptor, or bomber ship, helping your team to turn the tide of battle. And even though they are generally not as powerful, the non-hero ships have unlimited respawns. The team to first eliminate all enemy hero ships takes the round. The taste of sweet, sweet victory is yours by winning a total of three rounds.

Got it? Great – let's move on.

Level Up Your Hero Ships Faster

A lot of players have asked for ways to upgrade their hero ships at a faster pace, and guess what? Hero Starfighters is what you've been waiting for!

Just as Heroes vs. Villains and Hero Showdown let you focus on playing as your favorite hero characters on the ground, Hero Starfighters is similarly concentrated on playing as heroes piloting their iconic ships. As a result, leveling up your hero starfighters will now be a swifter journey.

Neat!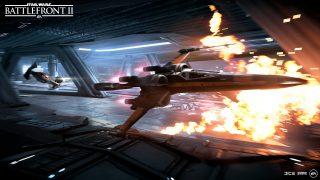 Become a High-Flying Ace by Practicing in Starfighter Custom Arcade

Not ready to face real-player competition yet? No problem. With the recent addition of Starfighter Custom Arcade, we're providing the perfect practice arena for up-and-coming hotshots. This is an opportunity to get a grip on the controls, try out the different hero-specific abilities, and grab some target practice before diving head-first into online space battles.

To help you get up-and-running, we've prepared this five-step beginner's guide to Starfighter Custom Arcade for your reading pleasure.

Use the Hero Ship Abilities to Your Advantage

Speaking of hero-specific abilities – to fully utilize the potential of hero ships, you'll want to learn how and when to deploy their special powers. Because there are quite a few unique tricks to pull.

Players leaning towards a support role might want to try Poe Dameron's Black Leader ability, or Iden Versio's similar Inferno Leader ability, revealing enemies within a radius to allies, while letting them deal out increased damage to the targets.

If you're more of a full-on-attack kind of pilot, consider Boba Fett's Slave I, fully equipped with Ion Cannons and the devastating Seismic Charge – a great counter to some of the more agile opponents such as Tallie's A-Wing Interceptor and Yoda's Jedi Interceptor. Or get an edge with the Millennium Falcon piloted by Rey and Chewbacca, using the Focused Mind ability to form a deadly combination with the Dual Concussion Missiles.

Our best advice? Try them all out to find a favorite that suits your playstyle!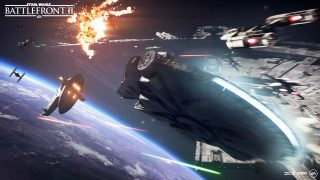 Finally, Be Prepared to Adapt Your Tactics

Expect things to get real tense when you find yourself in the situation of being the last hero ship on your team. Your team's success is now depending on you staying alive. No pressure! But no need to panic, just consider the following: how do we, as a team, adapt to turn things around from here?

As your ship is always moving forward and has an icon connected to it, there's really no way to camp and hide. But, by using the geometry of the environment as cover – debris, capital ships, and so on – you can effectively stay out of the line of fire.

One tactic might be to fly along the edges of capital ships, while your teammates are hunting down the remaining enemies. Or, get your team to stay in a protective formation around you, to attack forcefully as one when the opportunity arrives. While not required, communication will certainly help in such a scenario.

–Daniel Steinholtz (Follow Daniel on Twitter @dsteinholtz)

Sign up today to receive the latest Star Wars Battlefront II news, updates, behind-the-scenes content, exclusive offers, and more (including other EA news, products, events, and promotions) by email.

For more on Star Wars Battlefront II, watch this space and keep your eyes on EA Star Wars™ on Twitter, Facebook, and Instagram or join the discussion on the official forums.

*Requires Star Wars Battlefront II on applicable platform (sold separately), all game updates, internet connection, EA account, and, for console players, Xbox Live Gold or PlayStation Plus membership (each sold separately).