In Star Wars™ Battlefront™ II, your hero's journey will be a more personalized experience that allows you to build careers for different trooper classes, heroes and more. There's plenty of depth to join the breadth of new content, especially when it comes to customization with Star Cards, earned via unlockable Crates.
A version of this is live now in the Closed Alpha, but we're still hard at work optimizing and improving the mechanics.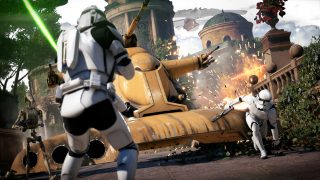 Using Star Cards, you'll be able to modify your favorite heroes and troopers to your specifications, creating ever-more powerful and flexible combinations. Hero- and trooper-specific Star Cards can be applied across a players' ability slots in a dizzying array of possible configurations.
Take Darth Maul's spin attack for example. This powerful maneuver might be modified by specific Star Cards to travel further or move faster. Boba Fett players might employ a Star Card that extends his For the Hunt ability to reveal enemies not just in his own scanner, but to nearby allies as well.
Classes can be outfitted with different Star Cards as well, and different combinations of Star Cards will reward the players with vastly different experiences. One Specialist might excel in trap-laying, while another might concentrate on becoming the ultimate stealthy sniper.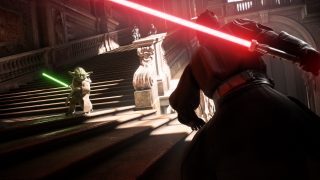 You'll also have the freedom to switch out cards on the fly, customizing your loadout during respawns to fit changing tactical conditions. And Star Cards don't stop with troopers and heroes. Hero ships and starfighters will also have libraries of Star Cards available.
You'll get Star Cards by completing in-game challenges and quests, as well as though Crates, rewarded for gameplay progress in Star Wars Battlefront II. Cards come in a variety of rarities, with each tier reflecting a corresponding adjustment in power level. You'll earn new cards as you play, opening new creative options for configuring your favorite classes and characters.
Star Wars Battlefront II lands November 17 for PlayStation 4, Xbox One, and Origin for PC. Pre-order now for a host of unique rewards, and keep an eye on EA Star Wars on Facebook, Twitter, and Instagram to stay up to date on the latest announcements.