Star Wars™ Battlefront™ II roared through EA PLAY last week, with the first ever gameplay reveal livestream, a brand new multiplayer trailer, and thousands of fans getting hands-on with the Naboo: Theed multiplayer battle. Miss it all? Here are five essential things to help you catch up on Star Wars Battlefront II at EA PLAY.
Your Hero (and Classes) Grow With You
Four new classes make their debut in Star Wars Battlefront II, each bringing unique abilities to their team. Nimble Assaults blaze through the center of battle while shielded Heavies hold the line. Officers rally their allies while stealthy Specialists strike at foes from a distance. You'll have the power to take control of each of these classes and build your skills, improve your weapons with attachments, and harness unique, modifiable abilities.
Soldiers and Heroes alike are highly customizable thanks to a brand new, completely revamped, and far larger Star Card system. As you journey through Star Wars Battlefront II, you'll constantly be earning and crafting new Star Cards, opening up a huge number of distinctive ways to upgrade your abilities. With every triumph, you'll move closer to unlocking greater power for your favorite classes, heroes, and starfighters.
Increased Depth and Choices with Battle Points
Commanding a vehicle or becoming a hero are tied into an entirely new system: Battle Points. Everything you do to help your team in multiplayer earns you Battle Points. These points can be used between spawns to unlock your favorite heroes, vehicles, or reinforcement characters. Battle Points require you to constantly balance risk and reward. Will you save them for the most powerful heroes, or spend them freely to reap quick rewards?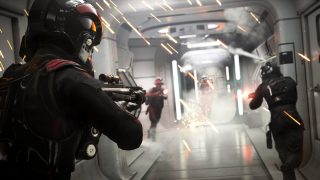 Each of these new classes, vehicles, reinforcements, and heroes fulfills a specific purpose on the team. Each time they spawn, players will deploy together into a new four-player spawn wave, with visibility in the respawn lobby allowing them to coordinate their choices. See two of your teammates loading up as Officers? Maybe you'll want to choose Specialist instead to create a more cohesive unit. Once they've spawned into battle, these temporary squads will do better when they stick together.
Reinforcements Are Coming
You've already learned about soldiers and heroes, but you might be wondering about reinforcements, an entirely new Star Wars Battlefront II feature. Reinforcements are unique Star Wars™ units that bring potent new abilities to multiplayer battles.
A mix between soldiers and heroes, they have exceptional abilities all their own. On Theed, we met a few Reinforcements, the B2 Super Battle Droid and Clone Jumptrooper, and you'll see more on the way to launch.
Experience Three Eras of War
Visitors to EA PLAY got hands-on time with the Theed multiplayer battle, commanding Separatist battle droids against a valiant band of Clone troopers defending the royal palace. The prequel-era engagement was just one of many epic Star Wars moments previewed, as the new trailer highlighted battlegrounds from across Star Wars' three cinematic eras. Rey and Kylo Ren crossed sabers in a furious clash on Starkiller Base, Wookiee warriors roared over the waters of Kashyyyk, and Death Troopers stormed the jungle vastness of the Rebel base on Yavin 4.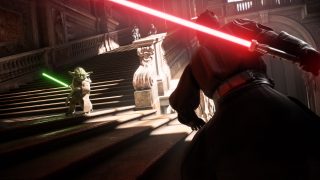 You'll be seeing much more of what's coming from each era in the coming months, but get set to control iconic heroes, choose special reinforcements, and pilot distinctive vehicles on some of your favorite planets from the prequels, original trilogy, and Star Wars™: The Force Awakens™.
Starting with Season 1 in December, Post-Launch Content Will be Free*
There's also big news on content coming after the game's release. All post-launch heroes, maps, weapons, and vehicles will be free* for everyone who plays Star Wars Battlefront II. This starts with the Star Wars: The Last Jedi™ season coming this December, where all Star Wars Battlefront II players will have access to Finn, Captain Phasma, the new planet Crait, and more.
Star Wars Battlefront II is available November 17 for PlayStation 4, Xbox One, and Origin for PC. Stay connected by following EA Star Wars on Facebook, Twitter, and Instagram.
*Requires Star Wars Battlefront II on applicable platform (sold separately), all game updates, internet connection, EA account, and, for console players, Xbox Live Gold or PlayStation Plus membership (each sold separately).