2017-09-23
SimGuruDrake
Our builders are some of the best in the world. Their imagination knows no bounds and the creations they share with all of us continues to inspire daily. With the release of The Sims 4 Toddler Stuff* we wanted to take a moment to share some of our favorite builds by the community. 
First up is this adorable daycare style home for your little ones to enjoy. It features bright colors, along with fun equipment for your toddlers to play in; slides, tunnels, ball pit, and even includes a place for nap time! This is the place where your toddlers will want to visit for their next play date with their new friends. 
This fun park features a little bit of everything for young and old alike. It includes a basketball court for kids and older, to tunnels, slide, and ball pit for the little ones. This is a park that any local neighbor would love to visit, making new friends and hang out with old ones.
This lot is great for all to visit for some nice down time with the family. Featuring lots of fun stuffed animals and plenty of activities to wear out the young ones; this is your one stop shop for a good time with the family and friends.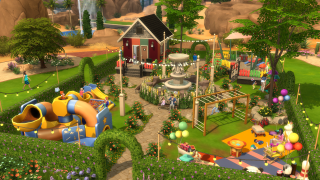 This cute park is the perfect hub for your little ones to host a play date and meet new friends. With tons of colorful items and lots of areas for them to play, your little ones will have so much fun! Parents and guardians will enjoy watching the little ones play to their hearts content while reminiscing on how fleeting these precious moments are.
These are just some of our favorite builds that you've shared with us since the release of The Sims 4 Toddler Stuff. Use the hashtag #TheSims4 on social when sharing your creations, you never know if your's might be featured next!
Be sure to like us on Twitter, Instagram, and Twitch, Like us on Facebook, and Subscribe to our YouTube channel.
*Requires The Sims 4 game (sold separately), and all game updates to play.
**Some builds contain content from other released expansion packs and stuff packs which are available for separate purchase.