If family is the most important thing in life, then it's definitely time we tell you that The Sims™ 4 Parenthood* and The Sims™ 4 Kids Room Stuff* are available now for PlayStation® 4 and Xbox One! Let's dive into what you can expect from each of these great packs.

The Sims 4 Kids Room Stuff
When you were a kid, you probably had that one favorite toy you loved more than anything in the world. But do you know what Sim kids will get? A room full of them! Thanks to The Sims 4 Kids Room Stuff, you'll be able to fill your young Sim's life with cool toys, entertainment, and bedroom decorations that will make your younger self jealous.

Not only can you decorate the ultimate kid's bedroom, you can do it in a way that meets the evolving tastes of kids. The new bedroom objects and wall decals can be removed and replaced as often as your kids change their minds as to what is and isn't cool, too. Our personal favorites are the decals for each of the collectible Voidcritter monsters.
Speaking of Voidcritters, while your Sim's friends are checking out their sweet room, young Sims can show their skills in a head-to-head Voidcritter Battle Station match. Using one of twenty collectible cards that can be found around your Sims' world, the goal is for your Voidcritter to come out victorious.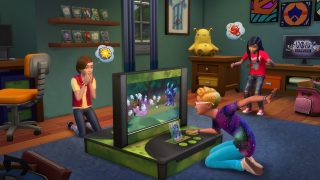 If your Sim kid prefers to use their imagination for storytelling, have everyone gather 'round and treat them to a mystical adventure using the Puppet Theater. With five different stories to be told, the Puppet Theater takes audience members on an adventure while your child raises their social skill. If those don't keep everyone entertained, then there's always the Tween Pop radio station or the new BEtween TV channel.

While the kids enjoy their room and entertainment, you can partake in one of the most fun parenting activities – getting clothes! With a range of fresh outfits, you can give your young ones even more style to match their budding tastes.

The Sims 4 Parenthood
This parenting pack allows you to care for and bond with your Sims family. Start out by packing a lunch for your kids as they head out to school, so they can be fueled for a day of learning. Then, when they come home with their latest school project, help them out to earn extra credit. They can complete one of several projects like the solar system, a mini Tesla coil, an architectural bridge, a cardboard castle diorama, or a two-stage bottle rocket that would impress even the most skilled rocket scientists.

Whether you choose to be a lenient or disciplined parent is up to you. But, whatever you decide can have a lasting impact on your family and how your children turn out when they're adults.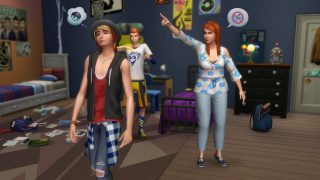 It's no secret that parenting is challenging – even in The Sims 4! – but when you get those important hugs from family members and the occasional "thanks" from your moody teenager, it'll all be worth it. And the true payoff will be witnessing those Sim kids grow and take the life values that you instilled upon them to heart.

So, whether you want to strengthen your family bond or just relive your own youth with cool toys, then The Sims 4 Parenthood and The Sims 4 Kids Room Stuff are for you! And if you're feeling particularly nurturing, be sure to check out the big pregnancy update in The Sims FreePlay which launches today, June 19, 2018!

The Sims 4 Parenthood and The Sims 4 Kids Room Stuff are available now on PlayStation4 and Xbox One. Check out The Sims 4 Forums, follow us on Twitter and Instagram, like us on Facebook, and subscribe to our YouTube channel. Sign up for The Sims 4 newsletter (which includes other EA news, products, events, and promotions) and get Grim's guitar for free!

*Requires The Sims 4 game on applicable platform (sold separately) and all game updates to play.