From the Academy Award-nominated director of District 9, Elysium, and Chappie comes a story set in the rich world of Anthem created by BioWare. Neill Blomkamp (with Oats Studios) and BioWare present Conviction, an Anthem live-action trailer.
In Anthem, players must venture into an evolving, living world and battle the dangers that threaten the safety of the people in Fort Tarsis. Through exploring the world, completing missions, and protecting humanity, players are introduced to intriguing characters and a unique BioWare story.
In Conviction, Neill explores the vast world of BioWare's Anthem through a new narrative set decades before the beginning of the game. Neill's live-action trailer is a chance to see the world of Anthem through a different lens, with stunning locations, new characters, and a new story.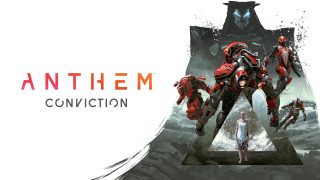 Blomkamp's 15-year career as a director has always been highlighted by his skill at creating photorealistic visual effects and bringing them seamlessly into the real world. In 2017, he founded his own studio, Oats Studios, in order to create more experimental short films and hone his mastery of visual effects.
After Anthem was revealed at E3 in 2017, Blomkamp tweeted out:
His tweet prompted the start of a partnership to create something that would allow him to use his unique vision as a director while tapping into the rich world of Anthem.
Don't miss Conviction when the it goes live on the Oats Studios YouTube channel on February 14.
Pre-order now and get the Founders Player Banner.*
Keep your eyes open for more as we're ramping up to Anthem's™ release. Make sure to not miss any of it by signing up for the Anthem newsletter for all the latest Anthem news, updates, behind-the-scenes content, offers, and more (including other EA news, products, events, and promotions) by email.
Follow Anthem on Twitter and Instagram.
Anthem launches February 22, 2019 for Xbox One, PlayStation® 4, and PC. Early Access begins on February 15 for Origin Access and EA Access members.**
* CONDITIONS AND RESTRICTIONS APPLY. SEE https://www.ea.com/games/anthem/pre-order-disclaimer FOR DETAILS.
** CONDITIONS, LIMITATIONS AND EXCLUSIONS APPLY. SEE ea.com/ea-access/terms AND origin.com/store/origin-access/terms FOR DETAILS.