Nearly two years ago, Brandon Smith and Richard Buckley — two broadcast journalism students from England — were doing whatever they could to gain professional on-air experience. By the summer of 2018, the duo found themselves on the biggest stage of their lives manning the casters desk at the EA SPORTS FIFA 18 eWorld Cup at London's renowned O2 Arena.

According to a recent Twitter post from Smith, the tandem worked 19 competitive FIFA events across eight countries in 2018 and were nominated for "Esports Broadcaster Of The Year" at the Esports Awards.

So, how did a couple of lads from the United Kingdom rise to stardom to become one of the most recognizable broadcast duos in FIFA esports, nearly overnight? For starters, they're really good at their jobs. But the fellas sat down with me on a cold day in Romania during a recent FUT Champions Cup event to share their remarkable story.
Humble Beginnings
Prior to the tandem's initial meeting at university, Smith got his foot in the door as a low-level football league announcer working his way up the ranks, saying, "I was commentating over non-league teams, just trying to gain experience." Buckley took a different route, cutting his teeth on the mic as the host of a local radio show in his hometown of Barnsley every Saturday. "I did 72 weeks in a row, never missed a show," he told me. Work ethic? Check!

Smith eventually landed a gig commentating on a FIFA pro league on Twitch, and did seven weeks of broadcasting several hours of matches by himself. But he realized he needed some support, so he reached out to Buckley as they were both students the same school in England.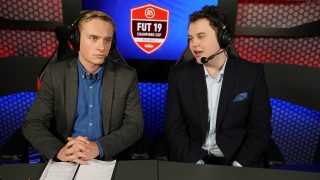 "The first time we commentated together, we had never really spoken to each other," Smith explained. "I remember throwing it to Richard and saying 'What's so special about Christiano Ronaldo in FIFA?' and he gave me like six different stats. I thought . . . Wow this man knows his stuff."

For the next seven weeks, the pair hunkered down in their respective dorm rooms, and connected via Skype to do the broadcast. "The connection was rubbish," said Buckley. Hey, you have to start somewhere, right? They managed to build a bit of chemistry, and soon enough, a new opportunity arose.
Opportunity Knocks
The pairs first big chance, as Smith explains, "came with the EA SPORTS Commentator's Cup, which was advertised as looking for the next two competitive FIFA commentators".

"We thought, what's the worst that could happen? We set up a green screen, we dressed sharp, shirt and blazer, and we did the game," recalled Buckley. "Just as I was about to say some stats, the video cut off because it was a 90-second limit. We didn't have time to edit it, and sent the application in fifteen minutes before the deadline."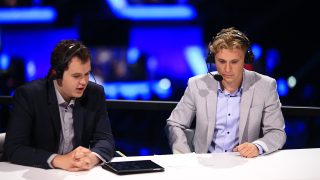 Contestants were asked to record their commentary over a 90-second clip of competitive FIFA gameplay. The clip was a match between Tassal "Tass" Rushan versus Cihan "Cihan" Yasarlar from a FIFA Ultimate Team Paris event in 2017. The Commentator's Cup's grand prize was a trip to Berlin to commentate a live match at the FUT 17 Champions Cup final that season.

Their submission was in and the fellas returned to their daily lives. "So, I'm doing my laundry and I get an email from somebody at EA saying: Congratulations, you've made it through to the semi-finals in London," detailed Buckley.

"I remember when he called me, we were still very new friends and such," Smith said. "And I think it was the first time Richard called me, so I'm thinking if he's calling me, what is this? It's late at night and he says . . . 'We've done it, we've been invited to London for the finals.'"

Smith and Buckley were introduced in the final contest video as "bringing experience and long-standing chemistry" to the table. Meanwhile, they had met just about two months prior and only commentated together a half-a-dozen times. No matter, the duo did their thing at the Commentator's Cup Grand Final and won the competition.

Smiling, Smith says about it: "I think it was the first time Richard had ever been to London, and that itself was just amazing. To get a trip down to London, we got a hotel and were like let's just go for this."

EA then flew the fellas to Berlin. "It was like maybe the third flight I'd ever been on," recalled Buckley. It would not be his last. With approximately 40K people watching on Twitch, Smith and Buckley performed well on Berlin stream, and received positive feedback after the event.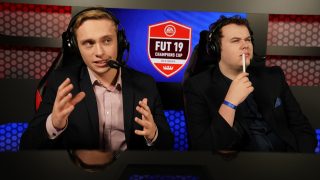 "I've never been so nervous in my life," said Smith of the experience. "They thought we were going to botch it and crumble under the pressure," recalled Buckley.

They obviously did not crumble. But the guys weren't sure what lied ahead. Was this the end of the road? The only thing to do was to return to their normal lives, chalk it up to another great experience, and focus on their studies, right?

"We wanted to go into it with a mindset that we're going to put ourselves out there in the best way possible," Smith explained. "And we left that tournament, although we had great feedback, we thought nothing more of it, we thought that's done now."
Going Pro
After Berlin, the opportunities began snowballing.

"A few weeks later, I was working my old job as a lifeguard on the south coast of England. Richard was in Barnsley about four hours away, and I get a call from the Netherlands, from Ajax eSports. They wanted us to come to the Johan Cruijff Arena to commentate." Smith went on, "I rang Richard, and said, 48 hours to Amsterdam, are you in or not?"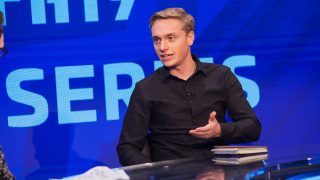 "It was almost like for three months we'd get home and say 'That was fun, that was good,' and then a week later the phone would ring again," Buckley explained. "My mum said to me, and I'll never forget it, 'You've got two roads you can go down now. You can take this as a hobby and soak everything in and forget it in two years. Or this can be a career path that you go down and it can be something that you actually do full time, and be responsible, do this the right way.'"

At that point, the budding esports broadcast duo was traveling around the world commentating on FIFA event qualifiers, but they had their eyes on something bigger, the EA Majors. They decided to sign with a talent agency based in London called Digital Sports MGMT for support in pursuing a serious career path in esports broadcasting.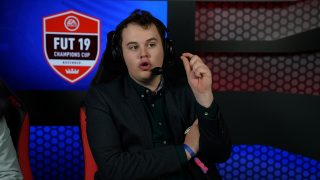 "We became good friends with the guys at FIFA [the football association, not the video game], and they said 'We want you to call all of the qualifiers throughout this tournament season in 2017," Smith said. "So, we got a chance to go to Qatar and Los Angeles. Neither of us had ever been to America."

Eventually, the big call they were waiting for came. EA Sports offered the duo a spot on the talent roster for the Barcelona FUT Champions Cup event last season and all upcoming majors. And now, about a year later, Smith and Buckley are carving out their dream, one competitive FIFA event at a time.

"They [Digital Sports MGMT] took a gamble on us. At the time, we had 800 followers to our name. Rich didn't even have a Twitter handle. But I think they could see the fire," Smith said.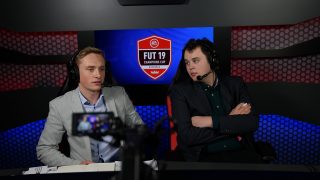 Indeed. Now, you can't tune in to a competitive FIFA event without seeing or hearing them. Together, Smith and Buckley truly are the collective voice of the esport they love. Their commentary exudes passion for the game, and they share unmatched chemistry on the airwaves. Add to it their next-level knowledge of both the actual competitors who play the matches and the FUT items that competitor squads are built from, and you can understand why the Smith/Buckley combination is so elite and well respected.

"To think that if we didn't send that audition tape that we recorded in Brandon's dorm room, we wouldn't be where we are today. It's been a wild journey, and it's only the start, really."

–Matt Franciscovich (Follow Matt on Twitter @MattFranchise)
---
Follow the @EAFIFAesports Twitter account for the latest competitive FIFA 19 content, news, and comprehensive event coverage as the Road to the FIFA 19 eWorld Cup continues.