We're deep into what is arguably the greatest sports tournament in the world, the FIFA World Cup. And by now you've probably spent more time than you're willing to admit playing the 2018 FIFA World Cup Russia free content update. Since its launch on May 29, it has provided an authentic celebration of the tournament, allowing gamers around the planet to live out their World Cup dreams.
For more details on the development of this immersive (and free!) adventure, I went directly to the source and tracked down FIFA 18's lead game development producer, Andrei Lăzărescu, at EA Play in June. From the challenges of designing the 12 official World Cup stadiums in Russia to completely overhauling the various FIFA 18 game modes for a fresh international feel, here's a deep dive into what it took to create the 2018 FIFA World Cup Russia content update.
Drawing Inspiration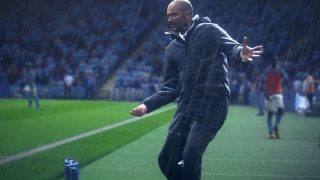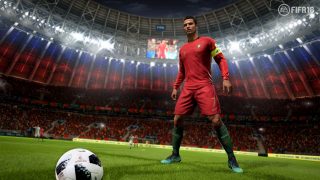 To construct a feeling of remarkable authenticity, the 2018 FIFA World Cup Russia update had to represent the tournament's host country in a realistic way. So where did the development team draw its inspiration from for this monumental task?
"Obviously, Russia! Its culture, its beautiful cities, and its beautiful symbols. To us, every World Cup is a very special moment, not only because it happens once every four years, but because it's the pinnacle of worldwide football, and that's emotional to many of us. And every World Cup symbolizes a moment where everyone leaves the club level and fans put on their national team jersey and cheers for his country, not because of club allegiance. It was an honor to build and design another World Cup with the entire team, and to deliver not a separate product, but an experience that is in terms of complexities, as if it is a separate product but that is within FIFA 18 and is free for everyone."
Laying Out The Blueprints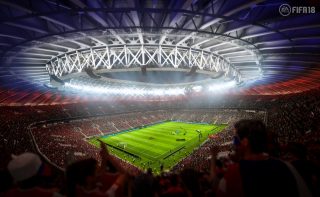 A fascinating takeaway from my chat with Lăzărescu involved the challenges the development team faced when it came to designing the 12 official World Cup stadiums in Russia. According to official EA SPORTS FIFA 18 World Cup Russia fact sheet, the stadiums in-game provide an atmosphere that features accurate sun positions, cinematic atmosphere grading, signature pitch-side fixtures, on-pitch debris, and club and stadium-specific banners. But these things don't just happen with the snap of a finger.
"We had a few challenges, especially with the stadiums. You've probably noticed if you've played that they look totally different, have unique lighting, and include so much World Cup-specific detail in them. So, it was challenging because while we were building the game, some of the stadiums were being built in real life, so they were not done. We had to go out and get pictures of the stadiums as they were being built, but also get architectural plans so that we could understand how they were going to look when finished. But construction work is ever-changing, so some things had to be designed on the fly."
Crowd Sourcing
A number of updates to the stadium crowds in the FIFA 18 World Cup Russia experience feature all-new individual crowd reactions and regional chant support. The development team's passion and dedication to their craft really shines through here.
"I think one of the most fun, but also most challenging things that we did was recreating the crowds and specific props. For example, the Mexican sombrero hat or the Icelandic Viking hats. So, all of those things had to be researched. And it was a titanic amount of work to be able to recreate them in the most authentic way possible."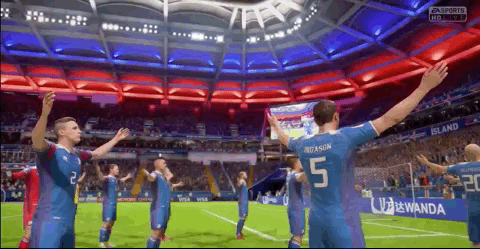 "I should also mention, you probably saw it in the trailer, but for Iceland we even added the Icelandic clap in the game. So, if you play a game with Iceland and you win, you're going to get the Viking clap. That is basically a technological advancement that we hope we're going to be able to leverage in coming years as well. It involves Swarm artificial intelligence. Basically, it's a lot of moving pieces, and being able to coordinate their movement but not feel robotic so they adapt to one-another. It's pretty cool."
Unfortunately for Iceland and its fans, after the team fell in a 2-0 defeat to Nigeria in the group stage, the Nigerian fans pilfered the chant. Pretty savage stuff right here.
Time for Iceland fans to fire up their console and see if they can get some revenge, video game-style.
All-Inclusive
Just like in the original version of FIFA 18, the World Cup experience features a selection of different game modes.
"I would do an injustice to call out just one! You have the authentic World Cup tournament, all the bells and whistles: stadiums, broadcast packages, players, themes, trophies, and kits. But you can also customize your World Cup tournament by adding teams that have not qualified in real life such as the United States, Italy, or Chile. And you can live the World Cup with one of these teams, which is great because it gives people a chance to fulfill their fantasies."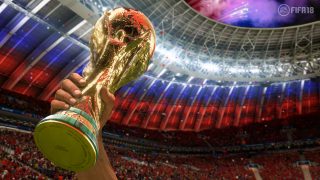 "You have kickoff mode that you can enjoy on the couch with friends. You also have two online modes—the World Cup friendlies where you can, over a five-match season, play with a friend. And you have an online mode where from the last 16, to the quarter-finals, to the semi-finals, to the final, you can play random opponents based on matchmaking that happens on skill level."
Chemistry Lessons
FIFA Ultimate Team, the most popular mode in FIFA 18 also known as FUT, got a complete overhaul specifically for the World Cup.
"Ultimate Team is an experience of its own, because you have single online tournaments, you have draft mode, you have squad building challenges, there's a lot in there. And it's all based around a revised chemistry system, which takes into account nationality and confederation rather than club and league, just for you to be able to build your fantasy national team."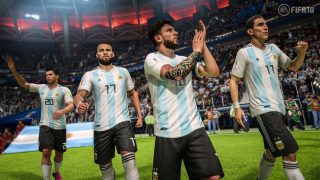 That's right, the FIFA 18 World Cup Russia developers revamped the FUT chemistry system solely for the free tournament experience.
"Yes, it only happens within the World Cup. In general, everything you see in the World Cup game is contained within that universe. It's a game within a game. Like Inception (laughs)."
Huge thanks to Andrei Lăzărescu for his time and for all these juicy details about what it took to create the most genuine World Cup experience FIFA 18 has to offer.
The World Cup update is available to all FIFA 18 owners on PlayStation 4, Xbox One, Nintendo Switch, and PC through a free content update.
---
–Matt Franciscovich (Follow Matt on Twitter @MattFranchise)
FIFA 18 is Available Now for PlayStation 4, Xbox One, and PC. Conditions and restrictions apply. See https://www.easports.com/fifa/fifa-18-game-and-offer-disclaimers for details.
Stay in the conversation on all things FIFA by liking us on Facebook and following us on Twitter and Instagram.
Sign-up to receive emails about EA SPORTS FIFA and EA products, news, events, and promotions.