Donovan "DhTekKz" Hunt was a name that few people knew a week ago. The 16-year-old from Exeter was ranked 55th on the Xbox One leaderboards based on his November 2017 Weekend League results, meaning that he barely squeaked into the tournament at all. He had less than 1,000 Twitter followers when the weekend began. But by Sunday evening, DhTekKz would be a legend.
One by One, Tournament Favorites Fall Short
When the FUT Champions Cup Barcelona last weekend started the FIFA 18 Global Series Road to the FIFA eWorld Cup, many of the biggest names in FIFA competitive gaming were present. Players like last year's FIFA 17 Ultimate Team Championship Series winner Corentin "Vitality Rocky" Chevrey and top Xbox One seed Michael "MegaBit" Bittner. But those heavyweights, along with many others, were left in the wake of possibly the greatest narrative in competitive FIFA history.
Many of the FIFA players in Barcelona had all the marks of a professional. Some (and their FUT squads) bore the jerseys of real-life club sponsors. Some changed their gamer tags to include the gaming organizations to which they were signed. Many brought coaches with them who barked orders in headsets and brought out notebooks at halftime to go over tactics.
An Exeter Underdog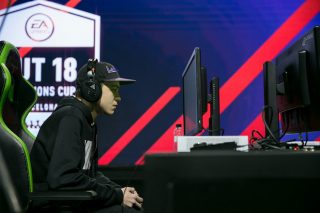 DhTekKz wasn't signed to a professional club, and he didn't come to Barcelona with a coach in tow. His squad often bore the jerseys of his favorite team, Liverpool Football Club. He chose the crest of Exeter City Football Club, to represent his hometown on the global stage. His parents accompanied him and cheered him on throughout the tournament, but only in the later rounds did he have a coach, when professional Roma pro Sam "Roma Poacher" Carmody volunteered to help after his own exit from the tournament. In a room surrounded by professionals, DhTekKz's amateur status kept him under the radar.
The FUT Champions Cup group stage used a Swiss-style format, meaning all matches in the stage were between players with identical records. DhTekKz started slowly, losing two of his first three rounds in the group stage. But that round 3 loss would be his last. His journey through the group stage was highlighted with a 7-2 aggregate win over Vitality Rocky, who wouldn't make it out of the stage. The teenage DhTekKz qualified for the knockout stage with a respectable 5-2 record, keeping company with tournament favorites—making commentators give him a second look.
Hints of Greatness
DhTekKz said after the group stage that he felt everything was going against him, considering the ridiculously difficult matchups he'd had thus far. "Beating Rocky, I was just happy. I don't know what to say, I'm speechless." Despite having a mountain to climb, he remained confident, saying, "I believe in myself, I think I can go on and win, but that's just how it is. It's good that I played those players, so I can prove myself."
With so much talent, the competition was intense in both console brackets. No player had an "easy" run in this tournament, but the path DhTekKz took makes his surprise victory even more impressive. He was challenged quickly, facing the self-proclaimed "best FIFA player in the world" and tenth Xbox One seed kurt0411. DhTekKz dispatched kurt0411 with a 5-1 aggregate win, finally turning heads in Barcelona and around the world.
This made DhTekKz's play style and tactical choices a hot topic for the tournament's commentators. He used a lot of skill moves during matches, a choice that some saw as showboating—but others considered a fresh approach to the competitive game. The margins in competitive FUT are often thin, so skill moves (especially in dangerous areas of the pitch) are used sparingly when there is a lot at stake. But DhTekKz found a way to incorporate flashy skills into his game without sacrificing too much, and it was clearly paying off.
Bucking the Tactical Trends
Tactically, DhTekKz played a bit of a different style in some matches, picking a 4-2-3-1 formation rather than the more popular formations, like the 4-1-2-1-2 narrow diamond and traditional 4-4-2. Using 4-2-3-1, DhTekKz said, provided a counter-attacking strategy that had served him well in qualification. "I've got two styles, I'll either do possession or just counter-attack. Against Gorilla I decided to go counter-attack and it worked well. I tried to match Rocky at his own game. I feel like I can take anyone on in their own style." This isn't a single tactic that he employed, but rather a style of play that relied on understanding FIFA on a level that allows him to tweak his game to suit any opponent.
Bold tactical choices and a keen understanding of skill moves are just part of DhTekKz's exceptional style of play. Tournament commentator Richard Buckley said "what makes [DhTekKz] special is that he is unpredictable in his gameplay, he does things that other pros don't. This includes skill moves and long shots, which others just don't expect him to do."
DhTekKz had a slightly tougher match in the console quarterfinals, but finished off another big name in Hashtag United pro Ryan "Hashtag Ryan" Pessoa with a tight 3-1 win. With two top-ranked players in his wake, DhTekKz was riding a wave of hype. But his opponent was VfL Bochum 1848 e-Sports pro and the highest-ranked Xbox One player in the world, Michael "MegaBit" Bittner. Would he be able to hang with Megabit, the only player that went undefeated in the November Weekend League?
This matchup ended up being one of the tournament's best, as DhTekKz and Megabit provided an end-to-end, 16-goal thriller over the two-game semifinal. The hype train for DhTekKz was going full speed, and it seemed like the entire competitive FIFA world was buying tickets. Buckley referred to this match as DhTekKz's most impressive performance of the entire tournament.
Glory Is Within His Reach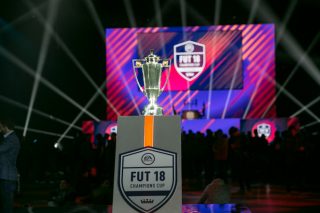 Two more opponents and four games stood between DhTekKz and competitive FIFA history. His console final opponent, Germany's Niklas "NRaseck7" Raseck, might have only been the 35th-ranked player, but he wasn't a pushover. DhTekKz came out swinging and easily finished the first leg with a 4-1 advantage that included a second-half penalty kick. But it was NRaseck7 who jumped to an early second leg lead, bringing the aggregate score up to 4-2 in the opening minutes. The German turned the screws again, scoring a fantastic goal in the 31st minute with Cristiano Ronaldo to inch closer to DhTekKz's lead. DhTekKz looked rattled, but, he kept his nerve, getting an insurance goal near the end of the game and preserveing his and a place in the Grand Final.
Despite his age, this was a recurring theme in this competition for DhTekKz—keeping his nerve. Surrounded by players with far more experience at the competitive level than him, DhTekKz never looked like he'd fold under pressure. Buckley said that he noticed it multiple times over the course of the tournament. "The most impressive part of the victory was that, given his age, he didn't let the pressure of the tournament affect his gameplay or the way that he kept his composure throughout the three days."
The Final Showdown
While not as unknown as DhTekKz, PlayStation 4 bracket champion Nicolas "nicolas99fc" Villalba quietly racked up an impressive tournament after ranking sixth in the world to qualify. Starting with a tight win over August "Hashtag Agge" Rosenmeier in the round of 32 and ending with a decisive win in the console finals over FC Basel pro Tim "TheStrxngeR" Katnawatos, nicolas99fc put together a solid resume ahead of the event Grand Final.
But there could be only one champion. While nicolas99fc certainly had his fans—especially from his home country of Argentina—the real buzz surrounding the Grand Final concerned DhTekKz. Fans around the world flocked to the live stream, eager to see if the Exeter teenager would complete his underdog story.
The entertainment began almost immediately. DhTekKz started with a bang, scoring his first goal after a few seconds. Even though nicolas99fc put up a valiant effort, his young opponent was simply too much. The first leg ended with a tight 3-2 scoreline, but DhTekKz ran away with the title and secured a 9-3 aggregate score in the event Grand Final to lift his first major trophy.
Within a matter of days, DhTekKz went from being a mostly-anonymous, low-ranked player that squeaked into the first FUT Champions Cup event of the season to one of the biggest names in competitive gaming. His Twitter account grew exponentially, ending the weekend with over 50,000 followers.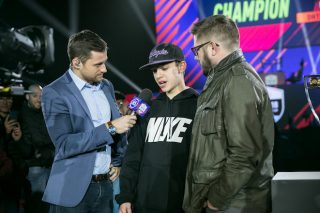 Seconds after his victory, DhTekKz showed a maturity and humility beyond his years when talking about his history-making weekend. "I don't know what to say. I came into the tournament to do well. I got hard matchups, came through it, and believed I could win." Even going down 3-2 at the end of the first game of the Grand Final, DhTekKz said his confidence didn't waver. "I had a couple big leads in the earlier rounds. When he got it back to 3-2, I knew this had happened before, and I had gone on and won. I was worried, but I believed in myself to come out on top."
If his calm, yet confident approach to FIFA showed the young man's mature side, DhTekKz's emotional words after the tournament reminded us that he's just 16. His advice for aspiring professional FIFA players was unexpected: "Tell your mum about FIFA, she'll be your inspiration. [Mine has] helped me a lot along the way." When asked about what he would do with the prize money, DhTekKz's answer was one only someone with their entire adult life ahead of them could give: "I'm more worried about the trophy," he said. "I don't know where to put it."
-Spenser Davis
---
FIFA 18 is Available Now for PlayStation 4, Xbox One, and PC. Conditions and restrictions apply. See https://www.easports.com/fifa/fifa-18-game-and-offer-disclaimers for details.
Stay in the conversation on all things FIFA by liking us on Facebook and following us on Twitter and Instagram.
Sign-up to receive emails about EA SPORTS FIFA and EA products, news, events and promotions.