In FIFA 17 on Xbox One, Playstation 4, and PC we're adding a new layer of presentation detail to make your match day experience more authentic and immersive than ever before.
New Stadiums
When FIFA 17 launches on September 27 you'll be able to take to the pitch in three new stadiums. Joining West Ham United's new home will be Middlesbrough's Riverside Stadium, alongside Gamba Osaka's Suita City Football Stadium.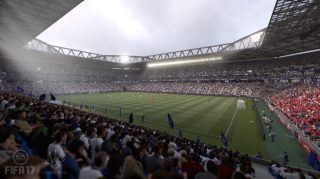 New Competition Presentation
The world's oldest football competition, The FA Cup, will now have its own full and authentic overlay package in FIFA 17. This will reflect the competition's real world broadcast package, meaning you'll be able to feel the magic of the cup in every FA Cup match you play.
On top of this, we're adding a number of pitch props and stadium dressings used before, during, and after games to mirror the real-world match day experience. These include:

Tunnel Archways
Handshake sponsor boards
Ball plinths
Pitch flags
Pyrotechnics
Confetti Cannons
Home Team corner flags
Goal net stanchion colours based on stadium
New animations have also been captured for pre-game, half time & full time, resulting in smoother animation and more polished camera coverage.
New in match performance analysis
Shot and touch information for key attackers will now be tracked in each match. You'll see this information displayed on a graphic during matches, with commentators picking up on stories to discuss the narrative of the match and the performance of the players involved.
In match Table Analysis
New in-game commentary analysing key talking points around league tables and cup standings makes the football world deeper and more compelling than ever. Matches will take on an even greater sense of importance as you hear commentators discuss six-pointers, surprise packages, title deciders, groups of death and much more via new in-match overlays and audio.
THE JOURNEY-Specific commentary
Play The Journey, the brand new mode in FIFA 17, and you'll hear new commentary lines tracking various storylines which impact upon Alex Hunter. These include key milestones, matches against rival players, and key loans and transfers which directly affect Hunter's progression in the game.
Match day atmosphere
Feel that match day experience in FIFA 17 with our most realistic recreation of stadium sounds yet.
Two new PA announcers will bring the game to life, including goal scorers and lineups, while we're adding over 500 new chants, making FIFA 17's crowds the most vibrant and dynamic to date. New additions this year include the Hala Madrid anthem along with many new high quality chants from La Liga, Premier League and Championship clubs.
New Player emotions
We've added greater variety and quality in reaction animations in FIFA 17. You'll now see your players respond with even more realistic emotion to the agony of missing a golden chance, or the glory of winning a title.
Authentic Manager Focus
At various times during the FIFA 17 broadcast we will now focus on our authentic managers, who you'll see reacting to bookings, missed scoring opportunities, great saves, and goals.
---
Pre-order FIFA 17 Super Deluxe Edition and get up to 40 FIFA Ultimate Team Jumbo Premium Gold Packs, Team of the Week loan players, and other great FUT content! Click here to read about all our available pre-order offers.
Stay in the conversation on all things FIFA by liking us on Facebook and following us on Twitter.
Sign-up to receive emails about EA SPORTS FIFA and EA products, news, events and promotions.