The free World Cup update for FIFA 18 provides not only the authentic teams, players, and presentation from the tournament, but also the 12 official stadiums in Russia. Whether you want to play matches exactly where they will be in the actual tournament, or you'd rather change it up and play any match in any of the official stadiums, FIFA 18 World Cup puts you in control of an epic World Cup experience.
Each stadium will also be filled with the sights and sounds of the World Cup, thanks to authentic pitch environments, dressings, national team banners, and high-resolution crowds.
Learn more about the individual World Cup venues below.


SAINT PETERSBURG STADIUM, SAINT PETERSBURG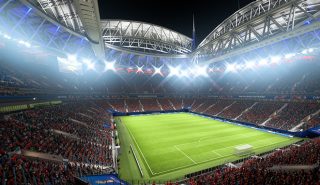 One of the newest venues for the tournament, Saint Petersburg Stadium in Western Russia boasts a retractable roof that is part of an overall design initially titled "The Spaceship." Aside from the World Cup and other international matches, Saint Petersburg Stadium is the home of Russian club Zenit Saint Petersburg.
Capacity: 67,000

FISHT STADIUM, SOCHI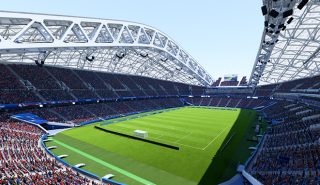 Built as a closed arena for the 2014 Winter Olympics, Fisht was re-opened for the World Cup and other open-air sports in 2016.
Capacity: 48,000

EKATERINBURG ARENA, EKATERINBURG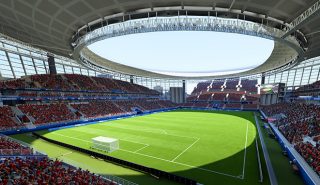 Though originally built in 1957, it has been renovated twice — most recently because of its inclusion as a World Cup venue. Ekaterinburg is the easternmost stadium for the World Cup, and has just the second-smallest crowd capacity at 35,696.
Capacity: 35,000

KAZAN ARENA, KAZAN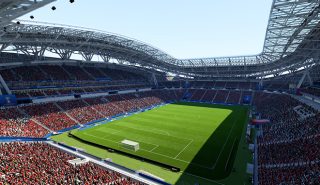 Home of Russian Premier League mainstay Rubin Kazan, Kazan Arena boasts the largest outdoor LED screen in all of Europe.
Capacity: 45,000

NIZHNY NOVGOROD STADIUM, NIZHNY NOVGOROD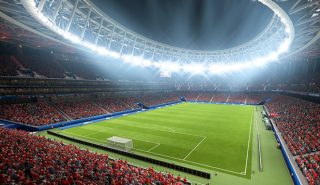 Another brand-new venue built for the World Cup, Nizhny Novgorod Stadium's opening tournament match between Sweden and South Korea will be its first. But Russian Premier League side FC Olimpiyets Nizhny Novgorod will soon make the stadium their home.
Capacity: 45,000

ROSTOV ARENA, ROSTOV-ON-DON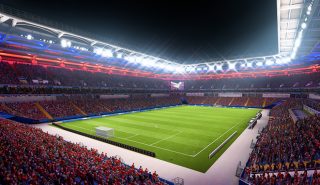 Located along the scenic Don River, this recently-built stadium has its seats organized in a way that provides a variety of views of not just the pitch, but also the river and the rest of the city. FC Rostov will make the stadium their home after the conclusion of the World Cup.
Capacity: 45,000

SAMARA ARENA, SAMARA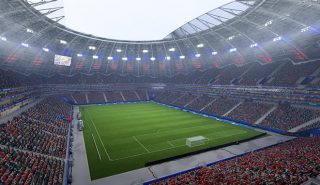 Another recently-unveiled stadium designed with spaceships in mind, Samara Arena looks spectacular at night thanks to the lights that line nearly the entire exterior. Krylia Sovetov Samara will be the lucky residents of this impressive new venue in the fall.
Capacity: 45,568

MORDOVIA ARENA, SARANSK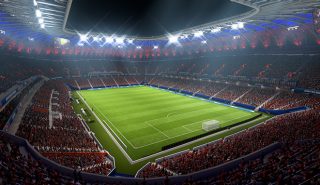 This brightly-colored oval arena was in construction for almost a decade, originally designed and built to honor the Mordovian people. It becomes the home of FC Mordovia in the future, and will likely host many other important sporting events in the region.
Capacity: 45,000

VOLGOGRAD ARENA, VOLGOGRAD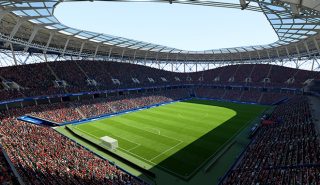 Built on the site of the Volgograd's former stadium, the Volgograd Arena has a unique design that opens outward at the top, rather than inward like most stadiums. It also has a unique exterior, with supports designed to look like fireworks when lit up at night. The roof is designed to look like spokes on a bicycle, making it feel larger and more open from the inside. Rotor Volgograd will take up residence post-World Cup.
Capacity: 45,000

SPARTAK STADIUM, MOSCOW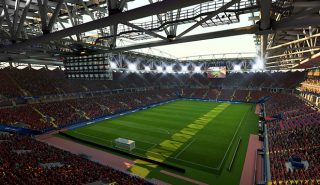 Moscow's second World Cup venue was built in 2014 to finally provide Spartak Moscow, one of Russia's most successful and popular teams, with a home stadium. The facade is made up of many diamond-shaped panels that are usually Spartak's red and white, but can be changed to other colors for different events.
Capacity: 45,000

KALININGRAD STADIUM, KALININGRAD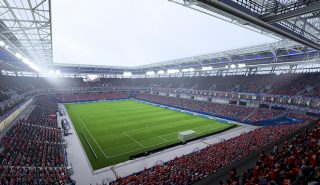 The smallest of the World Cup venues by capacity, Kaliningrad Stadium is actually situated on Oktyabrsky Island, which sits in the Pregolya River that runs through the city. The design is based on Munich's Allianz Arena and will host Baltika Kaliningrad in the future.
Capacity: 35,000
LUZHNIKI STADIUM, MOSCOW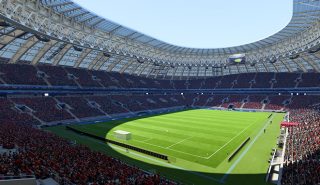 The site of the 2018 World Cup Final, Luzhniki Stadium is home to the Russian national team and regularly hosts domestic cup finals. Situated in the rolling meadows around the Moskva River, the massive stadium is only part of an even bigger complex used for a variety of sports.
Capacity: 80,000
Don't forget to learn more about the available game modes in the free FIFA 18 World Cup update.
---
FIFA 18 is Available Now for PlayStation 4, Xbox One, and PC. Conditions and restrictions apply. See https://www.easports.com/fifa/fifa-18-game-and-offer-disclaimers for details.
Stay in the conversation on all things FIFA by liking us on Facebook and following us on Twitter and Instagram.
Sign-up to receive emails about EA SPORTS FIFA and EA products, news, events and promotions.