The biggest and best celebration of the year is rolling through Hockey Ultimate Team™, as the Team of the Year (TOTY) Event begins March 13. Highlighted by the most powerful player items of the year, featuring hockey superstars who absolutely crushed it this season, this is the finest opportunity to give your dream team a boost. Keep reading for full details on how to take advantage of this once-a-year opportunity.

TOTY Overview

When TOTY begins on March 13, the first of four rosters will be released in packs, starting with the Young Guns lineup featuring players 23 and under who dominated the game this year. With four forward lines, three defensive corps, a starting and backup goalie, along with five defensive items, there will be a total of 25 extremely-strong player items introduced in packs with each weekly roster.

Over the course of four consecutive weeks, a new team will be released each Wednesday until the final roster is revealed on April 3, giving you even more items to collect as the event rolls along. As these weekly rosters are released, there will be a series of packs in the HUT store that correspond with that week's theme, with the Young Guns packs arriving week one. This is without a doubt the best chance of the year to add to your Ultimate Team.

Community TOTY

Get in game and nominate your selections for the Community Team of the Year (CTOTY) lineup through the CTOTY Nomination Choice Pack in the HUT store. Containing six rounds featuring 10 players per round, you'll select two players in each round and receive Loan Items featuring these superstars to nominate them to the CTOTY. Available March 25 to 27, make sure you keep your Loan Items in your inventory until 6:00 p.m. PT on the 27th when the CTOTY nominations are tallied.

The Rosters

Here are the full lineups for the Team of the Year rosters. Make sure you check back every week as the event continues to see the powerful superstars added with each squad.

Young Guns TOTY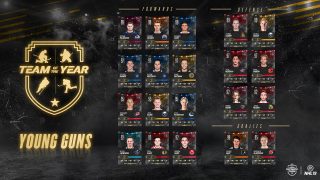 North America Offensive TOTY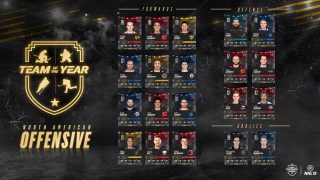 World Offensive TOTY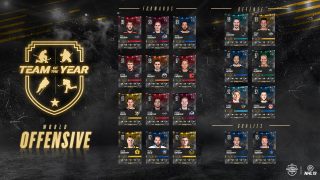 Community TOTY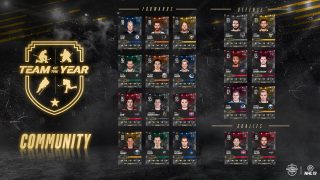 TOTY Defensive Items

Along with the weekly 20-man rosters, Defensive TOTY player items will be added as a bonus in packs, giving you even more ways to supercharge your team. These two-way players can dominate both ends of the ice, giving you a distinct advantage in multiple scenarios. Here are the Defensive TOTY player items that will be introduced week one alongside the Young Guns:
Aleksander Barkov, Forward
Matthew Tkachuk, Forward
Dylan Larkin, Forward
Miro Heiskanen, Defenseman
Aaron Ekblad, Defenseman
North America Offensive TOTY Defensive Items:
Patrice Bergeron, Forward
Jonathan Toews, Forward
Ryan O'Reilly, Forward
Ryan Suter, Defenseman
Shea Weber, Defenseman
World Offensive TOTY Defensive Items:
Nicklas Backstrom, Forward
Anze Kopitar, Forward
Vladimir Tarasenko, Forward
Mikhail Sergachev, Defenseman
Erik Gustafsson, Defenseman
TOTY Sets

You can find these unstoppable players in packs, however you can also guarantee yourself some of these items by completing Team of the Year sets. Trade in the required number of collectibles, also found in packs, and receive at least one powerful Team of the Year item. Here are reward details for the first sets that will be made available for Team of the Year along with the Young Guns on March 13.

TOTY Young Guns Choice Set
Rewards a choice pack with the selection of one of two TOTY Young Guns player items.
TOTY Young Guns Defensive Items Set
Randomly rewards one of the five Young Guns Defensive player items.
TOTY Young Guns Top Line Set
Randomly rewards you three of the six 99-OVR top line player items from the Young Guns roster.
Thanks for reading, and make sure you check out the full Young Guns team right here.
---
Stay up to speed with NHL 19 on Facebook, Twitter, and Instagram.

Get your copy of NHL 19 now, and start your journey from the ponds to the pros.

Sign up today to receive the latest NHL 19 news, updates, behind-the-scenes content, exclusive offers, and more (including other EA news, products, events, and promotions) by email.