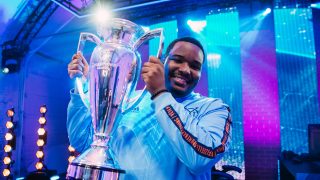 The first-ever eChampions League trophy was hoisted by Christopher "NYC_Chris" Holly who defeated Ivan "DrNightWatch" Churov by a 7-4 aggregate score in the Grand Final as the inaugural tournament came to a grandiose conclusion in Madrid, Spain.
The American champion also hauled in a $100,000 Grand Prize and 850 Global Series points, which will further improve his position in the PlayStation Global Series Rankings as July's Playoffs loom.
NYC_Chris, a veteran of competitive FIFA who has come close to glory several times over the last few seasons, secured the inaugural eChampions League cup for his eMLS club, New York City FC.
His road to victory wasn't easy as he narrowly defeated Vitality Rafsou in the quarterfinals and escaped with a win in penalties over North Marcuzo in the semifinals.
A testament to the world-class FIFA 19 skill that the finalists brought to the table — each of the four quarterfinal matches were decided by just one goal each.
It pays to be among the best in the world at FIFA 19, as the eight finalists were also treated to an unforgettable experience in the days before the tournament gameplay began. Each player received a tailor-made suit, and a swag bag fit for a champion, loaded with items that the competitors showed off on social media.
Plus, they partook in a private tour of Santiago Bernabéu Stadium, home of Real Madrid. The FIFA pros were able to walk onto the pitch. Then they enjoyed dinner at the stadium, overlooking the legendary field.
Finally, NYC_Chris had the honour of lifting the eChampions League trophy pitchside at the Wanda Metropolitano stadium, the same spot where Liverpool would celebrate their Champions League triumph just hours after.
The very first eChampions League tournament lived up to the prestige one would expect, and was certainly an event to remember. Now, focus shifts to the Global Series Playoffs, as the Road to the FIFA 19 eWorld Cup rolls on.
---
Make sure to subscribe to the EA SPORTS FIFA's YouTube Channel, Twitch Channel, Twitter, Instagram, and Facebook so you don't miss any of the action live from Madrid. And follow the @EAFIFAesports Twitter account for the latest competitive FIFA 19 content, news, and event coverage.
* Eligibility restrictions apply. Not all platforms are supported for qualification. See Official Rules for details. Final terms and structure subject to change.