We're celebrating St. Patrick's Day with a week-long, green-themed program in FIFA Mobile. Collect Celtic Knots and Four-leaf clovers to upgrade St. Patrick's Day Player Items. Also for the first time in FIFA Mobile, we're challenging the community to work together to unlock extra in-game content with a series of Community Challenges.
Continue reading to get the complete rundown on FIFA Mobile's St. Patrick's Program
St. Patrick's Pack Offers, Live Events, and Tokens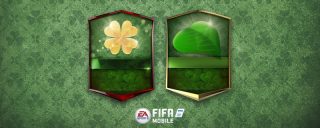 Over the course of the week, you will find a variety of Tokens including Green Coins, Celtic Knots, Lucky Leaf and Four-leaf Clover Tokens in specially marked packs or by completing St. Patrick's Day-themed Live Events. These Tokens are necessary to unlock and upgrade other Program-related content. For example, redeem four (4) Lucky Leaf Tokens to receive a Four-Leaf Clover Token.
Emerald Players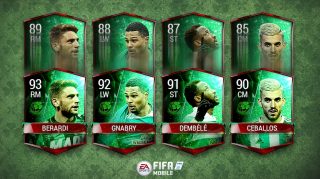 We have four green-themed Player items that you can find and upgrade over the course of the program. We picked these players because they've brought luck to their green-colored clubs. Upgrade these players by using a set number of Lucky Leaf, Four-leaf Clover and Celtic Knot Tokens in their Upgrade Plan. Be sure to check in-game to see the specific requirements for each Player.
Luck O' The Irish Player
Unlock the special Luck O' The Irish Player by finding 10 specific Celtic Knot Tokens. Like the Emerald Players, after unlocking this player, you will be able to increase his OVR by completing the corresponding Plan. As always, be sure to check in-game for Plan requirements.
Community Challenge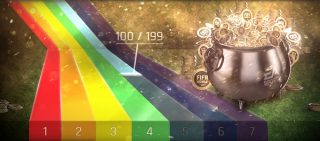 We are challenging the FIFA Mobile community with a series of seven (7) tasks that will unlock bonus content around St. Patrick's Day if completed. As the community completes a Challenge and unlocks the next one, the requirements will get harder but with better rewards.
Make sure you're following us on Twitter (@EAFIFAMobile) to get updates on the latest challenge including status reports to let you know where the community has progressed.
If the community manages to complete a Challenge, we will let you know on Twitter and with in-game messaging. For any challenge reward that includes a Prize Pack, you can find and claim it from the Store.
Once our St. Patrick's Day Program concludes, we will remove all Prize Packs from the store. Please make sure to claim these Packs before the program ends.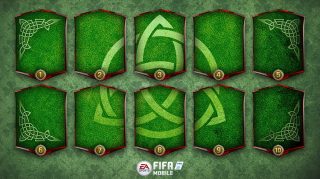 Untradeable Player Items
For this Program, all St. Patrick's Day Player Items and Tokens cannot be bought or sold on the Market. As a result, we have increased the quick sell value of the Player Items featured.
FIFA Mobile's St. Patrick's Day Program runs until March 27, 2017.
* = Player Items and other images may differ slightly than what actually appears in-game.
---
FIFA Mobile is available now on iOS, Google Play, and Windows Phone.
Stay in the conversation on all things FIFA Mobile by liking us on Facebook and following us on Twitter.
Sign-up to receive emails about EA SPORTS FIFA and EA products, news, events and promotions.