The 2018 FIFA World Cup Round of 16 has completed, and the best players from each match have been rewarded with Man of the Match honors. See which players received MOTM and check out their upgraded World Cup FUT items. If you already have the player items in your squad, you'll see that those have also changed to the new, upgraded ratings.
With the best national teams in the world converging on Russia this summer to compete for the sport's biggest trophy,if you missed it, we've released the 2018 FIFA World Cup update for FIFA 18. World Cup Ultimate Team, a mode exclusive to the update, allows you to recruit the top players from every qualified national team to create your own international dream squad.
Since all World Cup Ultimate Team player items are live items, they can get ratings upgrades whenever the player receives a MOTM award for their performance in the real-life tournament. The next set of Man of the Match items are below. If you want to find out every MOTM item from the tournament thus far, visit our MOTM hub.
All World Cup FUT items can only be found in the version of Ultimate Team that is in the World Cup update, not in the regular FIFA 18 Ultimate Team mode.
day 1
It was hard to top the sensational matches that the round of 16 kicked off with, especially France's 4-3 victory over Argentina, a thriller that ended with the elimination of one of the best players in the history of the game, Argentina's Lionel Messi. He was certainly overshadowed by opponent Kylian Mbappé, a burgeoning star who truly arrived on the international stage with his brace in this match. His teammate, young right-back Benjamin Pavard, wasn't to be outdone; his incredible goal from distance was one that he — and the Argentine defenders — will remember for a very long time. The South Americans weren't completely out of it; Argentina scored three goals, including a screamer from Angel Di Maria.
The other match didn't have nearly as many goals, but Uruguay's 2-1 win over Portugal sent another superstar home from Russia early: Cristiano Ronaldo. Edinson Cavani scored a sensational brace before limping off with an injury late in the game, while midfielder Diego Laxalt also stood out with a solid overall performance and a late block on a Ronaldo shot to keep the South American side on top.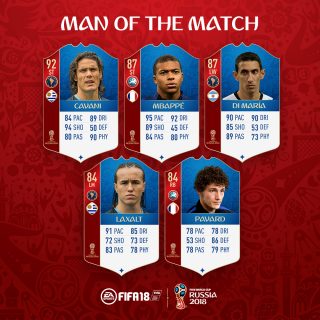 Day 2
The theme of the next two matches was pretty clear: penalties. Denmark shocked Croatia by scoring in the first minute after the ball bounced around comedically in the six-yard box. The score didn't last long, as Croatia bounced right back through Mario Mandzukic, as the striker took advantage of a poor Denmark clearance and fired the ball into the net from the edge of the box. Neither team would score again in regulation time, and the match eventually came down to a penalty shootout. Croatia came out on top 3-2, thanks to some excellent saves by Danijel Subašić and a winning penalty by Ivan Rakitić. Denmark goalkeeper Kasper Schmeichel's contribution can't be underrated either, as he singlehandedly kept his team in the game for 120 minutes and saved two shootout penalties.

Spain and Russia's matchup was about as tepid — the only goals scored in 120 minutes were the early own goal in Spain's favor and a penalty for Russia just before halftime. Spain's Isco had bright moments throughout the match, but it wasn't enough to bring down the hosts. Russia goalkeeper Igor Akinfeev was the star of the shootout after he ended it with a spectacular save against Iago Aspas to make it 4-3 on penalty kicks and eliminate the 2010 champions.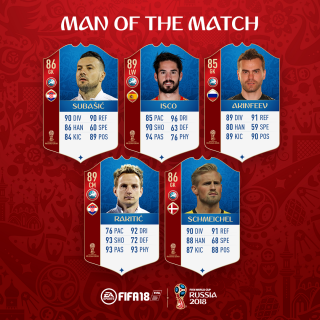 day 3
Unsurprisingly, Brazil ended Mexico's fairy tale in Russia in a fairly straightforward fashion despite the North American country's plucky first half performance. Winger Willian produced both of Brazil's goals, the first for Neymar after the mercurial superstar created the chance from a deeper position, and the second for Roberto Firmino, who latched onto a cross mere minutes after coming onto the pitch.

The second match of the day was much more exciting as Belgium executed what could be the most legendary comeback in World Cup history against Japan. The Asian side shocked everyone with two quick-fire goals early in the second half, and they looked to be cruising to a surprise quarterfinal berth for the next 20 minutes. But Belgium had other ideas. Defender Jan Vertonghen notched one back for his country in the 69th minute with a looping header that goalkeeper Eiji Kawashima could only watch go over his head and into the net. Substitute Marouane Fellaini played hero next, tying the score up in the 74th minute with another header, this time from an Eden Hazard cross. But it was Nacer Chadli who earned MOTM honors for the Red Devils when he capped off a perfectly executed counterattack and slipped the ball past Kawashima to halt the advance of injury time and send Belgium to the next round. Japan's excellent performance in the first hour of the match can't be discounted either, especially the contribution of Takashi Inui, who scored the second goal in what looked like a surprising, historic victory.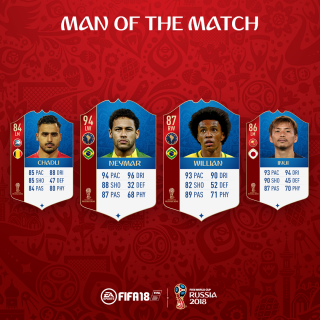 day 4
It was hard to anticipate the result of a match like Sweden versus Switzerland, as both European nations have strong teams, but no massive superstars that stand out. Both teams made it this far because they stuck to their strengths and trusted themselves to get the job done. This one was fairly even throughout, but it was the Scandinavian side that came out on top through Emil Forsberg's goal, which took a lucky deflection off a Swiss defender and flew over helpless goalkeeper Yann Sommer. Sweden's Andreas Granqvist, who has been one of the standout defenders in this tournament, had one more impressive match and earned himself a MOTM nod.

England then took on Colombia in another round of 16 match that had to be decided via penalty shootout, but it almost didn't even come to that. The Three Lions led for over 30 minutes after Harry Kane's second-half penalty, but just as it looked like they would advance with a 1-0 win, Colombia's Yerry Mina had other ideas. A spectacular save by England goalkeeper Jordan Pickford earned Colombia a corner deep in the third minute of injury time, which Mina smashed into the goal with a towering header. Neither team managed to score in the two periods of extra time, and hearts all over England dropped as the team headed to a shootout. The England national team had never won a shootout in the World Cup, having been knocked out by them three times in the past. Pickford's save on Carlos Bacca's penalty gave England the advantage before Eric Dier's successful shot from the spot sealed the team's place in the quarterfinals. Kieran Trippier earns MOTM honors for England for his strong showing at right-back throughout the match and his successful penalty in the shootout.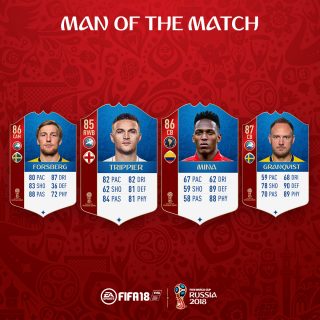 ---
FIFA 18 is Available Now for PlayStation 4, Xbox One, Nintendo Switch, and PC.
Stay in the conversation on all things FIFA by liking us on Facebook, following us on Twitter and Instagram, and participating in the official FIFA Forums.
Sign-up to receive emails about EA SPORTS FIFA and EA products, news, events, and promotions.