The Madden 19 Club Championship is here and the tournament features the largest prize pool in competitive Madden history, $700,000, and will kick off on January 30. Each of the final four competitors in the Club Championship get an automatic seat in this season's upcoming Madden Bowl. But only one will take home the $100,000 grand prize.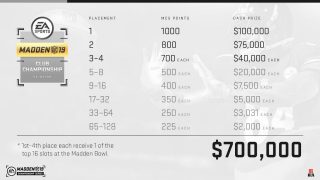 The final 32 competitors advanced to win their respective NFL club series, first through online qualifiers, an online elimination round, and eventually they played in a local club live final to earn their seat. But don't expect to see real NFL rosters. This is a Madden Ultimate Team format where competitors get to draft their dream Madden 19 roster from a pool of MUT items with a salary cap.

The Club Championship is the second EA Major of the Madden 19 Madden Championship Series season. Michael "Skimbo" Skimbo already took home the Madden 19 Classic belt in December along with $25,000. But he was upset in the New England Patriots Club Series and failed to advance to the Club Championship finals, so he'll be making a special appearance behind the caster's desk for the Club Championship. Something tells us we'll see Skimbo competing again later this season.

Now that you're briefed on how this all works, here's a full breakdown of the tournament schedule for all four days of the Live Finals beginning on January 30.

Where to Watch
Catch all four days of the Madden NFL 19 Club Championship streaming live on Twitch, YouTube, Facebook, and Mixer. Fans can also view the Championship round live on ESPNews with a couple of re-airs on ESPN2. See the full tournament schedule below.
WHEN TO WATCH (*all times EST*)
Live Club Championship coverage kicks off at 3:00 p.m. EST each day of the tournament. The Grand Final matchup will air live on ESPNews (and all of the streaming channels listed above) starting at 8:00 p.m. EST on Saturday, February 2.
DAY 1: Wednesday, January 30
The Round of 32 begins as all finalists have their eyes on the prize.
Live streaming coverage from 3:00 p.m. EST — 9:00 p.m. EST
DAY 2: Thursday, January 31

The Round of 32 wraps and the Round of 16 begins as the field is whittled down.
Live streaming coverage from 3:00 p.m. EST — 9:00 p.m. EST
DAY 3: Friday, February 1

The Round of 16 wraps and the remaining eight competitors begin the Quarterfinal Round.
Live streaming coverage from 3:00 p.m. EST — 9:00 p.m. EST
DAY 4: Saturday, February 2

The Quarterfinal Round wraps, with just four competitors left to play out the Semifinal Round. After a short break, the Championship Round will kick off to determine the Madden 19 Club Championship winner.
Live streaming coverage from 2:30 p.m. ET — 9:00 p.m. EST.
Championship Round begins at *8:00 p.m. EST, live on ESPNews, and all digital streaming channels listed above.
Championship Round re-airs on ESPN2 on Sunday, February 3 at 1:00 a.m. EST and again on Monday, February 4 at 11:30 p.m. EST.
— Matt Franciscovich (Follow Matt on Twitter @MattFranchise)

---
For more information on the Madden Championship Series and how to compete in future events, visit the Madden NFL 19 compete homepage. Keep it locked on the @MaddenLeagueOps Twitter handle for news, tournament updates, recaps, and content during the Madden Classic.