The Madden Classic kicked off in Las Vegas on Thursday, December 6, with hundreds of competitors assembling for three waves of head-to-head Group Stage play. The goal was easy: win three matches, or go 2-1, and automatically advance to Day 2's single-elimination round. Catch up on some of the biggest highlights from Day 1 and hone in on who to watch heading into Day 2 of the tournament.

BIG NAMES DOMINATE ON DAY 1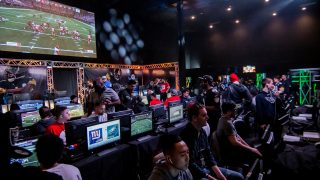 Day 1 wrapped with a Wave 3 of Group Play that was jam-packed with some of the biggest names in competitive Madden including Michael "Skimbo" Skimbo, Drini "Drini" Gjoka, Shay "Young Kiv" Kivlen, Raidel "Echo Fox Joke" Brito, and Eric "Problem" Wright. All five of these competitors were Players To Watch heading into the tournament.

Drini did Drini things, tearing through all three of his Group Stage games. Last year's Madden Challenge champion allowed just 13 points against through his three games, which he seemed pretty pumped about.

Skimbo bounced back from his upset in the New England Patriots Club Series a few weeks ago, going 3-0 on Day 1. He put up at least 50 points in two of his matches on the day. Skimbo is the tournament's reigning champion, and will look to defend his Madden Classic title throughout the weekend.

Problem won all three of his matches as well, allowing just 19 points against, showing off his signature defensive style. The competitive Madden legend hasn't won an EA Major since 2013 in Vegas, but he always seems to advance to the later stages of these live events. The man has been doing it for a while, and should continue to roll on Day 2.
SLEEPERS TO WATCH ON DAY 2
The Madden 19 Arizona Cardinals Club Champion, Tyler "TDavis" Davis, got off to a strong start in Wave 1, going 3-0 in Group Play using the New England Patriots. Despite his successful day, here's a look a highlight reel play surrendered by TDavis, that he'd probably like to have back.

Based on his successful run at the Cardinals Club Series, he'll be one to watch as the Madden Classic rolls on.
Tyler "Shikobe" Morley turned heads on Day 1, going 3-0 with a ridiculous 83-point differential using the Kansas City Chiefs. Check out his humble reaction to a strong start at the Madden Classic, with a focus on Day 2.

Another familar name in the Madden competitive community, Nicholas "Wintgoat" Anderson went 2-1 in his Group Stage games, using the Los Angeles Chargers as his squad. Wintgoat represented the Vikings in the '18 Club Championship, but hasn't yet truly broken out. Could this be his tournament?

That does it for the Day 1 Madden Classic recap. Make sure to tune in on December 7—8 for more Madden NFL 19 competitive gameplay live from Las Vegas as the tournament continues through the weekend. See the full schedule and ways to watch including EA SPORTS Madden NFL 19's Twitch, YouTube, Facebook, and Mixer.

— Matt Franciscovich (Follow Matt on Twitter @MattFranchise)
---
For more information on the Madden Championship Series and how to compete in future events, visit the Madden NFL 19 compete homepage. Keep it locked on the @MaddenLeagueOps Twitter handle for news, tournament updates, recaps, and content during the Madden Classic.