Beef up your Madden Ultimate Team with Legends, including some of the greatest names in the NFL. New Legends are available every week, and these cards highlight a specific game in a renowned player's NFL career.
There are a few ways to earn these superstars. Full versions of Legends roam Ultimate Team packs. They can also be won via the Auction House. Lower OVR versions of each Legend are available through packs and the Auction House, too. Gather them all and head to Sets to be rewarded with the full Legend version.
You can also earn a Power Up edition by beating each Legend's team in a Solo Challenge. Power Up your Legend for immediate impact or use the full Legend to take its potential to the next level, adding additional chemistry availability.
Here are the Legends for Week 13.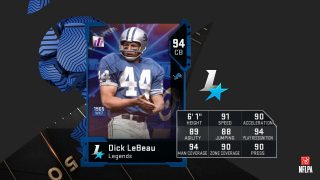 Dick LeBeau, CB, Detroit Lions
In MUT, having shutdown CBs is crucial to fending off some the elite WRs many rosters are packing nowadays. A literal NFL legend, Dick Lebeau provides just that. With 91 Speed, 94 Play Recognition, and outstanding Man and Zone Coverage scores, you can rely on him to blanket most WRs available in the MUT arsenal.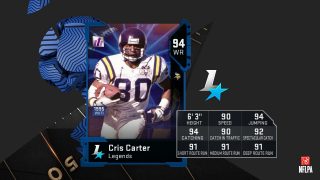 Cris Carter, WR, Minnesota Vikings
Almost the perfect counter balance to LeBeau, Hall-of-Fame WR Cris Carter enters the mix. He has fantastic ratings down the board, but what sets him apart is the route running. With 91s in Short, Medium, and Deep routes, Carter is one of the most versatile and balanced WRs available.
That's not all that's coming in this week's Legends drop. There's an LTD Legend that's a MUT community favorite. You won't want to miss when we announce who it is on the #MaddenDailyDrops Twitch stream. Make sure to follow @EASPORTS_MUT to see when we go live.

---
Madden NFL 19 is available now. Stay in the conversation by following us on Facebook, Twitter, Instagram, YouTube, and EA Forums. Sign up for the Newsletter today to receive updates on Madden, and other EA news, products, and events, all season long.