&nbsp
Introducing Madden NFL Overdrive
A new season of Madden Mobile is on the way with big changes! Rebuilt from the ground up, this year's update will be called Madden NFL Overdrive. Not only will this be the biggest, most significant update in the history of Madden the franchise, it will also transform how you experience Madden on mobile. Madden NFL Overdrive delivers next-level visual and gameplay fidelity. It introduces a whole new way to play NFL football on the go.
Mark your calendar. Madden NFL Overdrive will be available on August 15, 2018!
Generational Leap Forward
When you login on August 15, you will notice our graphics have taken a significant leap forward.
This new season unlocks the ability to deliver real-time physics and broadcast-style presentation.
Madden NFL Overdrive will look, feel, and play better than ever before.
A New Way To Play
Madden NFL Overdrive transforms the way you play the game with the introduction of Player vs. Player (PvP). These are quick-hitting, fierce offensive battles with one simple goal – outscore your opponent.
You'll earn Fantasy-like scores, meaning you get points for everything you do on the field. From every rushing and passing yard to each touchdown, all of it adds to your score. There are no kickoffs, just short drives for big points. This fresh take real-time, PvP experience is the heart of Madden NFL Overdrive.
While there are a lot of exciting changes coming to Madden NFL Overdrive, you'll still find some of your favorite modes, like Live Events, the return of NFL 24/7, and our tried-and-true Leagues. These experiences will all be elevated by everything you do in PvP. You'll earn fans, increase your XP, and rank up for rewards that can be redeemed in each of those game modes.
WHAT'S OVERDRIVE?
So why the name Overdrive? Well, there will be a new Overdrive meter that will fill up as you play a match. As your meter fills you'll unlock Tactics, which can provide boosts for your offense or defensive challenges to your opponent.
Several things factor into how quickly your Overdrive meter fills. There are four classes in the game that determine some of the stats and playstyles of players like vertical, spread, etc. Having a lineup of players with the same class boosts your team chemistry and can also impact your Overdrive. Your Captain, the leader of your team as well as your Coach, also factors into how quickly your Overdrive meter fills during a Vs match.
Each Captain has a specific scoring bonus. For example, you might have a QB Captain who gives a bonus if he throws for 200 yards in a match. Coaches determine your playbook and the Overdrive Tactics available to you.
What Else Is New
Here are some other new features you'll be hearing about in the coming days and weeks:
The all-new Live Events that will help improve your team
New kicking meter for improved accuracy
More details on Captains, including who is available on August 15
And more!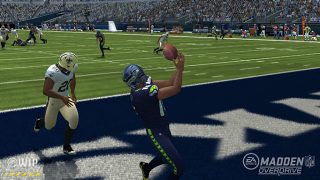 We'll have more information coming your way before the new season launches on August 15. You can also be one of the first people to play the game at EA PLAY from June 9–11. Be sure to follow us on Twitter @EAMaddenMobile as we'll post footage from EA PLAY, showing off the new season of Madden NFL Overdrive.
No other game will deliver the grit, triumph, and heartbreak of football like Madden NFL Overdrive. Get ready, this will be the best season yet.
In the meantime check out our Preseason Blog on how to build your skills, rework your roster and be ready when the new season starts!
---
Madden NFL Overdrive will be available August 15, 2018 on the App Store and Google Play.