In this article, we're going to take a deep dive into Barry Farms, home to The Goodman League, a spot outside of D.C. where pro ballers like KD play alongside lesser-known players.
The Streets are where respect is earned. When you step onto the court you'd better be ready, no matter if you're playing where decades of NBA talent have been groomed or just looking show that you have the skills to run the court. Leading up to the launch of NBA LIVE 19, we're going to be taking deep dives into the different courts featured in the game and try to get at the culture as it changes in each location. See all our deep dives on the courts featured in The Streets.
The Goodman League Background
Basketball means so much to so many people in this world – it can inspire, provide relief, fuel dreams, and create lifelong bonds and friendships. Through the years, people have used sports to install structure, encourage a safer lifestyle, and even be able create more lucrative lives for both themselves and their families. For those coming out of Barry Farms and The Goodman League, they can draw their inspiration all the way from one man.
George Goodman faced an untimely murder back in 1984, but before that, he was the most beloved member of the Barry Farm Recreation Center and served as a counselor and father figure to a large amount of the youth coming through the neighborhood. After an entire generation's worth of grieving, Goodman's name was immortalized when the legendary Barry Farms Community Basketball League was renamed after him. In the middle of one of D.C.'s poorest neighborhoods sits one of the game's richest home for hoops.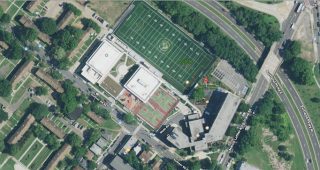 Affectionately known as The D.M.V., the tristate area consisting of D.C., Maryland, and Virginia has produced some of the best talent the basketball world has ever seen. You can look at current NBA players like Kevin Durant, Michael Beasley, and John Wall, but to see the true impact of The Goodman League, you have to take Commissioner Miles Rawls' words to heart.
"I'm going to keep it real with you. If it wasn't for this league, a majority of these jokers would be locked up," Rawls said in a W-USA interview. "My motto is peace, love, and basketball. When people step inside the gates, the drama goes away. All the fighting stops."
Statistically, the area's crime rates go to a yearly-low whenever The Goodman League is in action. Many attribute this to the idea that they don't want to lose such a great thing as the league, which has built such a reputation that they could move if given a reason to.
If somebody knows about making an impact at home, it's Rawls. The legacy is shaped not only by the players who step into the gates, but even more so by the human beings who walk out of the gates with a sense of self – something that the late George Goodman would've always wanted to see.
Miles Rawls
I know that we just got finished talking about Rawls, but he's so important that we need to go back to him. I don't think people understand just how influential street basketball is for some – it can be the difference between putting yourself in harm's way – literally, life and death. Rawls turned one of the hardest regions in the country into a family-friendly environment. The talent started to come later.
"When I took over, it was still neighborhood-based," Rawls told Slam Magazine back in September. The outside guys didn't really start playing until 2000. The talent deteriorated, so I opened it up and started letting outside guys in. And then KD and them was coming in when they were kids. Him and Beasley, Ty Lawson, [too]. Then they continued playing when they got in the league. Then, when Gilbert [Arenas] touched down, shoot, Gilbert was playing about three times a week, and he was bringing half of the Wizards with him.
To build an empire of hoops to serve as a sort of refuge, a safe-haven if you will, is nothing short of amazing.
"The park is like a cookout atmosphere when I run my tournament," he said. "It may not have that same feel for the three-on-three because there won't be no grills and all that cooking, but, the people will be in there, so I'll have 'em turnt up. It's like a cookout, family reunion, barbecue, and comedy show mixed in with good basketball."
This is the other side of hoops that the NBA doesn't always bring – in one league, seats are for sale for hundreds of dollars and filled with people there for various reasons outside of just watching the sport they love. When you see the culture of leagues like The Goodman League, they really encourage the true meanings of basketball: family, passion, and fun.
Thank you, Miles, the entire hoops culture thanks you.
Dele Ojo
When you have NBA players coming in daily, playing against non-professionals may seem like something of an easy task. That's not the case when you go up against Dele Ojo. Ojo is a living legend at The Goodman League after he took home the League MVP trophy, Finals MVP, and Defensive Player of the Year. Add to that, Ojo still averaged 25 points a game throughout the season and did all this at 35 years old. Ojo didn't grow up playing at Barry Farms, instead he joined back in 2006, but he knew he belonged when he saw the atmosphere.
"From the first time I stepped on this court back in 2006," he said as he drew back on his own memories. "The atmosphere feels like an NBA type crowd because, if you're bad, they're going to nag you the whole time."
In the video above, you can see him guarding, and playing with, the top NBA talent and really holding his own. Regardless of age, it really makes you think about how impressive some of the talent ballin' out in these leagues are – if you can, get out and watch Ojo play.
In NBA LIVE 19, you'll get the opportunity to create your own player and become a street legend just like Ojo has. Because of an interactive crowd, this sort of atmosphere will be felt when you play in The Streets.
Kevin Durant and Michael Beasley
This seems like a bit of a cop-out, doesn't it? It's not for the reason that there aren't other legends and that the league isn't gleaming with talent, both known and unknown, but KD and Beasley have done so much for the league from both an exposure standpoint, but also just having played in it for years. As Commissioner Rawls mentioned, the two had been playing since they were kids – before they became top recruits and eventual top draft picks. And you can trust him when he says they don't get any special treatment, it's almost like they have a target on their back every time they step back onto the court.
"This is where you get your toughness from, in the streets," said Rawls. "Before they made it to the NBA, they grew up in the streets just like everybody else, but they were lucky enough and good enough to make it. Just because they're in the NBA, nobody shows them any favoritism. People go at them like they're ordinary Joes.
These two NBA players couldn't have had more different experiences since entering the league. Durant quickly blossomed into one of the league's most versatile scorers and even one of the most dangerous shot-blockers – that's not even counting the hardware like an MVP award and an NBA Championship. Beasley, on the other hand, has been in and out of the league and has only recently found some stability on the court.
The two played for the same AAU team, but Beasley bounced through six different high schools – somehow, he was still a McDonald's All-American and the top overall recruit in the 2007 high school class. In college, Beasley was one of the most dominant college basketball players the game has seen – his 28 double-doubles broke the all-time record held by Carmelo Anthony. After making the All-Rookie First Team, things started to go down. Whether it was his play or a few disciplinary violations, Beasley began to struggle.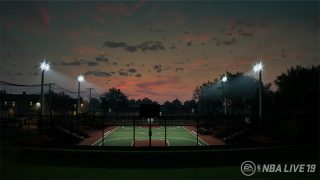 After being traded away from the Heat, he went from Minnesota to Phoenix, back to the Heat, then to China. Since, he's wound up with the Rockets, Milwaukee Bucks, and the New York Knicks, where he had something of a renaissance looking like the player we always envisioned him to be. He had a slew of 30 point, 10 plus board games, and it brings us back to the bright, young prospect who used to play at Barry Farms.
"I love his family, I love what he's doing," said Durant. "He never had a fair chance. I said in a comment earlier this year before the season where he said he was just as skilled as LeBron and myself, and I was feeling him on that. I was feeling him, because he is. He can score from anywhere. He can score on anybody, but there's something else that separates. You know what I'm saying? I think that's just the difference, the mental part of it. And he's got the foundation of his game set, it's just time to build on top of it."
The Goodman League is no joke and, if you come out to the D.M.V. to play ball, get ready to face some real talent. These guys can hoop, and they take it with pride. Even if you can't get out to Barry Farms, you can play against KD and Beasley in NBA LIVE 19 in The Goodman League and show that you have what it takes to beat the best.
- Rahul Lal (Follow Rahul on Twitter @rlal95)
---
Stay in the conversation, like us on Facebook and Follow us on Twitter.
Are you ready to get out there and make your mark on the court? You can now pre-order NBA LIVE 19 here.
Sign up today to receive the latest NBA LIVE 19 news, updates, behind-the-scenes content, exclusive offers, and more (including other EA news, products, events, and promotions) by email.