We're taking a deep dive into the culture of Dyckman Park, one of New York's crown jewels for playground basketball. A huge part of what makes Dyckman the historical center that it has become is the people who live there and the impact that the community has made, boosting their own reputation as well as the quality of the hoop's following in the city.
The Streets are where respect is earned. When you step onto the court you'd better be ready, no matter if you're playing where decades of NBA talent have been groomed or just looking to show that you have the skills to run the court. Leading up to the launch of NBA LIVE 19, we're going to be taking deep dives into the different courts featured in the game and try to get at the culture as it changes in each location. See all our deep dives on the courts featured in The Streets.
Dyckman Park Background
The courts featured in NBA LIVE 19 are more than just a slab of concrete or a local gym. These courts define communities, contribute to the culture, and even set the basis for people's lives as they strive to be associated with the opportunities the sport can give.
Monsignor Kett Playground is about as far uptown as you can get in Manhattan, think 204th and 10th – if you aren't from Harlem or The Bronx, it's a journey to get to Dyckman. Regardless, people from all over catch the One Train to make sure they're watching the action.
Picture this – a league that's so esteemed that you can find some of the NBA's biggest making highlights there each and every night during the warm NYC summers. Now, imagine that same place a few decades ago hosting future Hall-of-Famer Kareem Abdul-Jabbar, who lived in a small apartment just a few blocks from Monsignor Kett. Dyckman Park was where he received his introduction to basketball – really, his introduction to sports as a whole.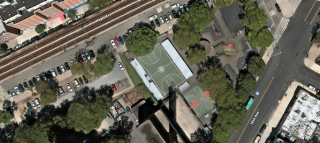 In fact, over the years, Dyckman has served as home for some of NYC's coldest ballers. It's almost a rite of passage that the best players go through New York City's basketball circuit – as Dave East said in his song "KD," you don't need to go to the Garden when you have Dyckman. Sure, while Kevin Durant, Kyrie Irving, Kemba Walker, and almost every other NBA player has rocked Dyckman, the court is boosted by the community and the role it plays in representing the city.
Every player, no matter which team they play for or what their name is, they have to wear the signature Dyckman jerseys, which gives locals something to be proud of. Imagine expecting to see some local players playing pick-up at the courts down the street and seeing a team of NBA superstars wearing your city's name across their chests – talk about creating dope memories.
Another big factor is that the NBA and NCAA both sanction the league, meaning that players are free to come during the offseason. This makes for a steady stream of talent and hype. As members of the community remember, the league once started out with only a few teams, but now you'll see almost a hundred come league time. While the players create the legend of the court, the Dyckman League co-founder starts our conversation.
Kenny Stevens
Kenny Stevens began the league with six teams. Initially, they weren't even playing at their homecourt, but were instead sending their guys out to play against guys at other courts. Pretty quickly, they decided to flip the script and invite players from bordering states such as Jersey and Connecticut. Somewhere around 25 years later, there are triple-digit teams trying to get their shot at winning the Dyckman League and thousands of spectators stretching their necks for a glimpse of the action.
One of the things that Stevens has remarked on is keeping the family and community feel regardless of the tournament's ever-growing popularity. That's why the league supplies jobs to youth within the city, have local food vendors with some of the best homemade Dominican food you can find uptown, and provide a safe-haven for hoops fans and residents alike.
While the tournament is what the Dyckman staff is most well-known for, the way they look to cater to the kids is probably the most lasting impression. AAU ball, while good for exposure and growing bonds with other like-minded players, seems to force players to grow their game without proper teaching – Dyckman has their own youth AAU teams, but first puts their kids through the Dyckman Youth Skills & Drills Program. This ensures they get the foundation to nail down the basics of the game, and puts an emphasis on the kids becoming student-athletes; many volunteer coaches are professional basketball trainers.
With the reaching out that Stevens does to help the community, it's a wonder to me that he isn't hailed as one of basketball's most revered – he even took the time to interview this writer as a college student in Jamaica, Queens for a summer job.
David "Cha-Ching" Teele
It seems like every streetball video game has a hyped-up hoops junkie commentating on the game with a punch of pop-culture, and Dyckman has Cha-Cha Teele. As described by Nike, Teele is "the most coveted basketball announcer in the basketball sphere." All the success and fame he's gotten from something that seems so simple is well-deserved.
An NYC native, he holds a special connection to Dyckman. While there are a lot of talented announcers out there, nobody is doing what Cha-Cha is doing – he'll show up in costumes, he does his homework on players, and he is able to come up with some of the most witty and informative narration you can think of.
"I make sure I'm prepared for every day [at Dyckman]," he said in an interview with Streets First Podcast. "Every day is different out there. It don't matter what game I'm announcing or who's playing."
That speaks to the whole of nature of the Dyckman League – whether you're talking about playing in it, watching it, or announcing, it really doesn't matter who's playing that day. All that really matters is that people are coming ready to go, because there's no slouching at Dyckman. If you're checking out a game and happen to be lucky enough to watch Cha-Cha emcee, be on the lookout for his costumes or nicknames – he marches to his own beat, and that's why other announcers stay in the background when he's around.
Felipe Lopez
I may be biased as a St. John's University alum but former standout Felipe Lopez, originally from the Dominican Republic, is one of the most culturally-significant players of the last few decades to come out of the Washington Heights/Dyckman area. A quick five years after moving, Lopez developed into one of the nation's most coveted recruits before deciding to stay in NYC and play basketball for Lou Carnasecca and the Queens-based St. John's Red Storm.
Now, every year, fans can watch the Dominican Power team suit up at Dyckman. This wouldn't have been possible if it weren't for Lopez taking the basketball scene by storm in the mid-90's and raising it to new heights. His impact on the culture convinced many Dominican athletes to turn to basketball, to the point that each and every player who suits up for the Dominican Power are considered NBA talents. At one point, Felipe was out there playing on the court, and then he went and conquered the NCAA's elite before a brief NBA stint.
Nowadays, you can still find him supporting the league that helped mold him and his community into the prominent force they are today.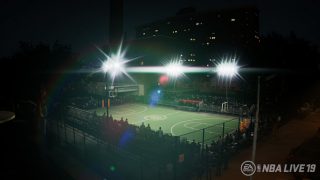 No matter whether you're looking for a Cassidy freestyle or for D'Angelo Russell to hit game-winners just days after he was traded to the Nets, Dyckman carries influential, timeless basketball. Plus, you never know who may show up to catch a game or two.
You can talk about Kenny Satterfield or the tournament's organizers like Omar Booth and Michael Jenkins, but now, everybody from ESPN to Hot 97 are clamoring to get a peek at the action showcased at Dyckman. I can promise you, you'll hear Cardi B's "I Like That" playing all summer long there, and just about everyone will be running over to just be a part of the vibe.
You've got to be ready to ball if you're going to step onto the court at Dyckman – before you try your hand at it in real life, go and get on the court in NBA LIVE 19. If you think you can ball in basketball's ancient city with some of the best guards of all-time, try taking down the legends at Dyckman in The Streets.
- Rahul Lal (Follow Rahul on Twitter @rlal95)
---
Stay in the conversation, like us on Facebook and Follow us on Twitter.
Are you ready to get out there and make your mark on the court? You can now pre-order NBA LIVE 19 here.
Sign up today to receive the latest NBA LIVE 19 news, updates, behind-the-scenes content, exclusive offers, and more (including other EA news, products, events, and promotions) by email.