We're taking a deep dive into the HoopDome, a massive indoor basketball arena that's home to some of the best Canadian players in the world. At HoopDome, players embrace the facility to shield them from harsh winters and hone in on their love for basketball.
The Streets are where respect is earned. When you step onto the court you'd better be ready, no matter if you're playing where decades of NBA talent have been groomed or just looking to show that you have the skills to run the court. Leading up to the launch of NBA LIVE 19, we're going to be taking deep dives into the different courts featured in the game and try to get at the culture as it changes in each location. See all our deep dives on the courts featured in The Streets.
HoopDome Background
Basketball success has been on the rise in Canada for decades now. At one point, the Raptors (and the Grizzlies a few years before them) were Canada's main connection to hoops, aside from being the birthplace for the game's originator, James Naismith.
In the past, players like Steve Nash, Rick Fox, Jamaal Magloire, and Samuel Dalembert carried the torch for the Canadian team. Now, Tristian Thompson, Cory Joseph, and Joel Anthony have become NBA Champions to lead into the next generation of Canadian hoopers like Andrew Wiggins, Jamal Murray, Shai Gilgeous-Alexander, and Dillon Brooks.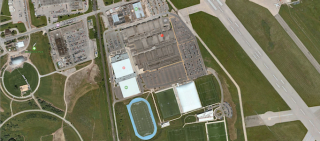 HoopDome, one of Canada's premier basketball facilities, is a converted military hangar that inspires many players to pick up a ball and get to shooting. The 42,000 square-foot gym is now a staple because it's truly one of a kind for Canada's hoops' scene.
Located in North York, Ontario, HoopDome isn't far from the Downsview station. In fact, it's only a short 20-minute drive from the Toronto International Airport. With its four full-sized regulation courts as well as their three half-courts (which are named "cages" to commemorate the New York influence of streetball), there's something, and somewhere, for everyone.
Players such as Wiggins, Thompson, Nik Stauskas, Tyler Ennis, and former first overall pick Anthony Bennett have each graced the court at the HoopDome. In 2014, HoopDome saw two of its players become back-to-back first overall selections in Wiggins and Bennett. Next year, we could see another Canadian who played some high-profile bouts at HoopDome, R.J. Barrett, become another top selection in the NBA Draft.
Ted Badner
Ted Badner was able to create the HoopDome from scratch. When he pitched the idea of a basketball-only gym in a massive military complex, many probably assumed he was crazy. Despite that, he pushed on and it became a major success in what is now turning into one of the fastest growing hotspots for player development in the world.
Badner started off as a coach a few decades ago. Then, there were only a few teams around the province that players could go to. Fast forward and today you'll find hundreds of teams and clubs that have a similar set up to the United States' Amateur Athletic Union, or AAU, which contains a number of teams for each club based on skill level and age.
"When I opened, people said we wouldn't last three months," said Badner in an interview. "If you put 500 [children] in, at least one very good player is going to come out. But, I tell kids, 'there is no shame in losing, in not making it. There's shame in not trying.'"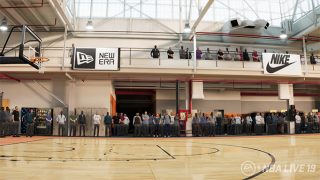 When you look at the opportunity Badner has created with his gym, he now houses a number of leagues, a main facility for Canada's most competitive youth and pro-am leagues, as well as just giving an identity to hoop-heads who want a place to call home when they're looking for a pick-up game or somewhere to stay away from trouble. As it's near Toronto, one of the most diverse cities in the world, the HoopDome is known for having a diverse group of players across the court all united by the game of basketball.
"Instead of hanging out at the street corner, [they will] take 500 jump shots a day," he said on his hope for the impact HoopDome could make to The Star. "Even if kids don't achieve goals they set through sports – not everyone's going to make the NBA – they're going to become better citizens."
In NBA LIVE 19, you'll have to continue your journey to becoming a legend and taking on the best at the HoopDome. Can you beat the top players Canada has to offer? It's not going to be easy – work your butt off and improve to be able to dominate and prove you deserve to ball out!
- Rahul Lal (Follow Rahul on Twitter @rlal95)
---
Stay in the conversation, like us on Facebook and Follow us on Twitter.
Are you ready to get out there and make your mark on the court? You can now pre-order NBA LIVE 19 here.
Sign up today to receive the latest NBA LIVE 19 news, updates, behind-the-scenes content, exclusive offers, and more (including other EA news, products, events, and promotions) by email.