We're going to take a deep dive into Quai54, the world's biggest international streetball tournament. Taking place in Paris, it features some of the world's best ballers while also carrying immense cultural significance.
The Streets are where respect is earned. When you step onto the court you'd better be ready, no matter if you're playing where decades of NBA talent have been groomed or just looking show that you have the skills to run the court. Leading up to the launch of NBA LIVE 19, we're going to be taking deep dives into the different courts featured in the game and try to get at the culture as it changes in each location. See all our deep dives on the courts featured in The Streets.
Background of the Quai54 Tournament
Sometimes people like me here in the United States forget that basketball is just as big in other countries. Just because the NBA is located in the here, it doesn't mean all hoops' culture resides here. In fact, the Quai54 Tournament in Paris is the biggest streetball tournament in the world and pretty much has been since its inception back in 2003.
The tournament's founders, Hammadoun Sidibe and Thibaut de Longeville, came together to find out how to combine Parisian street culture and historic United States tournaments like those that take place at Rucker Park, to create what has turned into the premier international tournament.
This year, fans will get the chance to watch 160 players on 16 teams, with ten different countries being represented. The tournament has evolved to feature NBA players as well as becoming a major moment in the entertainment world as famous DJ's and artists perform all weekend long, including major names like Young Thug and 2 Chainz.
When you dive into the beginnings of Quai54, it puts everything into perspective of just how big this Paris league has become. In its beginning, things started chaotically, but the product on the court was all that mattered. It essentially turned into a barbecue that emulated some of the famous streetball leagues in America.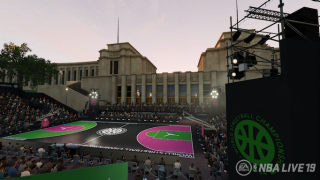 Transforming into a Mega League
Just a few years after the start of the Quai54 tournament, Thibaut called in rapper Fat Joe and his crew/label/basketball team, the Terror Squad. Thibaut maintains that Fat Joe's team had no idea of just how good French players could be and, despite winning the last three Rucker titles, that team was losing and so withdrew from their game. The legacy of the Quai54 instantly grew, and Thibaut and Sidibe began instantly getting calls from around the world from people and players who wanted to be a part of it all.
The thing about basketball in Paris is that if you play it, you love it. In America, children are funneled into these sports in school or in local youth leagues but, for the French, growing up playing basketball is a calculated effort – it doesn't just happen. It seems that this really fed into Quai54, as its success just seemed to ramp up exponentially in a short period.
One famous fan of the tournament, Carmelo Anthony, had plenty to say about it.
"I didn't know what to expect before I came, I just kept hearing about it and once I got here, it reminds me of Rucker Park, but on a much higher stage," he said. "It's like taking Rucker Park and putting it in front of the Statue of Liberty, that's the feeling you get being here."
In that article, Melo also talked about the emergence of global basketball and how, when he first began in the NBA, it didn't carry this sort of impact internationally.
Logistics of the Quai54 Tournament
To get teams qualified, there are rounds in which players from different countries squad up and compete tournament-style. While the tournament is set at a certain number of teams, these teams play to earn a chance to get called up – it almost feels like a Pro-Am version of the NCAA Tournament. With ten different countries showing up, it's turned into a hotbed that showcases truly talented ballers and the impact that basketball has around the world.
One of the most famous aspects of the Quai54 is their dunk contest. Each year, ballers from around the world come to join. In the video below, you'll get some of the highlights from the 2017 Quai54 dunk contest. This one featured dunkers from the Ukraine, Poland, France, and Italy. Not to mention well-known judges like Victor Oladipo, Jabari Parker, and Kemba Walker.
Seriously, no matter where you are in the world, basketball is represented. The game runs deep in the hearts of so many athletes and fans and Quai54 is the perfect mirror of that. Whether you choose to look at the countries represented or just the mass of people who show up to watch, there should be nothing to wonder about when it comes to the popularity and health of the sport internationally.
Also – the shoes! Over the last few years, Jordan brand has been releasing Quai54 sneakers which have become a staple for sneakerheads globally. These sneaks will be featured in NBA LIVE 19, and you'll get opportunities to win a pair for your player to lace up.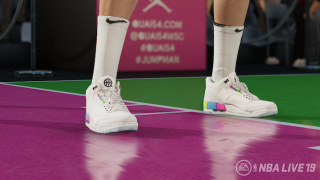 When you turn on NBA LIVE 19 next year, you'll be able to hit the court at Quai54. Walk through the picturesque setting and see the Eiffel Tower in the background. When you walk onto the signature court and get ready to go against some of France's best, you'll need to bring your A-game if you want to win. And don't worry, you'll get the chance to add a few French stars to your squad after taking them down.
- Rahul Lal (Follow Rahul on Twitter @rlal95)
---
Stay in the conversation, like us on Facebook and Follow us on Twitter.
Are you ready to get out there and make your mark on the court? You can now pre-order NBA LIVE 19 here.
Sign up today to receive the latest NBA LIVE 19 news, updates, behind-the-scenes content, exclusive offers, and more (including other EA news, products, events, and promotions) by email.