The Streets are where respect is earned. When you step onto the court you'd better be ready, no matter if you're playing where decades of NBA talent have been groomed or just looking show that you have the skills to run the court. Leading up to the launch of NBA LIVE 19, we're going to be taking deep dives into the different courts featured in the game and try to get at the culture as it changes in each location. See all our deep dives on the courts featured in The Streets.
Venice Beach Background
All right, let me try my best car salesmen approach: you're cruising down Pacific Coast Highway, or PCH as Angelinos call it, and you see the ocean on one side and sun-soaked cliffs on the other. Do you have any idea where you are? Well, you're quite possibly on the one of the most famous beaches in the world – whether you're trying to ride some waves, rollerblade, get a quick sweat at Muscle Beach, or show off your jumper, Venice Beach could be the place for you.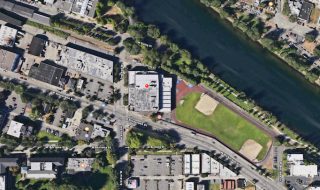 Venice Beach is a lot more than just a basketball court with palm trees and the ocean nearby, Venice has been a place where people could really try their best to stunt. You don't need to be somebody just to play here, even if you're playing against professionals. That, like so many other important lessons learned on the court, can apply to NBA LIVE 19, where you'll have to suit up against the legends of each of these courts to dominate globally.
In fact, the amount of playground legends who made their names off playing in the Venice courts against some of the best pros in the game at the time is long. The Venice Basketball League is serious, and you need to be able to hold your own. Also, let's bring a little bit of Hollywood into this since we're talking about the City of Angels – remember the instant classic "White Men Can't Jump"? Yeah, they battled for respect at Venice using actual Venice legends in the movie as players in their games.
John Staggers
Like many playground legends, life seemed to hit a little harder for John Staggers. He was a South-Central legend during his early playing days. The Crenshaw native led Inglewood High School to win-after-win and earned a scholarship to play for Basketball Hall-of-Fame and University of Texas El Paso (UTEP) coach Don Haskins, the first coach to start five black players in the NCAA Championship Game (as put on the big screen in "Glory Road"). He was all set up make a dominant duo with future NBA star Tim Hardaway when he started to write his own cautionary tale.
Because of his poor attendance at school, Staggers was never able to receive his high school diploma. Furthermore, he admitted to taking a free flight out to Texas to visit the school, which qualified as an NCAA violation. This became the first of multiple infractions that wound up derailing a once-promising career because of his reported lack of discipline. Where did Staggers turn to when he didn't have anywhere else to go? Cue in "The Wood" soundtrack.
"I paid big-time for allowing myself to believe what everyone was telling me," said Staggers. "I still got the playgrounds. . . I want people to learn from me. I lost out my chance because I was naive, and I let people take advantage of me."
So, while Staggers didn't make it to the league, he re-invested his time to become a playground legend and inspire an entire new generation of hoopers at Venice Beach not only to play, but to make sure that they're making the best decision possible for their own future. He now works with inner-city kids using basketball as a tool to keep them out of trouble. The former number one high school recruit and would-be college prodigy would go on to dominate the courts at Venice for years to come, single-handedly beating teams of collegiate and professional ballers.
Ron Beals
Wesley Snipes, Woody Harrelson, and Rosie Perez starred in "White Men Can't Jump," but Venice faithful were quick to recognize playground legend Ron Beals playing pick-up ball on the big screen. Beals actually grew up on the East Coast and played ball in Chicago, even going against Wilt and Sweet Water Clifton at the Northwestern University gym. By the 80's, Beals was running against top players from professional teams, inviting guys to try and win on his court.
Beals never found himself in the league, as he came around before a large amount of black basketball players were playing in the NBA. Instead, he played professionally for teams like the Harlem Clowns and Chicago Comets – once he found Venice, that was the place everyone knew they could find him. He was there when a rookie Kobe Bryant was injured playing against Venice Beach bruisers, and he was there when Venice Beach turned from a glitz and glamor park into a hard-nosed battle ground – now, he's a Venice legend after spending over 40 years helping to build up the community and Venice Basketball League. His health may be dwindling, but his spirit isn't, and Venice Beach, along with Nick Young, actually honored him with their annual Ron Beal Day.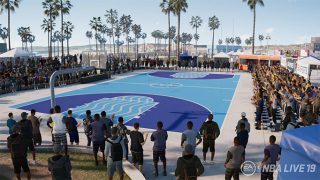 More Interesting Venice Beach Info
In 1979, the Venice courts were born out of inspiration from Rucker Park's tradition of incredible basketball and community excitement.
The court's godfather, Kenn Hicks, went to high school with Earl "The Goat" Manigualt.
The National Outdoor Basketball Championship, later renamed the Venice Beach Classic, was created in 1981 and played host to NBA players across the league.
Aaron Gordon actually lost the 2016 Venice Dunk Fest to Chris Staples, a renowned streetball dunker, whose first dunk involved him jumping over a cherry red Corvette, and whose second dunk included him jumping over four children while doing a 360-slam while going through his legs.
Legendary And1 streetball star The Bone Collector is famous for winning MVP awards at Rucker Park and actually had Allen Iverson decline a one-on-one challenge, and then in 2016, he squared up with Karl Anthony-Towns at Venice.
It might be pretty when you walk to the beach but, make no mistake, pretty won't cut it on the court. When you play against the competition at Venice, you need to bring your A-game, or you won't last very long. "White Men Can't Jump" might be dramatized, but it gives a pretty realistic idea as to the competition level you'll face and the intensity that the players bring to each game.
In NBA LIVE 19, you'll get the chance to create your own celebrity at Venice Beach. Roam with the stars in LA and then immortalize your reputation as you Build Your Squad. Do you think you have what it takes to beat an LA squad? Show out in NBA LIVE!
- Rahul Lal (Follow Rahul on Twitter @rlal95)
---
Stay in the conversation, like us on Facebook and Follow us on Twitter.
Are you ready to get out there and make your mark on the court? You can now pre-order NBA LIVE 19 here.
Sign up today to receive the latest NBA LIVE 19 news, updates, behind-the-scenes content, exclusive offers, and more (including other EA news, products, events, and promotions) by email.