A major part of NBA LIVE 18 is getting to play on The Streets and connecting to the overall culture of basketball, rather than just the professional aspect of it. In this series, we'll take a look at each of the seven courts featured in The Streets where you can build your own legacy. In our first installment, we're talking about the history and legends around the world's most famous streetball court, Rucker Park. You'll uncover its legends, as well as learn how you can play on it.
Background
Frederick Douglass Blvd. and West 155th Street is the home of Holcombe Rucker Park. Harlem residents know it by the bus stops and bodegas, NYC natives know all you need is the B or D train. So, what's made Rucker Park so famous after all these years? Well, that's a deep question.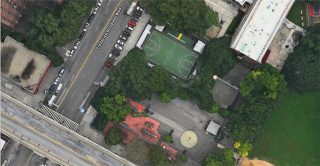 Rucker Park has been one of the oldest and most influential homes for hoops in the game's history. Rucker is where basketball extended to be bigger than just a ball and a court or a chance for people to make some money – at Rucker, basketball is part of a serious lifestyle. It's almost a religion. Players have flocked to its proving grounds for decades now to challenge New York City's most prolific ballers. While Madison Square Garden is the Mecca, Rucker Park is the ancient city of Medina.
When you walk into Rucker in real life, or walk your player onto it in NBA LIVE 18, it might not look like much. Just a blacktop surface, chain link fences, and a few bleachers. There may be a few logos here and there but, make no mistake, you're stepping onto a court full of history. Whether it's dead silent or there are hordes of people waiting to see who's up next, Rucker is a place where stars are born.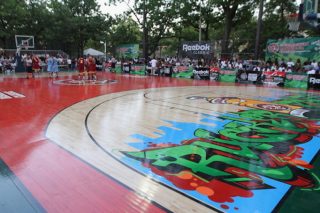 Rucker Park is often dressed up based on the tournament (Photo by Jerritt Clark/WireImage)
Legends of the Streets
You can take a look at the old-school NBA legends like Kareem Abdul-Jabbar, Wilt Chamberlain, or Earl "The Pearl" Monroe who have all played at Rucker, but the true culture of Rucker comes from the unsung heroes and tortured souls whose stories now serve as age-old myths and hold as much reverence in the hoops community as Homer's tales in the literary world. When NBA legends talk about Rucker, they don't talk about their dealings with other league-wide stars, they talk about guys like Pee Wee Kirkland, Earl Manigualt, and Joe Hammond.
Pee Wee Kirkland
If you haven't heard the stories of Pee Wee Kirkland, for example, you're missing out on a true gem. Pee Wee was more than just a basketball player – he embodied the background and mentality of so many natives to Rucker during the 70's. He was a standout player at both the high school and college level and was drafted to the NBA but turned down his NBA contract. Even though he was recruited to be a first-year starter under John Wooden at UCLA, he had different priorities.
To build on that, he carried a swagger that the Miami Hurricanes in the 80's couldn't even touch. He would often pull up to the Rucker courts in the Rolls Royce he bought before he was old enough to get a driver's license, drop thousands of dollars onto the court, and challenge anybody to try their hand against him. By his own recollection, he never lost a game that he put down a thousand or more. While life treated him a little different then his friend and almost-college teammate Abdul-Jabbar, he's locked in as a New York City icon for hoops' culture.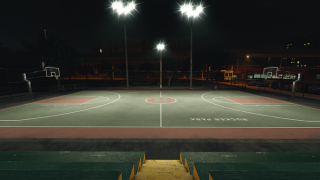 Earl Manigualt
Speaking of the NBA's all-time leading scorer Abdul-Jabbar, do you know who he named as the greatest player he ever faced? The original G.O.A.T., Earl Manigualt. He was Jordan before Jordan, predating the NBA's highflying era. The story of Earl is one of the most heartbreaking you'll ever hear but it's one worth remembering. Manigualt was rumored to be able to dunk the ball twice in one jump and gained his legend by retrieving quarter from the top of the backboard by simply jumping off one leg – oh yeah, he was only six-foot-one.
Aside from the ridiculous athleticism, he practiced his jump shot to perfection at Rucker, and had NBA scouts salivating at the thought of him joining. Unfortunately, he fell victim to drugs after falling in with the wrong crowd in his teenage years. As his health deteriorated, so did his potential NBA career. Manigualt was frail and sickly by the age of 50 but was still balling out on Rucker Park with his "Walk Away from Drugs Goat Tournament" where he taught kids about the dangers of drug use and addiction.
Rucker Park Quick Shots
The above are just the beginning of the Rucker legends. Check out some more players who graced Rucker's court.
Julius "Dr. J" Erving was dominated by streetball legend Joe "The Destroyer" Hammond in the prime of his career. Hammond scored 50 second half points on Dr. J, something NBA players had no chance of doing against him. Hammond turned down several contracts from the Lakers as he aspired to be the highest paid player in the NBA after embarrassing players at Rucker. All Dr. J could say to him after the legendary game was "Joe, everything I heard about you is true."
Rafer Alston aka "Skip To My Lou" is one of the few streetball legends to start out on the courts at Rucker and later decide to sign an NBA contract. He began playing at the age of 11 at the Rucker courts against grown men and would go on to play in the NBA Finals.
Michael Jordan, Kobe Bryant, LeBron James, Allen Iverson, and others paid their respects to Rucker by playing there and demanding street respect. Kevin Durant even tried to best Joe Hammond's park-record 70+ points but fell short by only scoring 66.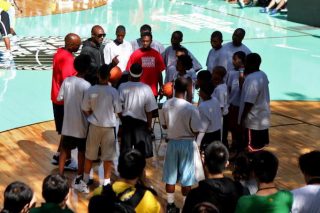 Kobe Bryant coaching a group of young basketball players (Photo by Marc Lecureuil/Getty Images for Nike)
When current NBA player Lance Stephenson was 13 years old, he was going against then-professional players at Rucker and was making news by holding his own. Rucker is where he earned the nickname Born Ready. Product of the Bronx, Kemba Walker, is a frequent competitor in Rucker's league still.
Kareem Abdul-Jabbar and Wilt Chamberlain were two of the early stars to play at Rucker. Both of them played there both before and during their NBA careers.
Slam Magazine named "Jumpin'" Jackie Jackson the fifth best dunker of all-time behind only Dr. J, Dominique Wilkins, Michael Jordan, and Vince Carter. He wound up rejecting the NBA for the Harlem Globetrotters.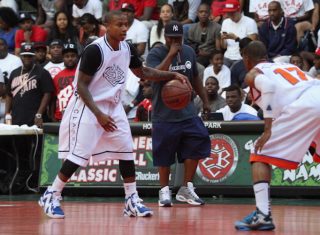 Even some of today's biggest stars like Isaiah Thomas still play at Rucker (Photo by Jerritt Clark/Getty Images)
Imagine if the courts could talk – what would Rucker's say? When you get to Frederick Douglass and 155th, in the city or in NBA LIVE, all that matters is your game. The court forgets about if you're wearing Nikes or Chuck Taylors, the players could care less about your name or accolades. While it may not bring the same exposure, or be as lucrative as other venues, the competitive aspect is second-to-none. Players compete for pride, something deeper than money, and it shows. When passion and hunger fuel your game, incredible things can happen. The legend of New York ballers began on these courts.
In NBA LIVE 18, you can build your own legacy at Rucker Park. While it's only one of seven legendary courts, it has the most history and respect behind it. Some of the most meaningful moments have happened on this court, and you can launch your player's career by going up against some of the best ballers of today's era in LIVE. Do what the legends did and build your reputation from the ground up and prove that you deserve to play in the heart of NYC.
- Rahul Lal
---
Don't have NBA Live 18? Get your copy now at the Xbox Store or the PlayStation Store.
Stay in the conversation, like us on Facebook and Follow us on Twitter.